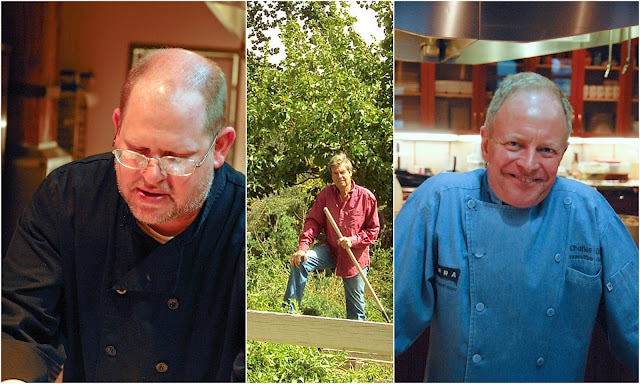 Chef James Mazzio, Winemaker John Sutcliffe and Chef Charles Dale
Photo of John Sutcliffe courtesy Sutcliffe Vineyards website
Any self-respecting watcher of 'Top Chef' will certainly know of the Pop Up Restaurant concept from the angst-producing 'Restaurant Wars' segment of the series.

 

What might not be as well known is that outside of reality TV, pop up restaurants are currently the rage in cutting edge culinary trends.

 

Specifically a pop up restaurant is a temporary dining experience where a restaurant is set up in a vacant building (or in this case Studio F) for a limited time.

 

It affords the opportunity for exceptional chefs to swoop in, dazzle a culinary audience for a few nights and whisk back to their city of origin.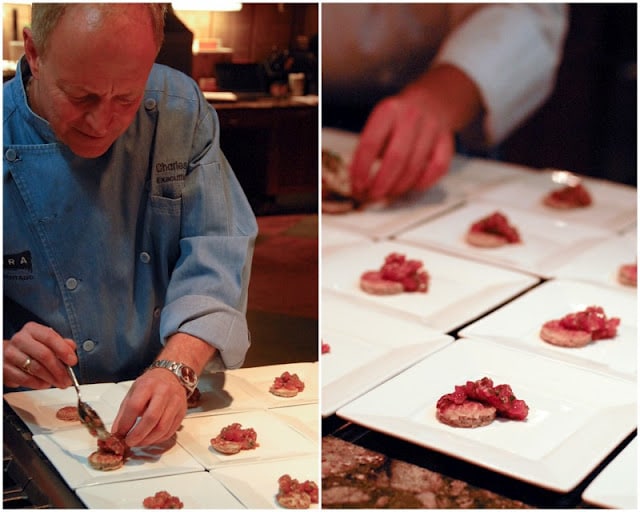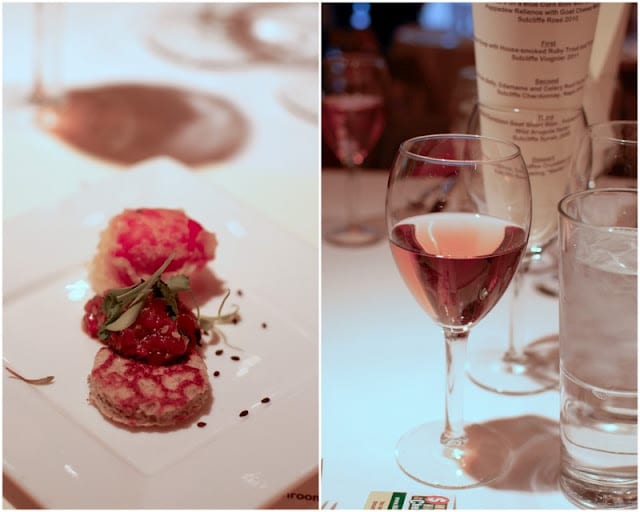 Starter Duet of Tuna Tartare on a Blue Corn Blini with Crispy Capers and a Peppadew Rellenos with Goat Cheese Masa paired with Sutcliffe Rose 2010
When Studio F, under the guidance of Chef James Mazzio (Food and Wine's Best Chef 1999) announced the opening of the pop up restaurant space, it was a clear sign Denver has arrived as a 'food city'.

 

Taking over the former cooking school, Mise-en-Place, in the historic Ice House Building on Wynkoop, the opportunity unveiled itself for pop up restaurants, events, cooking classes and even culinary corporate Team Building sessions.

 

I was fortunate to attend the inaugural dinner of Studio F last night featuring Chef Charles Dale, Mazzio's former mentor and a chef with a pedigree that leaves one feeling in the presence of greatness (however you'd never know it by his charming, down to earth

demeanor

).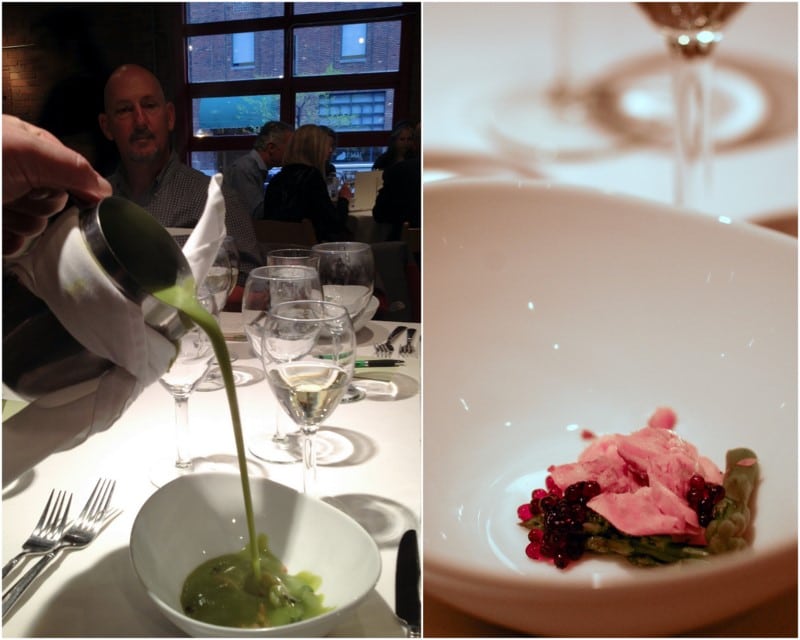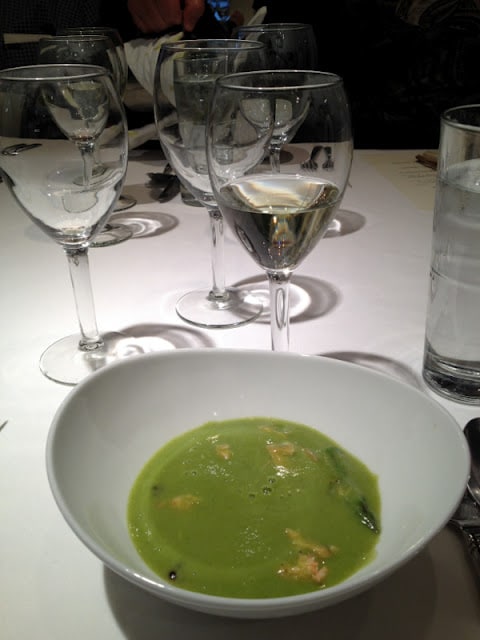 First Course:

 

Asparagus Soup with House-smoked Ruby Trout and Terra Chipotle Caviar paired with Sutcliffe Viognier 2011
The restaurant itself is large and spacious.

 

Windows line the Wynkoop side of the space.

 

It is filled with several large tables donning white linen tablecloths, poised for 10 or more diners.

 

It's a meet-mix-and-mingle type set up.

 

The heart of all is of course the state of the art kitchen reminding me much more of something you'd find in a sprawling mansion more so than a restaurant.

 

Granite countertops throughout with plenty of space for

 

all chefs cooking and those plating to execute on the tight timeline a pop restaurant with two seatings a night demands.

 

It felt sleek, with clean fresh lines as well as warm and welcoming at the same time.

 

The excitement was palpable.

 

The diners were open and chatty with new found table mates and the entire ambiance felt more like a large, cohesive dinner party to me without any separation between diners, chefs and servers.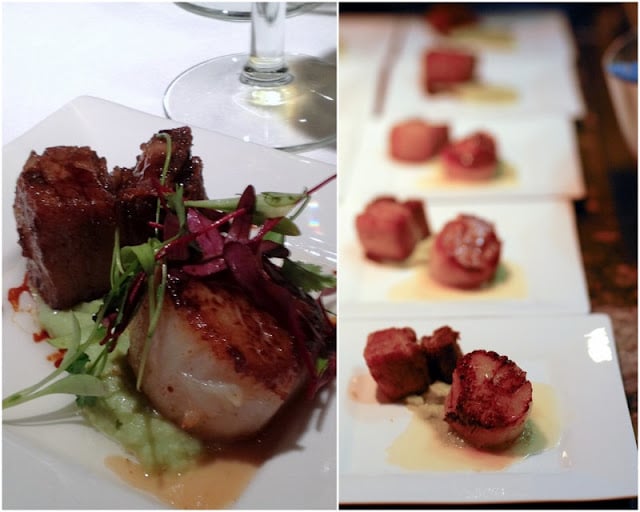 Second Course: Scallop and Pork Belly, Edamame and Celery Root puree, Sauternes Reduction paired with Sutcliffe Chardonnay, Napa 2012
You as the diner are completely in on the action.

 

Unlike Top Chef however there was no profuse sweating or profanity in the kitchen.

 

This crew was as cool as cucumbers as they cranked out a breathtaking, multi-course wine-paired meal for over 40 diners in approximately 90 minutes.

 

You feel as though you are in a friend's kitchen with the open design and open attitude to hang over the counter peppering sous chefs with questions (in my case).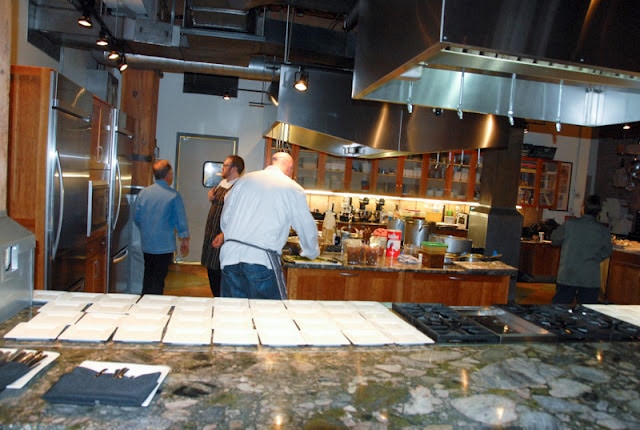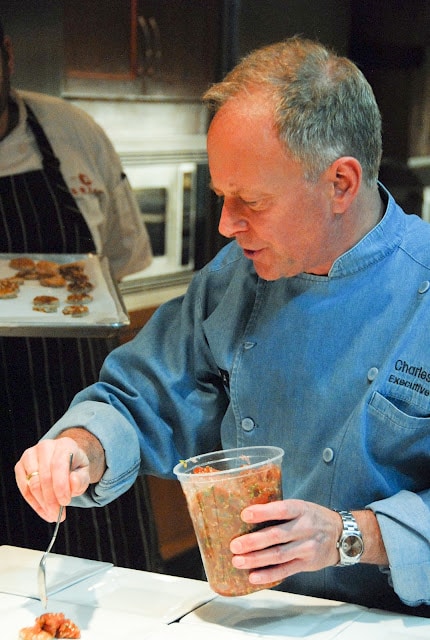 Chef Charles Dale hails from Encantado resort in Santa Fe where he has embraced the elements of the southwest in his renowned restaurant, Terra.

 

Chef Dale's history is notable having been named Food and Wine's Best Chef in 1995, training at Le Cirque in New York, Georges Masraff's restaurant in Paris and working for Daniel Boulud before opening three different award winning restaurants in Aspen.

 

Before our meal began he spoke about both Studio F's concept as well as his aim with the food for the evening.

 

He reiterated that the pop up restaurant concept allows a dining community to experience the perspective of different chefs without the expense and hassle of traveling to the chef.

 

I surmise it offers the traveling chef a chance to step out of their natural dining audience to innovate meals in a fresh region which might be invigorating for them as well.

  
Chef Dale's food aesthetic for our evening was to provide a sense of balance, sense of place (really in the spirit of Auberge, the luxury group which is the parent company of Encantado and other

 

small, high end resorts) and a sense of comfort (speaking to his personal love of bistro food).

 

A classically trained French chef, Chef Dale has embraced New Mexican flavors producing more of a flirtation with regional cuisine versus preparing expected classic southwestern fare.

 

The approach is madly successful, allowing the hints of the familiar southwest to tease and gratify the palate rather than bath it in one note dishes.

 

I found each plate to be perfection.

 

All brimming with innovative flavor combinations and textures, pleasing as you'd wish in a comfort food however without the heaviness that often accompanies it.
Third Course:

 

Chili-rubbed Boneless Beef Short Ribs, Poblano Mac 'n Mushrooms, Wild Arugula Salad paired with Sutcliffe Syrah, 2009.

 

The texture of these Ribs was completely sublime; like butter, seriously.
Chef Dale's fabulous meal was meticulously paired with Sutcliffe Vineyards wines from Cortez Colorado, right above the New Mexico border.

 

It would be impossible to discuss the evening without noting John Sutcliffe, farmer and winemaker, and Nor List, Sutcliffe's Tasting Room manager who were in attendance.

 

I have not experienced a winemaking team that so heightened the experience of the wine as these two.

 

Nor, a stately tall African American beauty with poise and warm sophistication and the perfect pairing with Sutcliffe's sparkling personality, playful style topped with a classic English accent from his Welsh and English heritage.

 

Sutcliffe delivers information about his wine in a lingo one would expect; 'the nose of the Voignier is really charming though still leaves weight in the mouth'.

 

My favorite was regarding our last wine being 'anxious'….or 'unctuous', I was never quite certain though was certain his wine lexicon far exceeds the creativity and posh of mine.

 

At one point of the meal he swept over to me beckoning 'Dahling!

 

Get your camera and come on!'

 

He was enchanted with the presentation of our impending dessert 'en masse' in the kitchen, feeling it looked 'so architectural'.
John's background is also star studded having helped re-open Tavern on the Green in New York City, as well as several other restaurants before settling in as a farmer and winemaker.

 

I use the

term

'settling in' lightly as 5 minutes with John clues one in this man has many an iron in the fire professionally and personally and I'm sure has never settled for anything.

 

It only was a short time into the evening before my table mates and I decided he probably needed to be featured in his own TV show as he added incredible verve to our dining experience.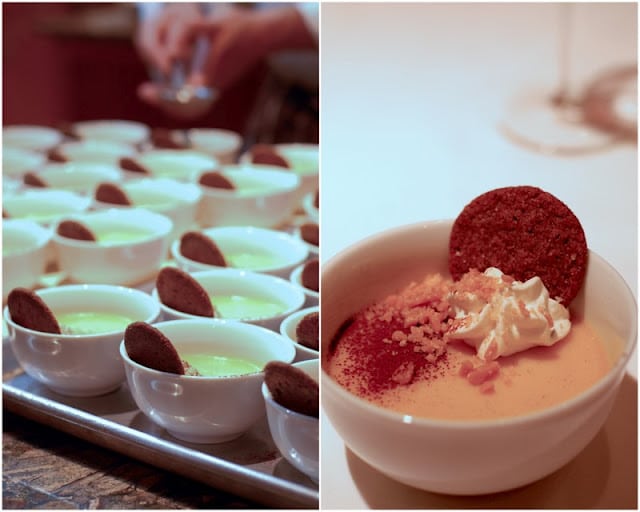 Dessert:

 

Butterscotch Pot de Crème, Toffee Crumbles and Ginger Snap Cookies paired with Sutcliffe Riesling 'Nectar' 2011.

 

This Pot de Crème was the most rich, creamy, heavenly dessert I may have ever had!
James Mazzio opened and closed the evening with Chef Dale and John Sutcliffe speaking briefly before each new course to explain what was to come.

 

Mazzio interacted with the crowd as though we'd all known each other forever even thanking us and kicking us out jovially at the end so they could magically transform and begin again for the next seating.

 

The evening was flawless which was impressive for the maiden voyage.

 

I personally find the concept visionary and would look ahead to experiencing completely new chefs and food genres with each return trip to Studio F.

 

If things continue as I experienced them last night, this will quickly become a sellout experience with each new pop up.

 

There may be tickets still available for Chef Dale's last dinner on Saturday April 14 and I strongly encourage looking at the next Studio F's calendar to buy tickets now.

 

You will be happy you did!
All photography by Boulder Locavore unless otherwise noted