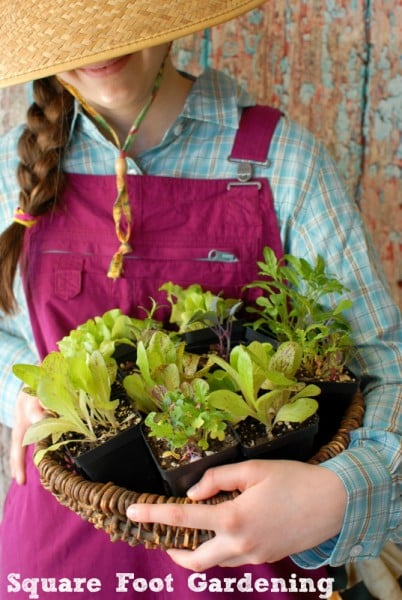 This post is sponsored by Duluth Trading Company. All opinions are my own.
From time to time I've shared gardening insight about tips on growing food. I'm a lifetime gardener but have adopted a produce growing method over the past few years leaving me sure I'll never go back to traditional row gardening; Square Foot Gardening. Square foot gardening is a high density gardening approach which divides garden plots of any size into square feet (12 inch by 12 inch squares) with guidelines about how many of each plant fill a square foot. The benefits include optimized use of available space (no unused space as with row planting), significant reduction of weeds and pests, and orienting growth vertically instead of horizontally. The ultimate benefit is the ability to grow far more in less space.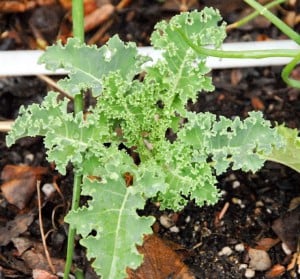 The method is quite simple and requires only a few thoughtful steps to get going:
 Map out the garden. Determine how many square feet reside in the garden plot to be planted. On a computer or piece of paper create a physical grid of the square feet. Using online resources determine how many of each desired plant will fit in the garden plot using the Square Foot Garden guidelines for plants per square (or in the case of tomatoes, how many squares required for determinate and indeterminate tomatoes).
Prepare the garden. Clear out any unwanted matter, put down a good layer of compost (I generally mix compost and purchased top soil equally) and turn the soil to mix well. Ensure a reliable watering method whether it be a drip irrigation system, hand watering (which can become cumbersome in the high heat of summer) or overhead watering.
Construct a physical grid. The core of Square Foot Garden success is having a physical grid. I purchased a plastic, collapsible 4 foot by 4 foot grid made for this purpose however there are many tutorials on the internet for making a grid from plywood or wood and twine. It does not matter how you do it only that there is a physical grid that will remain for the growing season.
Plant!  This of course is the most fun. Following the map constructed in Step 1, place plants in respective squares.
As easy as I've made this sound (and it really IS), the path of going from this….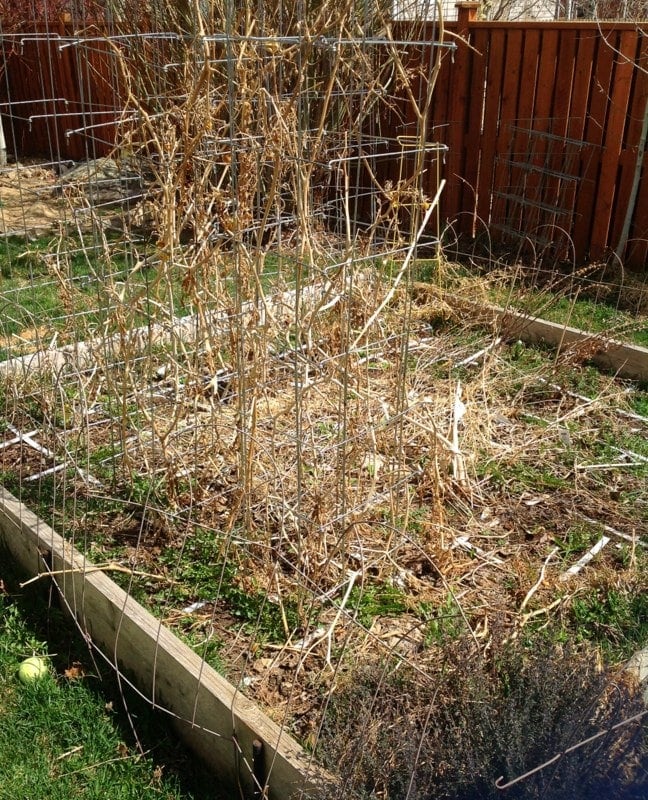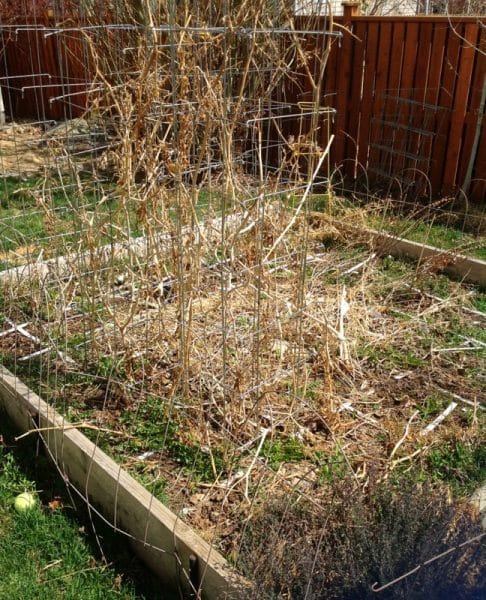 to this….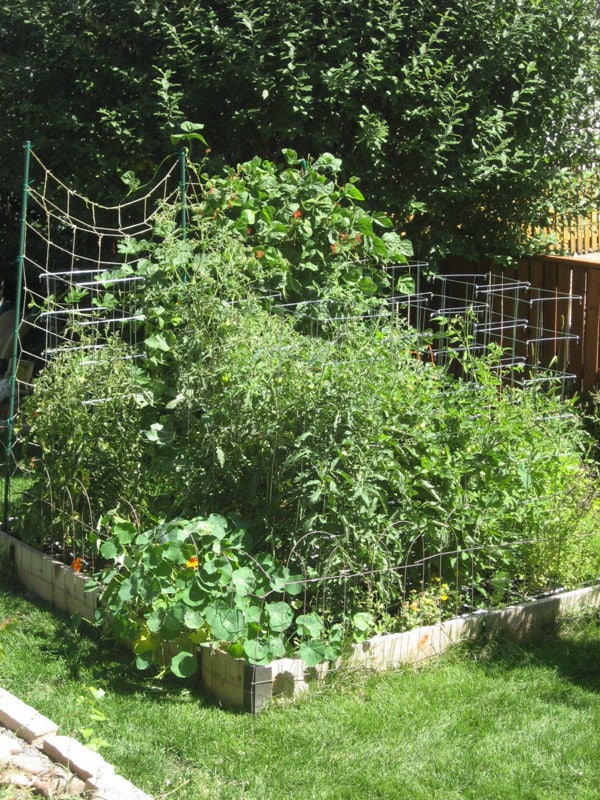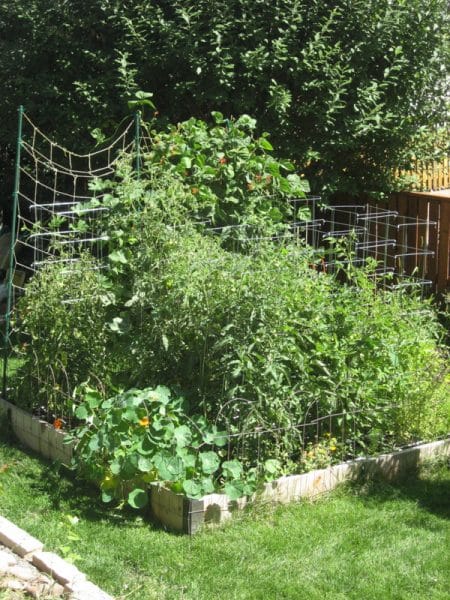 requires a lot of this: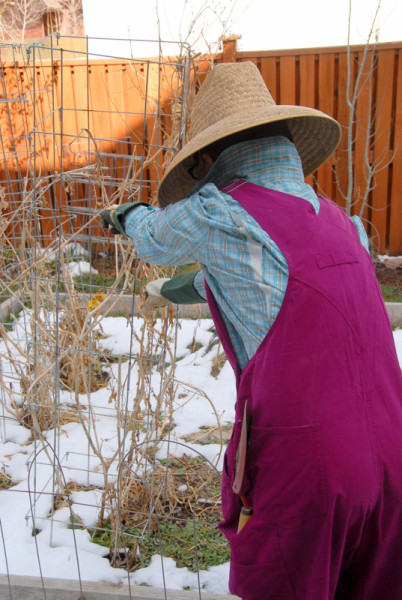 and this….
Anyone who feels gardening does not require hard work has not done it! In Colorado readying the garden for summer is not only laborious, but we also contend with the high altitude sun and beastly heat (interspersed with spring snow) that is not avoidable even when rising before dawn to get as much done as possible.
My task this spring dovetailed perfectly with an opportunity to demo a line of cute but serious outdoor work clothing by Duluth Trading Company. I was familiar with Duluth, knowing they produce a breadth of clothing for each men (my husband get's their catalog) and women, catering to robust use without sacrificing personal style. Their women's clothing is actually tested by real women in the heat and humidity of Texas. They have designed a line of hot weather work wear with athletic-inspired performance which suits my rough-and-tumble gardening approach perfectly.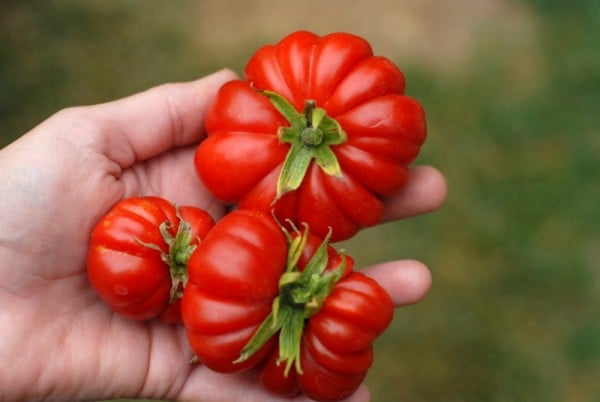 I work hard, love to get dirty and have no time for fussy clothing. I actually have a separate set of clothing I use for outdoor work. My criteria is durability (I've ripped more delicate summer togs on rogue tomato cages and fencing), sun protection and fibers allowing breathability. Something I discovered a number of years ago when embarking on equatorial travel was SPF embedded clothing; and I've never looked back. I was delighted several of Duluth's garments have SPF fabric, feeling it an advantage over merely using sunscreen which can become a mess in the high, sweaty heat.
In looking through Duluth's catalog there were several garments which caught my eye. Flattering longer shorts, figure-fitting t-shirts in eye-catching colors, great leather totes and satchels that I feel confident will be living in my closet very soon. For ripping out my over-wintering garden to get to the planting fun, I selected a pair of Heirloom Gardening Overalls and a plaid Armachillo Work Shirt. Candidly I expected farmer overalls of stiff denim that constrict when bending and reaching, chafing uncomfortably but getting the job done. What I did not expect was soft supple hardworking material, constructed to eliminate all constriction, loaded with pockets (a personal passion for my garden clothes) in a luscious berry color that takes the dirt but gives it all up when washing leaving them looking brand new. I attacked my garden in stages including mud, snow, and high heat. I was comfortable in all conditions, loved the water-resistant knee pad pouches (knee pad can be purchased for greater cushioning), the SPF fabric and that I was able to focus on my garden not my clothes (though did love feeling I could look to have some style and garden functionally!).
I selected the Armachillo Work Shirt for the colors, I'll admit. It did not disappoint in person, however what trumped the look was the weight. The shirt is feather-light and embedded with jade to cool the skin in even the most brutal temps. The underarms are gusseted and the back vented so again the usual binding was alleviated and I felt I had complete unrestricted movement. The shirt is embedded with antimicrobial fiber allowing heavy lifting without heavy 'aroma'. I also loved that I would wear this shirt elsewhere. I wouldn't bat and eye to hop from the garden to pop to the store or grab a coffee. I was really thrilled and have marks on several additional items in the Duluth catalog I plan to purchase for summer work and fun.