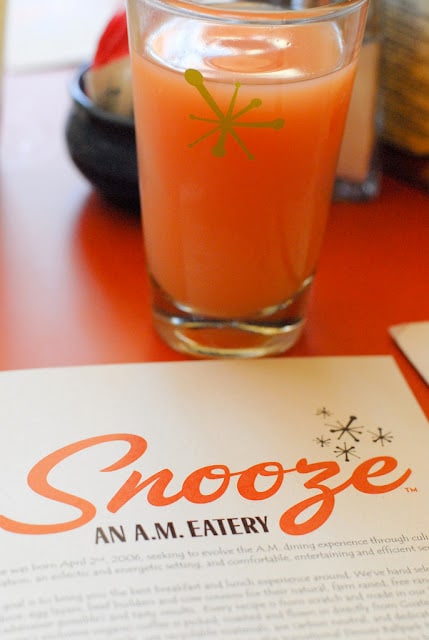 I may be the only person in the greater Denver metro area who has not dined at Snooze….or frankly had not really even heard of it before being invited to try the new location just opening in Boulder.

I think dining out for breakfast is different than any other meal frankly.

There is a decadence implied by it, allowing oneself the time during the day and candidly for a meal that tends to be fairly simple under normal circumstances.

If you are going to take the time to go you want ambiance and menu items that convincingly

beckons

you

away from your bowl of cereal at home.

Snooze is definitely the place you want to start your day.

Happy people work there serving inspired, 'happy' food allowing you to turn on to the day at your own pace.
When I entered the hip eatery on east Pearl Street I was immediately struck with a sense of The Jetsons meet the 'cool people' with the Austin Powers theme track playing in my head to cap it off.

The décor is mod as in the '60's mod with orange curved banquette seats hugging a circular table, ample booths, a very cool bar and their signature retro asterisk-Jacks symbol placed thoughtfully about the restaurant.

Completely worth the time and I felt part of the scene to have walked through the door.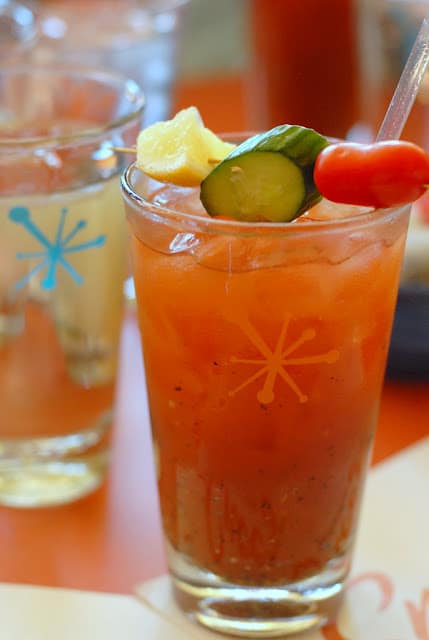 I was with a fun party of six, none of us Snooze aficionados.

We poured over the menu en masse which was very well balanced with pancakes (what they are known for), egg dishes, breakfast sandwiches and a selection of drinks (alcoholic and not).

As soon as I heard pancakes are their specialty I excluded that for myself mentally being gluten free until Tiffany from Yelp Denver pointed across the table to a notation on my menu that everything can be made to be gluten free.

Shocker frankly, and their stock went up for me right then.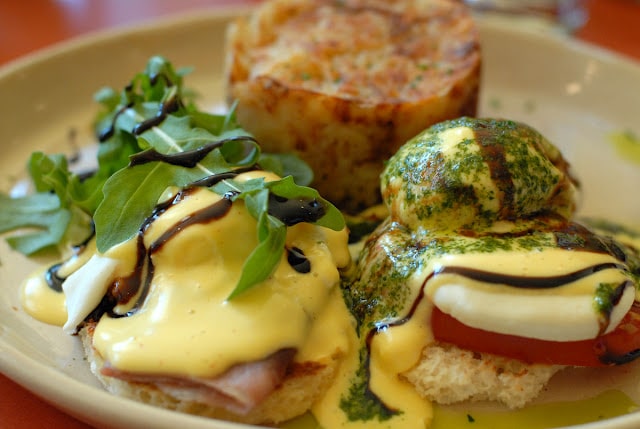 I happily decided on my first Eggs Benedict dish since becoming gluten free over 5 years ago.

It has always been my favorite 'out to breakfast' dish but one of my past until Snooze.

Our server suggested I do a mix and match since I could not decide so I was able to order one each from two options.

I ordered the 'Caprese Benedict' (ripe heirloom tomato slices, fresh mozzarella and poached egg atop toasted ciabatta, gluten free toast for me, with cream cheese hollandaise, basil pesto and a light balsamic drizzle) and 'Bella!

Bella! Benny' (thin slices of prosciutto, Taleggio cheese and perfectly poached egg on toasted ciabatta, again gluten free toast for me, topped with cream cheese hollandaise, balsamic glaze and arugula); was I ever glad I did.

They were both exceptional though the Bella!

Bella! Benny was really was over the top.

The light balsamic drizzle over the entire dish was beyond creative and delicious.

I spoke to several diners and friends who had the same dish with the same enthusiastic reaction.
Two of my dining partners had the Sam I Am breakfast sandwich (Udi's soft pretzel roll filled with scrambled eggs, cheddar cheese and a sausage patty, served with a side of smoked cheddar hollandaise and house hash browns) with great reviews.

And all were excited about the hash brown cake that came with all our dishes.

It was the perfect balance of potato, crisp but not too and no grease to be found all formed into a perfect molded 'cake'.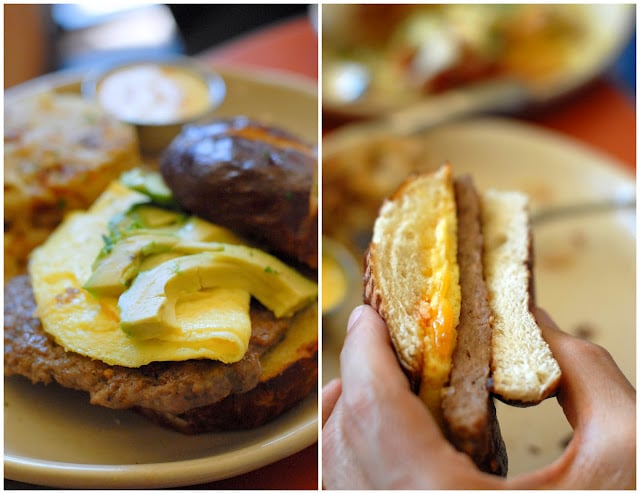 Our table ordered the Pancake of the Day which was as big as my head (only flat).

It was a Peanut Butter banana concoction with a thin layer of banana in the middle of the pancake then topped with a Peanut Butter cream.

Great flavors, over the top rich and undoubtedly filling.

I took one bite for the taste and was impressed.

I can completely understand why they are known for their pancakes.

There were other fabulous sounding pancakes on the menu such as Blue Mesa Pancakes (blue corn and buttermilk pancakes made with fresh summer corn and topped with pinon butter and chili spiced maple syrup).

The server was straight up with me that certain pancakes translate to being gluten free better than others.

I appreciated her candor since I'm familiar from cooking gluten free not all bready dishes are created equal.

Would always rather have the insight to avoid disappointment.

I also loved their relaxed 'have it your way' attitude with regard to mixing and matching, creating your own dish and of course respecting and accommodating food allergies/restrictions without sacrificing any panache.
We were all

stuffed and really delighted with Snooze.

It was bustling when I was there so I was unable to ask specifics about what I know to be a stern focus on sustainability.

They are conscientious with their food and supply sourcing, negating their carbon footprint, composting.

I always like to know restaurants have an eye toward local and quality sourcing as well as sustainable practices.

Snooze does differentiate itself from the run of the mill breakfast joint with its ambiance, verve, spirit and of course exciting food.

Word has it one can expect a wait; no surprise and completely worth it.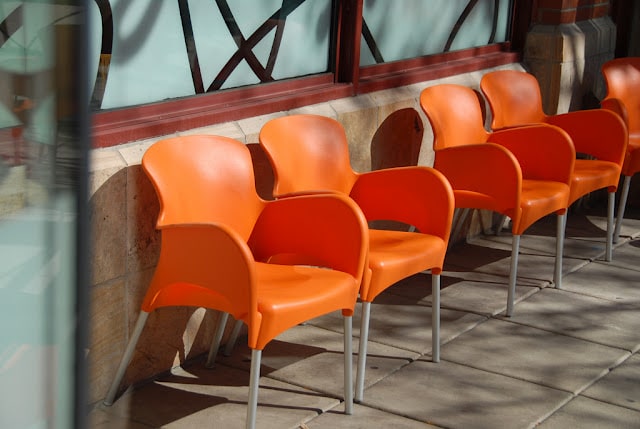 Snooze:
1617 Pearl St, Boulder

303.225.7344

Mon-Fri

6:30 a.m.-2:30 p.m. www.snoozeeatery.com
I would be remiss to wrap up without mentioning the day I enjoyed brunch the restaurant was having a fundraiser for the Growe Foundation.

My seat mate, Roger, asked our table if we could sum up what is great about the Growe Foundation in 2 sentences.

I jumped to the forefront

claiming I'd have to restrain myself as there is far more than 2 sentences of virtues to extol but being an adult co-lead of one of their school Garden-to-Table programs I have first hand insight to the quality and vision of their organization.
The Growe Foundation is a local non-profit establishing school gardens and Garden-to-Table programs in the Boulder Valley School District.

They supply schools not only with the manpower and supplies to build the gardens (they build them) but lesson plans per grade to allow a tie in to the curriculum using the garden as a teaching tool.

By this I mean not only do students learn about growing food and gardening but the grades employ the gardens for lessons in scientific process, math studies, social studies and more with each lesson being scoped to the developmental stage appropriate for the students.

With integration into the curriculum the program takes on a life of its own.

I have seen firsthand the thrill the students have in watching the changes in the garden, building their personal knowledge base and how it affects their awareness and commitment to their own personal food supply.

It's magic, pure magic.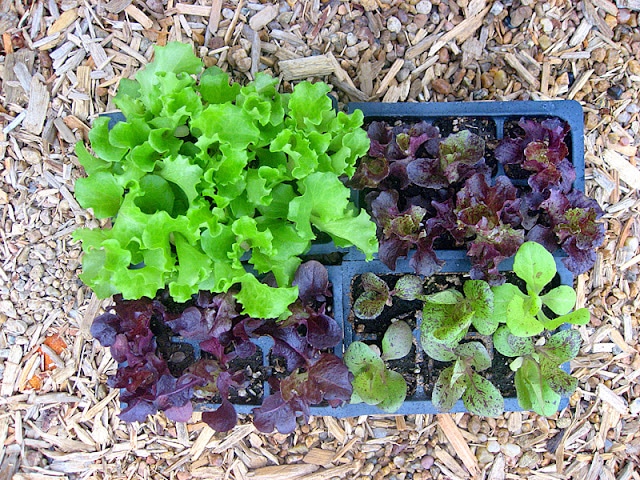 I chanced upon Bryce Brown, Growe's founder when at Snooze.

He explained his over arching vision is ultimately to put themselves 'out of business' if you will with the goal of schools absorbing the program to the point where Growe's resources are not required, and schools will have developed a skill base and internal drive to fully support and evolve their program to meet their needs.

In the meantime they connect schools with local 'experts', farmers and chefs, really a local food 'parade of stars' all equally excited about engaging children in the growing process.
I personally observe a community passion for Growe's mission.

My CSA farm I learned supplies many of the garden starters in the spring (as do other farms).

The cool restaurants are completely on board facilitating fundraisers and percentage of profits to support their mission.

Not hard to understand why when speaking to Bryce or any of the Growe staff.

They live their mission and impart that enthusiasm to hundreds of school children annually.

They are not just teaching, they are changing lives, no question about it.
To learn more about Growe's mission and events, or to consider donating time or resources please check out their website:

growefoundation.org.