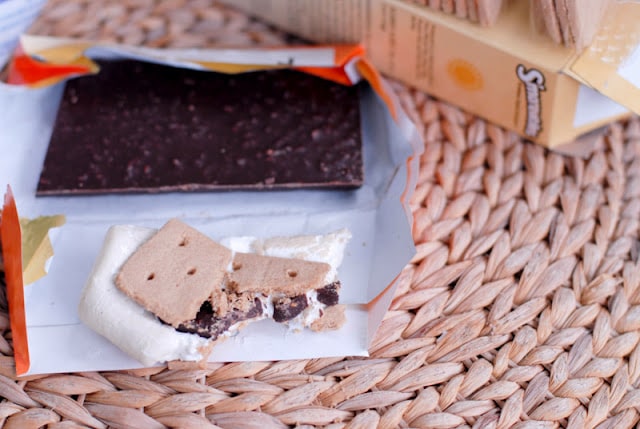 I'd venture a guess that most Americans will immediately associate this post title with scout camp as youths or as a summer dessert staple.  Non Americans may think I need spelling lessons and wonder what the big deal is about such a simple and robustly sweet snack.
'S'mores' do mean what they sound to: 'can I have SOME MORE?'

 

Whether it was at Scout Camp (for me), camping with your family or another similar, nostalgic, most likely warm weather occasion that first provided the intro to S'mores they are never forgotten.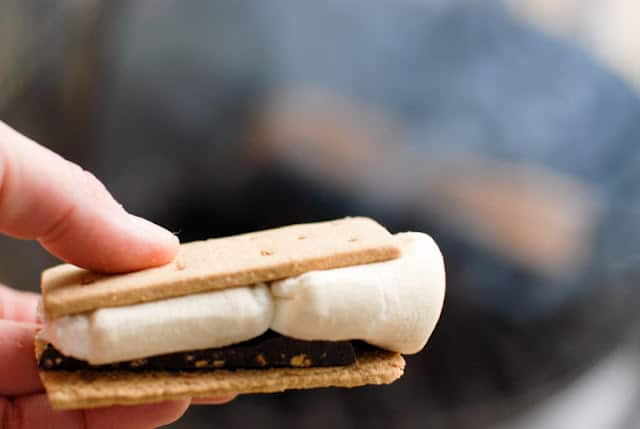 A S'more consists of roasting a marshmallow, squeezing it between two graham crackers with a piece of chocolate (between one cracker and the marshmallow).  The super sweet melty mess truly is an iconic summer staple.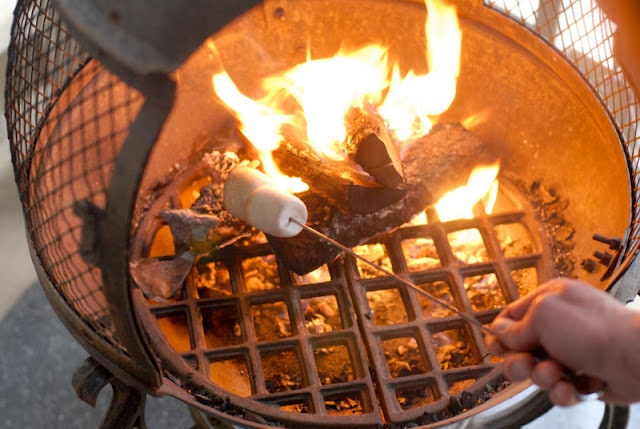 I'm not sure why the bug hit my household recently, perhaps our long weeks of freezing rain.  Needless to say the hankering broke loose with reckless abandon.  We stoked up the chimnea on the covered side porch, dawned all the down filled gear we could find and went for it.  Pinon smoke blinding us and requiring several washings of my hair to remove, we sucked down goopy S'mores like it was July.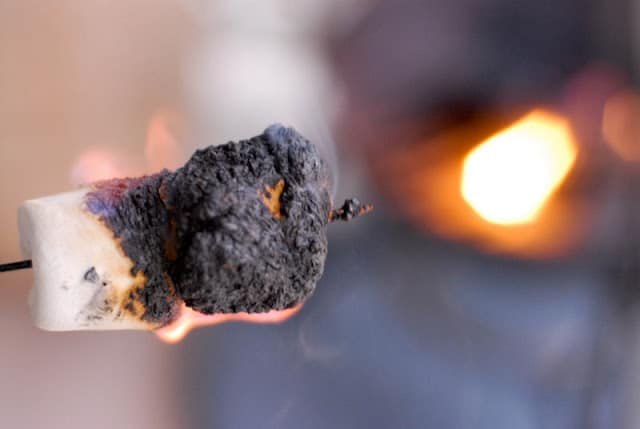 There is always a debate surrounding this seemingly simple fare: how do you do YOUR marshmallows?

 

Do you patiently, gingerly rotate the stick at just the right proximity from the flame, to bring the fluffy white outside primly to a golden hue while warming the inside to a perfect gooey consistency?

 

Or are you like me; more of a Bull In A China Shop, knowing you lack the delicate sensibilities to ever reach the aforementioned state so you just go for it: stick that baby in the fire, let it flame and enjoy the outer carbon coating as 'added seasoning' along with the mush that becomes the center?

 

It's really so personal.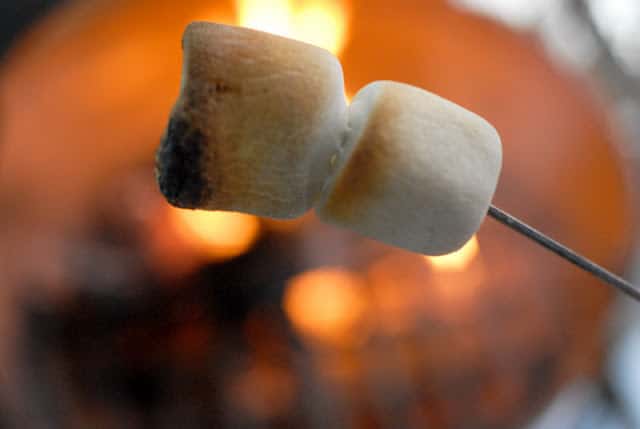 One upgrade I've folded in is that I incorporate more gourmet chocolate.

 

There is a time and place for milk chocolate but I've migrated toward the flavors of the local favorite Chocolove.

 

I wrote about them around Valentine's Day (click here to learn more) but their sublime flavors include exceptional chocolate quality with fruit, nuts and other key ingredients.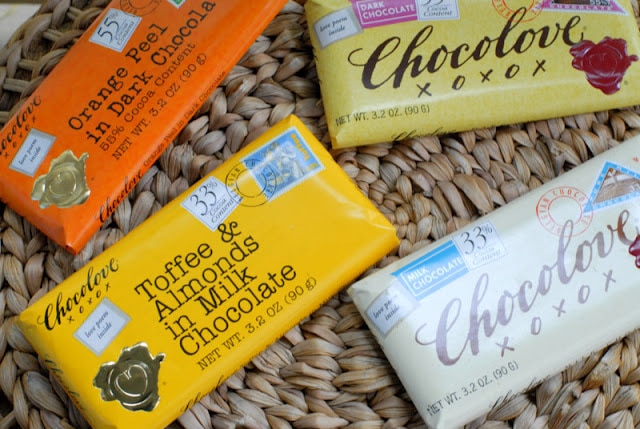 This episode of S'more provoked a new debate.  One family member opted to purchase 'organic marshmallows'.  Though I'm an organic food consumer, it's difficult to see the benefit in this form, especially when reading the ingredient list to find 'fish gelatin (tilapia or Nile perch)'.  When going on a total unbridled sugar bender such as the S'more offers, I personally feel there is no place for fish in that mix.  I secretly stole out of the garage and returned with the old staple mainstream marshmallows.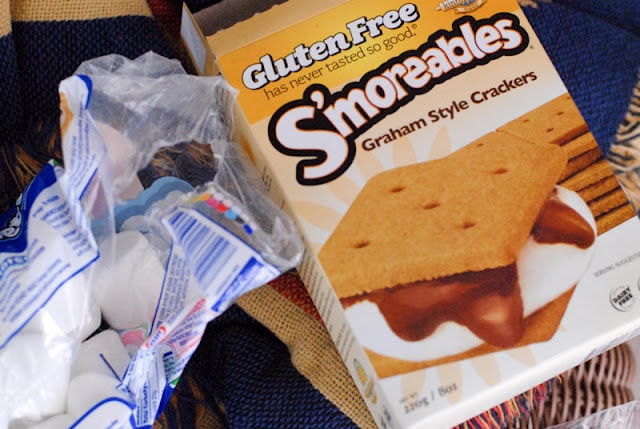 For gluten free eaters, I also tried a new find.

 

Kinnikinnick makes a S'more ready graham crackers: Smoreables.

 

The flavor is great.

 

They are the same thickness as regular graham really bringing back the opportunity to eat 'like the rest of the people'.

 

For you gluten-consumers, this might seem a 'so what' but after being gluten free for 5 years from medical need, it's a happy day to find an old favorite brought back again in a form similar to what you've had before.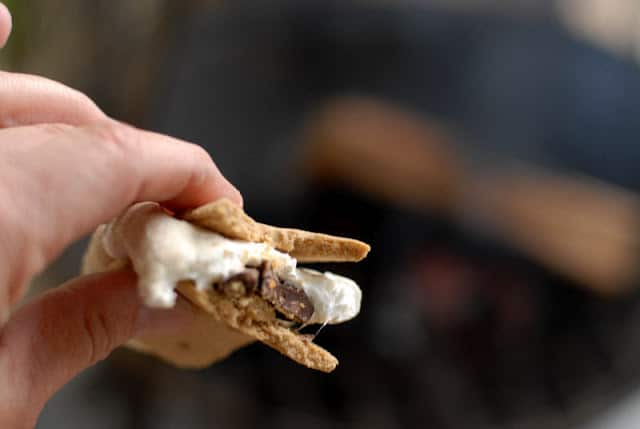 Your first big decision will be how big do you want this?

 

I think 2 panels of the regular 4 paneled graham cracker for each side of the S'more is a good starting point.

 

Feeling like a petite portion; one panel on each side.

 

Feeling like more?

 

Read my story after the recipe before making that commitment.
·

        
2 graham crackers
·

        
Piece of chocolate (size of your choosing but the size of one of the graham crackers is the norm)
·

        
1-2 marshmallows
You will need a fire.

 

Campfire, chimnea, grill when done….I've even used the gas range.

 

Put the desired number of marshmallows on a stick or shish kabob skewer.

 

Rotate them over the flame to the desired 'doneness'.

 

Place one cracker, chocolate, marshmallow(s) and second cracker together; squeeze and remove the skewer from the marshmallows.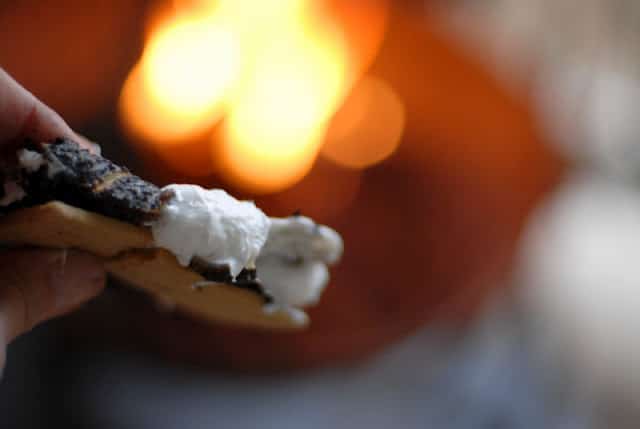 I must share an account of the scariest s'more situation I've experienced.

 

I was talked into going early winter camping in Yosemite California by a group of friends years ago.

 

One of the friends would be bringing his extended family, who in turn brought a number of their friends.

 

The entire experience was terrifying on many levels.

 

Bears were in the low country seeking food for winter.

 

The friends at the camp next to us failed to wash their fajita pan which caused us to wake to a complete ruckus as a bear disassembled their camp searching the camp for the source of the smell.

 

Then again for the bear rolling their Playmate Cooler, VERY frustrated, trying to get it to open.
We woke to broken car windshields as the bears can identify the size and shape of coolers and would literally break into cars to find them.

 

One of the nights I awoke from my fluttering, anxious sleep to a deep groan about a foot outside my tent; a bear was walking right by.

 

I had an unopened bottle of bourbon in the tent (anything with a smell is always kept in a 'bear box' in camp or suspended from a tree so the bears are not drawn into the camp) and all I could obsessively think about was whether the bear could smell it, would it WANT to drink bourbon and come in for some.

 

I stopped breathing temporarily so it would walk on by.

 
I eventually went back to sleep and awoke able to answer the age old question about whether a bear does his business in the woods.

 

In this instance, it was directly in front of my tent opening.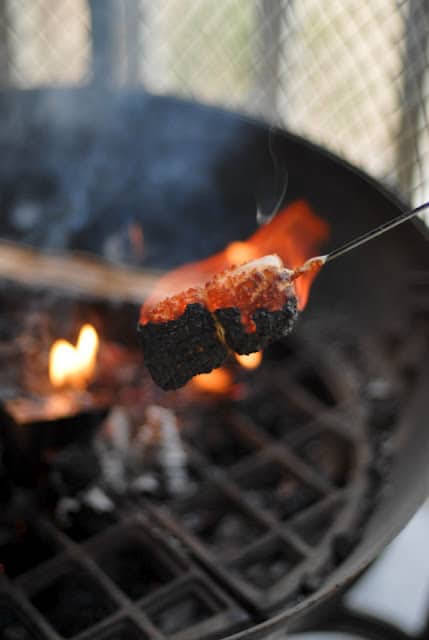 There were a gallery of crazy friends along for this ride.

 

One zany member of the accompanying family decided one night by the campfire it would be fun to subject his barely English speaking co-workers he'd dragged along from around the world to a sick rendition of an American Drinking Game.

 

He would put his hand over a person's head sitting around the campfire and the co-worker would have to state the person's relationship to the host in English.

 

If failing they'd have to drink a shot of one of 4 truly heinous liquors which I will resist naming.

 

It was painful to watch especially when people were folded in with NO relationship to the host, putting his co-workers on the direct train to Hangoverville.

 

They all seemed to like it though (I'm sure until the next day).
Having trouble watching for the pain I turned my attentions to a quiet friend of the outrageous host who was sitting off to the side happily making s'mores for himself.

 

I struck up a conversation, mildly aware of the repetitive s'more making as we talked.

 

He was a plasma (as in blood component) salesperson.

 

He quickly went into great depth about obtaining, purifying and selling plasma.

 

He was fascinated with nut allergies and plasma and offered to buy gallons of mine were I possibly allergic to walnuts.
I became suspicious he might have been imbibing a bit too when I realized he was on this fourth s'more, increasing each in size.

 

I had to back away when he assembled the Mack Daddy of all s'mores with a whopping 9 marshmallows not thinking a thing about it.

 

Viewing the consumption was more than I could watch.

 

I bid him goodnight and returned to lie anxious in my tent all night; about the bears, AND the s'mores.