I just discovered these treats and ordered them immediately (I'm passing them along before sampling though noted 100% satisfaction rating for 1488 orders).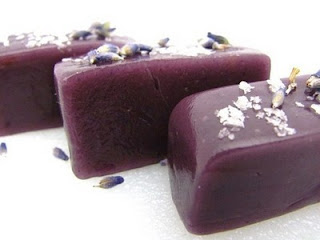 Here is their description by the food artisan:
Natural organic dried lavender has been sprinkled on top of our luscious caramel with a little lavender fleur d' sel salt. Wow! We have used our same original lavender infused caramel only bumped up a notch!
This listing is for 15 pcs. of lavender fleur d' sel caramel individually hand cut and wrapped in cello paper. Packaged in a clear cello bag with ribbon bow.
Approx. 4 oz. or 1/4lb. $ 6.50 (U.S. Shipping $2.75, Elsewhere $8.75; with shipping discounts for additional items)
From The Calabasas Candy Company found on Etsy
And look at their other seasonal delights (my curiosity is definitely piqued)….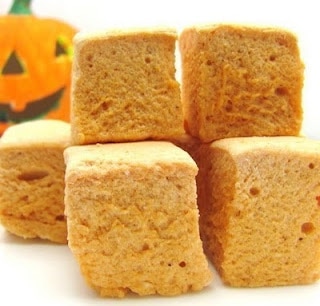 Pumpkin Spice Marshmallows ($3.75/15 pcs)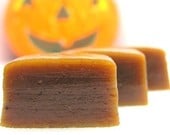 Pumpkin Caramel ($3.75/15 pcs)