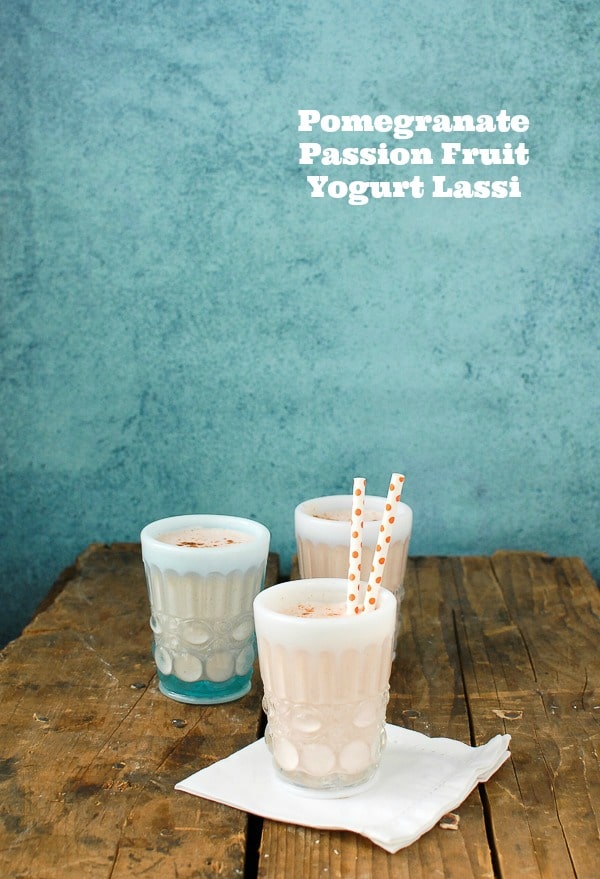 December can be a very exciting month. So many outings and gatherings with friends. Merriment and good tidings abound. So do rich, decadent foods, and an overabundance of sweets. Christmas cookies seem to trail us where ever we go, whether it be plates loaded at the coffee station at work or samples being given out at malls packed with stressed out shoppers.
December can begin to feel like a culinary free fall; throwing caution to the wind, eating with reckless abandon with all hopes set on January, the 'healthy' month, to make it all right. In the meantime, between the over indulgent noshing we feel lousy and can't wedge healthy options into our feasting easily. Or so it seems.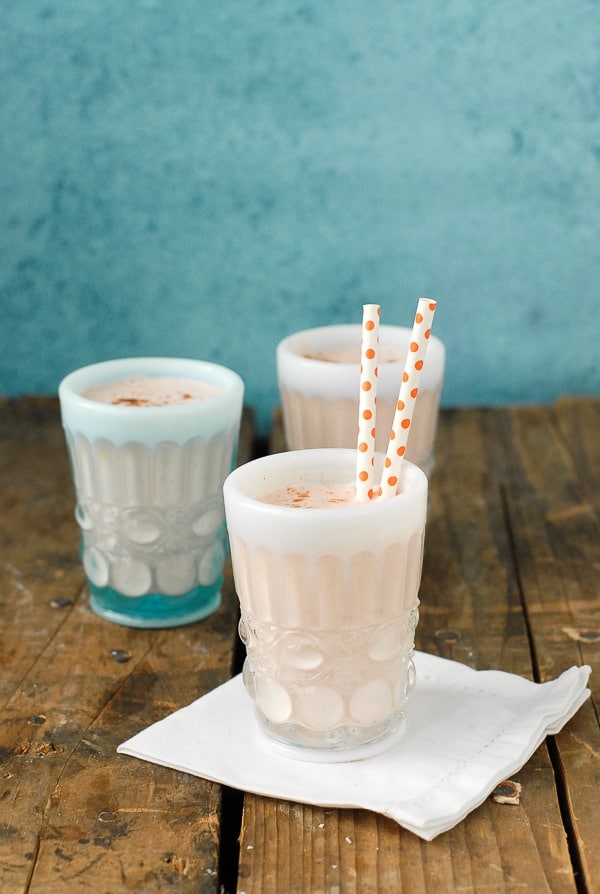 Here's a secret for you. Full-flavored options are the ticket to interleaving healthy food and drink into the holiday diet without skipping a beat. It doesn't have to taste healthy to be healthy. Case in point the Cranberry Pear Ginger Smoothie shared recently. Its rich, thick seasonal flavors never let on that it is only fruit, kale (which you cannot taste) and filtered water. A few dates thrown in to sweeten up the tart fresh cranberries but that's it.
One thing I've been eating daily is siggi's yogurt. I fell in love with it as soon as I laid eyes on the simple hand drawn images of the flavors on the front of the minimalist white matte cartons. Honestly I had given up eating yogurt other than when I make it myself. I associate it with being on a weight-loss diet; the flavors are usually tired and it's too watery and sweet for my liking. I want to eat foods I love and this I do.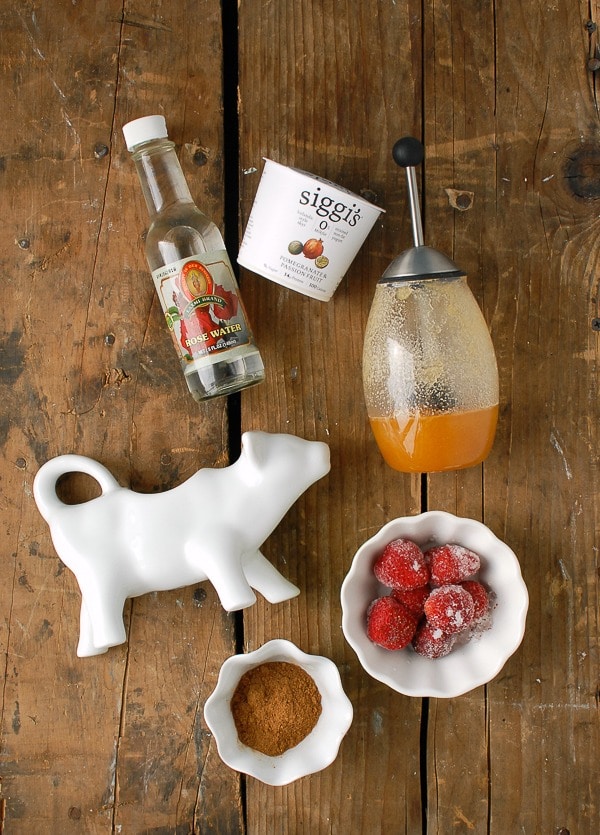 Siggi's yogurt is 'Icelandic-style' meaning it's fashioned after Skyr, a strained yogurt that is made of three times the milk than most yogurts leaving it higher in protein and low in fat and sugar. It's thick and creamy. It eats like real food. It is more natural tasting and less sweet overall than many other yogurts thanks to the sweetening coming from fruit or natural sweeteners. It has everything I love about clean food: it's all natural with no aspartame, no sucralose, no gelatin, no artificial colorings or preservatives and does not contain high fructose corn syrup. The cows which produce the milk are grass-fed on New York family farms and have not been administered with rBGH (recombinant bovine growth hormone). Their label is perforated so it can be recycled as can the container. Every aspect of the yogurt is thoughtful. Love that.
One of my favorite Indian drinks is Lassi. It's a thick, creamy yogurt-based drink most popularly featuring mango. I remember the first time I had one I thought I'd gone to heaven. It is a beautiful blend of sweet and tart, creamy and filling. So easy to make and (shhhhh) healthy.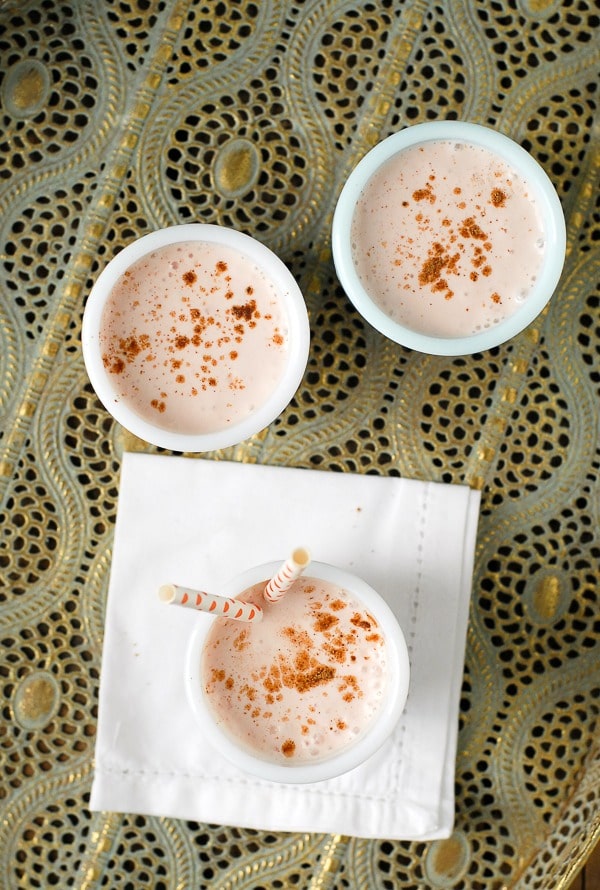 A lassi is a perfect option to interleave into your holiday dining to create an exotic surprise that tastes unexpected and interesting yet isn't loaded with calories or sugar. Another thing that makes me prefer siggi's yogurt are the flavors:  Orange and Ginger, Acai and Mixed Berries, Spiced Pear, Pumpkin and Spice, Coconut and more. I used a favorite, Pomegranate and Passion Fruit to create a wonderful lassi to serve during the holidays or anytime the mood strikes!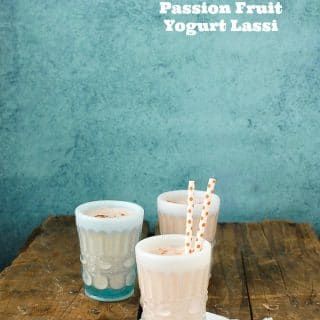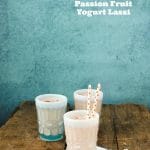 Pomegranate Passion Fruit Yogurt Lassi
This rich, thick and creamy Pomegranate Passion Fruit Yogurt Lassi will have everyone fooled into believing its a high calorie, decadent drink! Made of simple ingredient, low in sugar and bursting with exotic flavors it is a perfect choice to make any occasion special without over indulging!
Servings
3
small (6 ½ ounces) or 2 large (10 ounce) servings
Ingredients
3-5.3

ounce

/150 g containers Siggi's Pomegranate and Passion Fruit Yogurt

(equivalent to 1 ½ cups yogurt)

1

tablespoon

Honey

½

cup

frozen Strawberries

¼

cup

Milk

1

tablespoon

Rose Water

Garnish: Chinese Five Spice
Instructions
Place all ingredients in a blender and blend until smooth. Served chilled or at room temperature with a sprinkling of Chinese Five Spice on the top.
Nutrition Facts
Pomegranate Passion Fruit Yogurt Lassi
Amount Per Serving
Calories 58
Calories from Fat 9
% Daily Value*
Fat 1g2%
Cholesterol 5mg2%
Sodium 22mg1%
Potassium 107mg3%
Carbohydrates 9g3%
Protein 1g2%
Vitamin A 60IU1%
Vitamin C 14.1mg17%
Calcium 61mg6%
Iron 0.1mg1%
* Percent Daily Values are based on a 2000 calorie diet.
This is a sponsored conversation written by me on behalf of siggi's Dairy. The opinions and text are all mine.