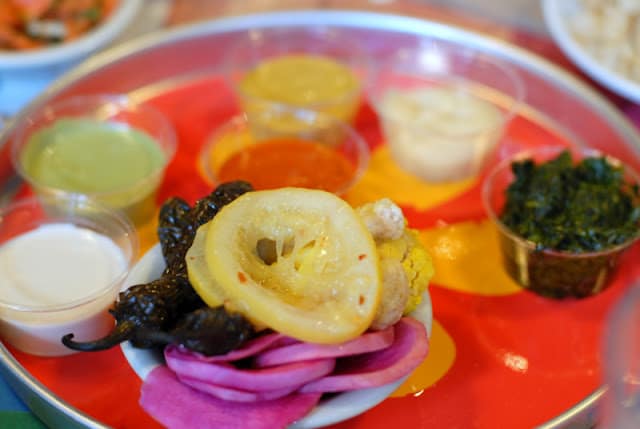 Pickled Lemon
, the latest restaurant in the Udi's family, is tucked into a charming nook of a restaurant on The Hill (the University district for non locals).

 

From the street you are greeted by an historic, dark brick, steep-roofed façade which gives way to a total internal re-do featuring groovy, bright tables fashioned from an international Lebanon-London artist Rana Salam bright blue and white cabled wall paper.

 

It's fresh and bright, reflecting the flavors of the delicious food.
I dined with Udi himself (to whom I confessed has been enshrined in my house, making 'real people' gluten free bread), son Etai (formerly head of the gluten free company activities) and daughter Robin, the mastermind and chef behind Pickled Lemon.

 

They are excited about this new for them 'Chipotlesque' concept of fresh, fabulous food, served quickly and affordably to your choices.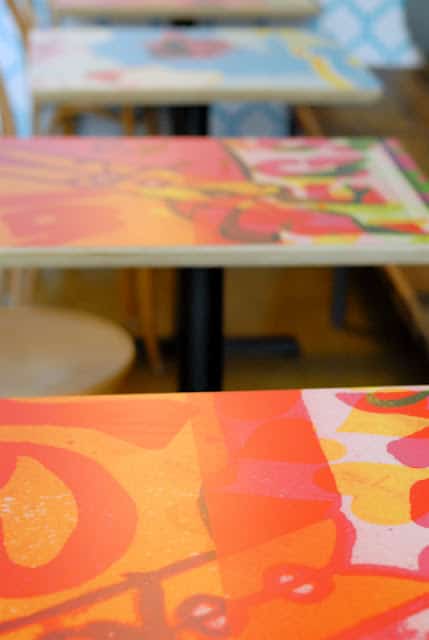 Though the Pickled Lemon offers established plates to select from, nothing is cast in stone.

 

You are free to mix and match as you choose from dishes with Middle Eastern, African and European street food roots.

 

There are rotating seasonal dishes as well.

 

Robin loves the idea that even with the regular foods they offer, you can layer the flavors differently each visit to come up with a totally different dish.

 

Being one who loves diversity and becomes stale on static choices, this spoke to me in a big way.
The thought and care that has gone into this restaurant is apparent.

 

From the extensive trips taken by Robin to Israel to sample from endless falafel makers to cultivate the perfect spice blend and texture suited to the American market, to the staging of their opening during the summer allowing ample leeway to work out any kinks before being barraged by voracious college students within the next month.

 

Robin's love for the food and passion for this effort are palpable and you can taste it in the food.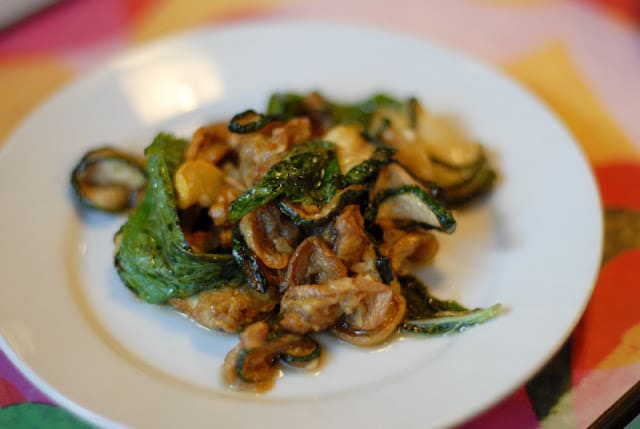 The sautéed Zucchini with Mint, one of Pickled Lemon's rotating seasonal dishes, is out of this world!
We were first greeted by a vibrant plate of pickles; lemons, jalapeno, turnips pickled in beets leaving them the most gorgeous of pinks (all which can be found in Pickled Lemon's pickle bar).

 

Small bowls of all the different sauces spanning the gamut of flavor profiles and heat.

 

It looked more like an art installation than something we dared dive headlong into (though we did, willingly).
The Chicken Shawarma was gorgeous.

 

Perfectly prepared chicken pieces in a 21 spice blend, the genesis of which speaks again to the depth of conviction to this effort.

 

 

Robin scoured shawarma stands while in the Armenian Quarter of Old Jerusalem while on one of her Middle East food recon trips to find a flavor profile she wanted.

 

She bought a few ounces of some seasoning from a protective vendor (they don't share recipes!) , brought it back to the Savory Spice shop in Boulder who deconstructed it and was able to replicate it using 21 seasonings; nothing short of a culinary miracle in my book.

 
I love Falafels (chick pea fritters) and was excited to try them with the promise of a more cream consistency than traditional falafels.

 

Imagine my complete delight to open one only to find the most luscious of bright green colors!

  

They were perfection.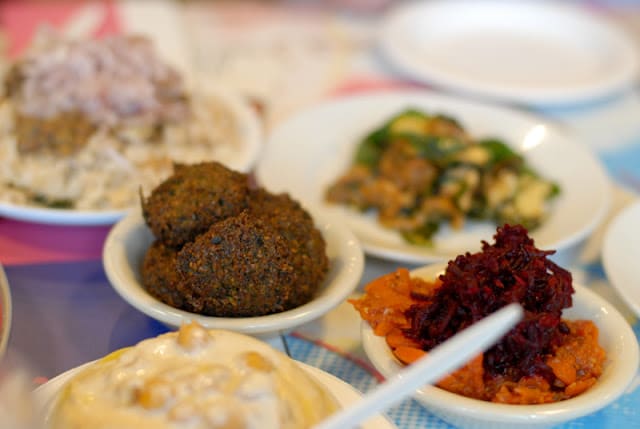 Pickled Lemon's creamy falafels (left) and Horseradish Beets on top of

Moroccan

Carrots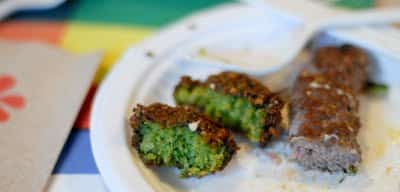 I was smitten with the gorgeous green color when opening the falafel.

 

Pickled Lemon's lamb kabob (right) was also smooth and perfectly seasoned.
The hummus Robin said was either Turkish or Egyptian depending on which is 'currently the best available'.

 

I queried Robin on what that meant and she explained she's looking for the best flavor and quality of what is readily and freshly available to her.

 

I loved the idea she's constantly considering where to get the right ingredients to uphold her food vision rather than settling for easy or static choices.

 

Pickled Lemon's hummus is prepared slightly differently in that its ultra creamy with some whole chick peas left in and it's served warm.

 

It was perfect.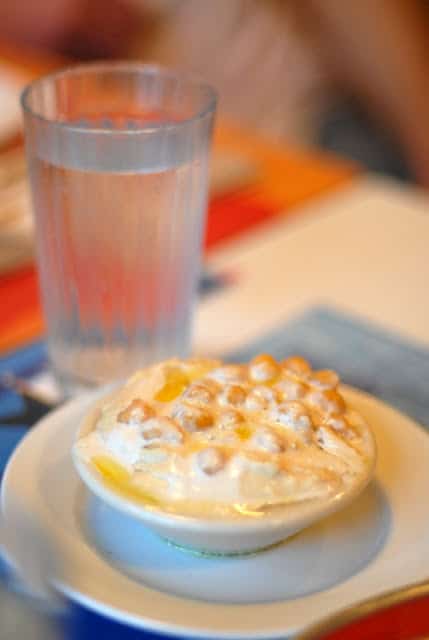 None of this would be complete without pitas (Middle Eastern pocket bread).

 

Though I was unable to try them due to the gluten (by the way only the pita and tabouleh are off limits for gluten-free diners), I could see a different lofty consistency to them unlike the dried, thin varieties you can purchase in grocery stores.

 

The pitas are made locally by Udi's in Louisville, delivered fresh daily and were born from an odyssey themselves.

 

Udi personally took the charge on this effort, traveling internationally to find the best methods and machinery to produce their vision.

 

The adventure took a year.

 

These pitas are a Yemenite style which is thicker and doughier.

 

Udi's bakery

 

grinds their own flour to ensure the end product meets their end goal and all comments were they have been completely successful.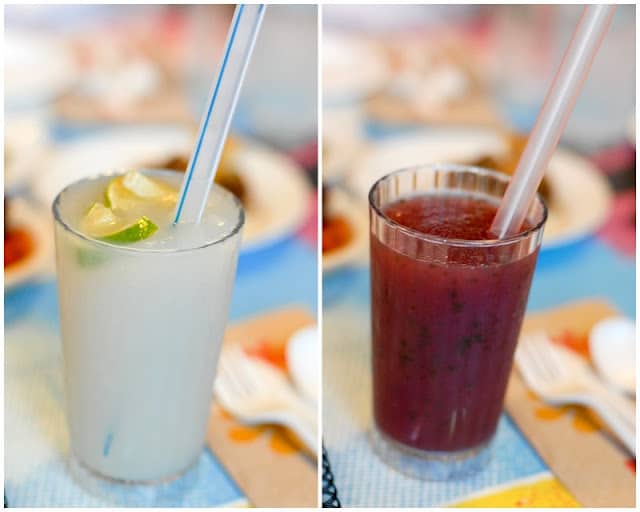 I sampled a Margarita with Lime and Pickled Lemon and Pomegranate Mint Mojito, both of which were completely refreshing on this beastly hot day.

 

The rotating vegetable dish (meaning it's not a constant feature) was a seasonal, locally sourced thinly sliced zucchini sautéed with mint lemon and garlic; out of this world.

 

Robin's Grandmother's Horseradish beet dish (which as my readers know I am a beet eater, not a beet lover, and these were

good

) prepared with fresh horseradish and apple cider vinegar.

 

They were paired with Moroccan Carrots (sautéed with garlic and cumin, braised in tomato sauce).

 

A beautiful Turkish-style rice pilaf with lentils and delicious kale.
The recipes come from family, Robin's creations taken from her time living in Israel and some she's adapted to the American palate.

 

They are all a labor of love.

 

They are able to source some of the vegetables locally though with the cost targets to make this food affordable most of the food is sourced from non-local quality sources.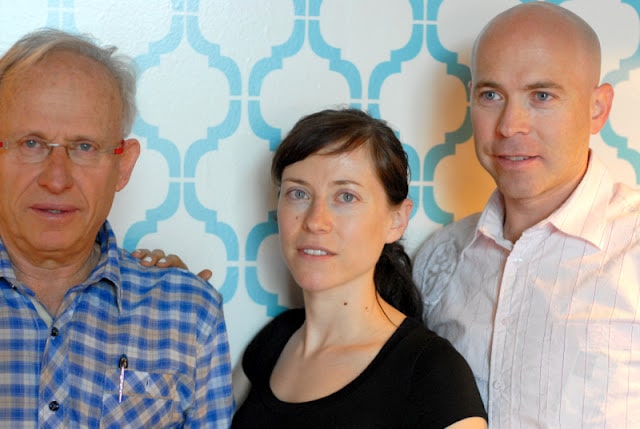 (From left to right) Udi, Robin and Etai Bar-on
There are plans for lengthening the restaurant hours hopefully to accommodate late nighters seeking good eats and Robin wanting them to have good food available for them.

 

She likes music and would like to consider incorporating that somehow as well.
I walked away with the meal surpassing any expectations, excited about their combine dedication and vision and confident about the quality one could expect.

 
Pickled Lemon: 1155 13th Street, Boulder CO

  

Open Monday-Saturday 11-11 (Closed Sunday)