As I began to read the introduction to 'The Nourished Kitchen' (Ten Speed Press), it struck me how odd it is that we now have added to our culinary lexicon labels such as 'real food'. It doesn't seem that long ago that food was just that:  food. It came from our home gardens, was driven by seasonal availability in grocery stores and we ate mainly what we could find fresh, as our Grandparents taught us. The reality however is that it has changed. The modern conveniences of food made fast often rob us of nutrition, the satisfaction of freshly prepared food or time with our families conversing over this food. Our current generation has begun to crave the traditional approach to food as witnessed by the abundance of successful Farmer's Markets and farm CSA's which are sweeping the country. That which seemed 'old school' only last decade is the new chic. The newly released The Nourished Kitchen is the perfect partner to celebrate real food and prepare it with innovation and panache.
I'm proud to be a fellow Coloradoan with The Nourished Kitchen's author, Jennifer McGruther. She hails from one of the most beautiful regions of our state and has been impressing via her gorgeous food blog, Nourished Kitchen, by sharing 'traditional food' with hungry readers. Her book is endorsed by luminaries in the real food world such as Deborah Madison and Joel Salatin who use descriptors such as 'informed', 'gorgeous', 'the wisdom that we crave', 'filled with flavor and style' and 'a roadmap to culinary integrity' for The Nourished Kitchen. It is all of that and more.
Jennifer introduces the book by sharing her food philosophy on which it is built; sustainability, balance, unprocessed, traditionally prepared and community involvement. She breaks down each area in a thoughtful, earnest way that feels like she's speaking directly to the reader one on one. The reader is gently enfolded to become reacquainted with familiar ingredients and alternatives perhaps new, each with background that gives pause for thought. The Nourished Kitchen gives license to think about our food choices in a meaningful way without evangelizing.
The Nourished Kitchen shares 160 tantalizing recipes broken into sensible chapters: from the garden, pasture, range, waters, field, wild, orchard and the larder. Each chapter begins with introductory thoughts and wisdom about that topic, setting the stage for beautiful recipes to follow. As an example Jennifer shares the story of greens kicking off the Garden chapter, from the bitter first spring lettuces and herbs through the abundance of summer's harvest and the cold-hearty varieties ushering in the winter season. The reader begins to appreciate the cycles of food, new options and seasonal purpose, all set against the backdrop of the author's life as a gardener, and food seeker living  in concert with a seasonally-driven sensibility.
The Nourished Kitchen covers many basics such as how to create a sourdough starter, why lard is actually not evil, how to blanch nuts and much more. Helpful charts comparing the qualities of different bean or grain varieties in their flavors, nutrition and suggested easy preparation methods are also included. More exotic topics such as fermentation or foraged wild foods are covered from the benefits to methods with several delicious supporting recipes.
I think there is a temptation when an author is living deeply entwined with the seasons and earth to imagine their recipes might lean toward tastelessly healthy. The truly magical thing about The Nourished Kitchen is the sophisticated palate the recipes deliver: Bacon-Wrapped Pheasant with Garden Herbs, Sourdough Blueberry Pancakes with Buttered Orange Syrup, Gravlax with Maple, Dill and Juniper, Pot Roast with Apples, Sweet Potatoes and Prunes. You get the picture. The Nourished Kitchen celebrates the beauty of traditional food in an elevated form leaving the reader hungry, and yearning for the robust flavors and textures each recipe offers. Eggs Poached in Fiery Tomato Sauce, Goose Liver Mousse with Mission Figs, Bohemian Rye Bread, Stinging Nettle Soup with Cream, Roasted Hazelnut Brittle.
The Nourished Kitchen builds on the practices of our Grandparents and marries them with the devotion to experimentation and sophisticated inspiration that is today's culinary stage. It offers a rich exploration that will keep each season new and tickle the curiosity of all there is yet to discover in real food.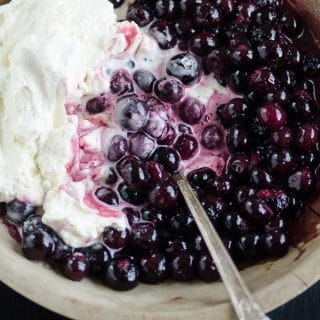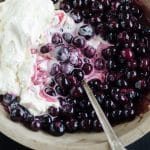 Melted Blueberries with Ginger and Mandarin Orange
"Tossed into frothy butter scented with ginger, blueberries soften and seem to melt away. I usually use orange blossom honey, as it nicely balances the earthy sweetness of blueberries and the vibrant citrus flavors of mandarin orange. Once the flavors meld together in the heat of the pan, I ladle the blueberries into waiting bowls and serve them with a dollop of whipped cream that melts, ever so slowly, with the residual heat of the berries." -The Nourished Kitchen
Ingredients
1

teaspoon

unsalted butter

1

teaspoon

grated fresh ginger

2 1/2

cups

blueberries

1

tablespoon

honey

Finely grated zest and juice of 1 mandarin orange

Whipped cream

, to serve
Instructions
Melt the butter in a skillet over medium heat.

Stir in the ginger and sauté until it releases its spicy perfume, about 2 minutes.

Stir in the blueberries, honey, and mandarin zest and juice.

Sauté the berries over medium heat until the berries soften and their juices form a thin syrup, about 6 minutes.

Spoon the warm berries into individual bowls and serve topped with a generous spoonful of whipped cream.
Reprinted with permission from The Nourished Kitchen written and photographed by Jennifer McGruther (Ten Speed Press, © 2014). Disclosure:  I received a copy of The Nourished Kitchen for the purposes of this review; all opinions are my own.