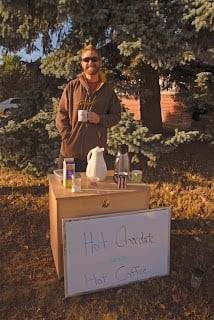 For the last few months as I zip about town in the early hours I've noted a few things.  One, that's really sticking in my craw, are the neighborhood apple trees sitting neglected with ripe apples dropping on the ground to rot (tempting me to act like a freak, knock on the door of the resident and strike a deal about picking their apples for them and splitting the booty).  But a less neurotic observation has been a happy guy on a street corner behind a cart of coffee paraphernalia waving at cars passing by.  I did not pay much mind, thinking it was something to get attention for something else (what that might be, I did not ponder).
Then it dawned on me, this guy is out there all the time.

 

As with my lesson learned from stopping at Loukonen Farms, I decided I was going to go meet the Coffee Guy and find out what his story is.
Much to my surprise when I stopped today I almost had to elbow my way in to meet him and get some coffee.

 

His little stand was hoppin'.

 

Matt (a.k.a. 'the Coffee Guy' to me) is a fairly new resident to Boulder.

 

He lived in Florida for 20 years, had a friend slated to come to CU who changed her mind but he and other pals (who apparently were going to do a group move with her) decided 'what the heck' and came anyway.

 

They landed in this neighborhood and he thought up the coffee stand idea to 'make connections'.

 

I asked if he was in a certain line of business and was hoping to make business connections and he said no, just meet new people (how ingenious!).
Matt and his brother have started a business called Buff Notes which helps with class notes for CU students as well as he's currently working at a local restaurant.
Matt's stand offers coffee and he's just begun to make hot chocolate too as the weather turns chilly.  I noted many patrons liked a mix of both. The cost is by donation.

 

Most people give a dollar but he's had patrons give more and has also provided coffee for free.

 

He'll fill up your travel mug or has mugs there should you like to have a cup and chat with a friend on the spot.

 

There is a white board in front of the stand announcing what he's serving for the day.
And what does he serve EVERY day without fail?

 

A big dose of sunshine to the cars furiously zooming by.

 

I see him waving with a big smile each time I pass by (and when was the last time you saw that kind of unbridled enthusiasm that did not emanate from a dancing pickle waving a sign in front of a business or a costumed dead President waving you into a tax preparation facility?).

 
"It's hectic in the mornings," Matt told me.

 

"If I can make people smile, it's all worth it."
Tips if you go:
Matt's stand is open from 8 a.m. to 9 a.m. daily, weather permitting on weekdays only.

He's on the corner of Aurora and 38th. Aurora can be accessed most directly off 30th between Colorado and Baseline. Follow it east of 30th until you intersect with 38th. You'll find Matt on the south/west corner of that intersection. 

He's a really friendly guy. It's worth going so YOU can make a new connection perhaps you had not expected to!