My thanks to iCoffee for sponsoring sharing my new favorite thing, the iCoffee 'Opus' Single Cup Brewer and offering one to a Boulder Locavore reader!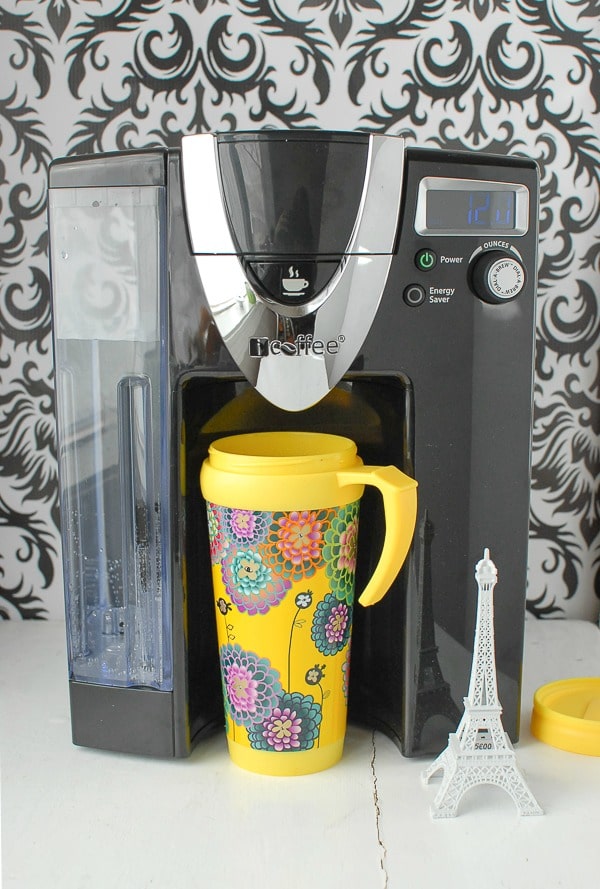 This is the season of gifting and favorite things, and I have been dying to share one of my latest with you today! I have always loved coffee, making it and drinking it. It began in college with an inherited percolator, which turned into a much more sophisticated French Press and eventually a coffee maker for those long days and nights when having little tots and a traveling husband. I have envied single cup pod machines for some time, enjoying them at finer hotels for in-room coffee and listening to rave reviews from friends.
Last year I shared my introduction to Remington's iCoffee maker which uses a patent-pending Steam-Brew™ technology to steam the coffee grinds to yield smooth coffee and no bitter after taste. I was over the moon when they released an iCoffee 'Opus' Single Cup Brewer employing the same technology. The SpinBrew™ function provides the needle which punctures the beverage pod steams the contents while rotating to produce a French Press like coffee end result. In my experimentation it has produced a perfect cup of coffee every time.
Knowing my family would be equally excited about the new easy-brewing opportunity I shopped on Amazon.com for alternative K-cup beverage options immediately (the iCoffee Single Cup Brewer is compatible with all k-type cups, including K-Cup®, RealCup®, OneCup™ and private label cups.) I ordered Hot Apple Cider pods, Hot Cocoa pods and a variety of teas (caffeine-free Chamomile tea, my favorite Irish Breakfast Tea, Chai Tea, and Peppermint Tea). I realized I had not ordered coffee pods (which I remedied quickly) however was able to fill an iCup Reusable pod with coffee I ground myself.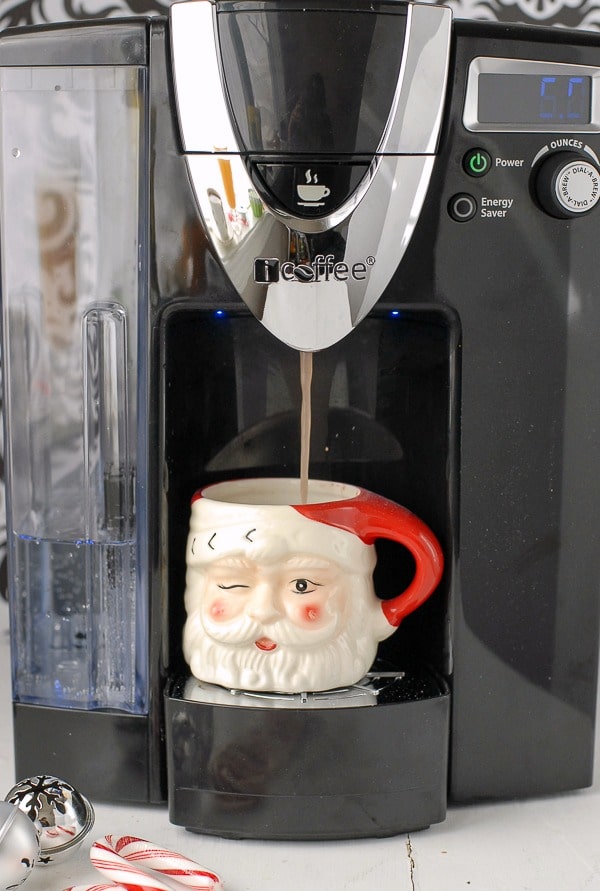 In speaking with a friend who has a pod machine from a different manufacturer, she forewarned me that her kids complain about the hot cocoa pods rendering watery tasting results. The pod package suggests using 8 ounces of water however that 6 ounces of water will result in a richer cup of hot chocolate. As an experiment with my friend's feedback in mind, we made an 8 ounce cup of hot cocoa with the iCoffee Single Brewer with fantastic results. My kids felt it was as rich and chocolaty as a cup made with a mix and water on the stove. I personally believe this result is due to the SpinBrew™ technology. Most machines drain water through the pod without circulating it. The SpinBrew™ allows all the contents of the pod to be used, and in the case of non-coffee beverages as well would seem to yield a more full-flavored result.
I become impatient with operation of gadgets that are too fussy. The iCoffee comes with a simple instruction manual as well as a 'cheat sheet' that allowed me to set up the machine in about 5 minutes. I love that the ounces of water are controlled with an easy dial; the Opus machine (my machine shown here) can produce between 4-12 ounce cups, in half ounce increment options, also allowing the strength of the coffee to be personalized with each cup. I can easily remove the drip tray (which slides in and secures magnetically) to accomodate my favorite travel mug picked up in Paris last summer to fill up before driving the kids to school in the morning, or if I would like to use a taller cup.
When the water is becoming low, a message lights up by the Dial-A-Brew knob as well as blue lights flash to ensure the machine is kept at a proper water level. There is an Energy Saver option which allows the machine to switch to a lower energy consumption, if left on unused after a period of time or it may be selected manually with a button. Though I have not made cold beverages there are instructions on how to do so in the manual as well.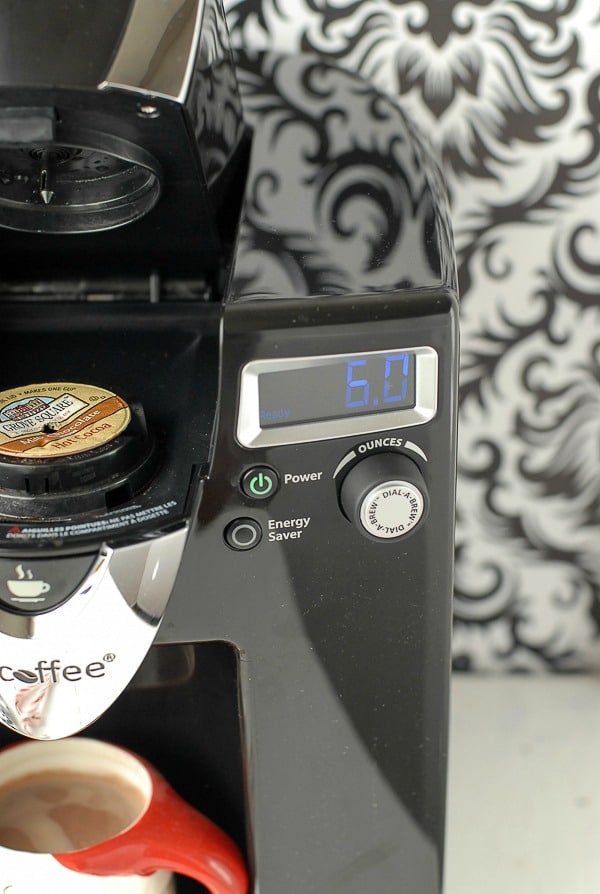 This machine has been life-changing in the Boulder Locavore kitchen. The morning line looks like a wait for One Direction concert tickets. Fortunately the machine heats quickly when turned on and brews fast (less than a minute) and automatically readies itself for the next round making it easy to brew subsequent cups without a wait. If brewing hot chocolate or apple cider, a water-only cycle should be run through directly afterwards.
I love brewing the coffee while I'm making lunches in the morning and not having to pay attention while I do it. I love that my kids (11 and 15) can easily master the machine (including adding more water if needed) on their own, and make caffeine-free drinks for themselves without my involvement. I also love the eco-friendly option of using home-ground coffee in the reusable pod.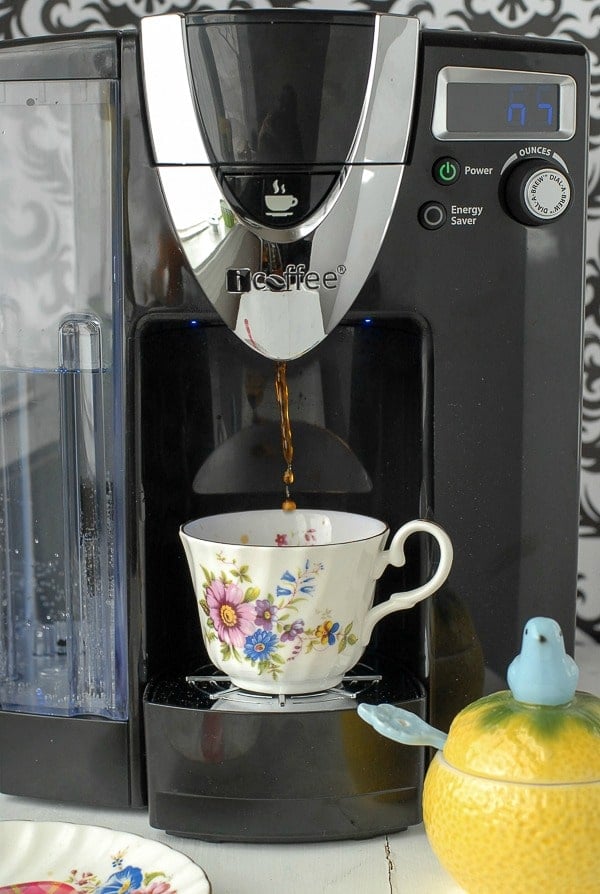 The other thing I'm so excited about is having this on hand for the holidays. Frankly when entertaining I become distractible. I'm good until the gang shows up and then making coffee after dinner or boiling water for kid's drinks is not so easy for me. I can now still be the hostess-with-the-mostest by making everything I need from the pods I have purchased to suit all the guests with no hassle.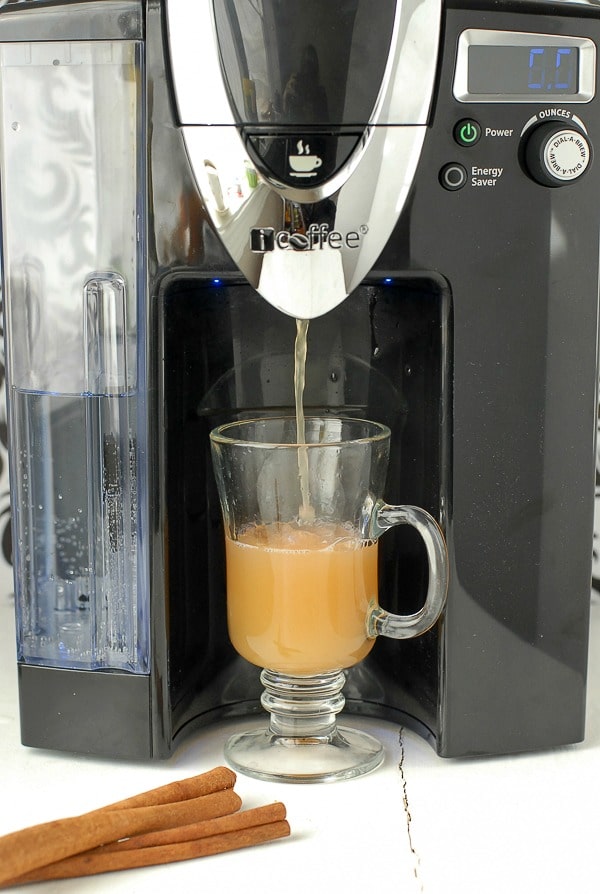 Forty eight hours after having my iCoffee Single Cup Brewer I texted a friend to say 'for the excitement this brewer has caused in my house, you would have thought I brought home a pony'. I still feel that way. It is truly a favorite gadget. The iCoffee 'Opus' Single Cup Brewer is available starting this month at Bed, Bath and Beyond retailing for $139.99 (really a perfect holiday gift). I'm thrilled that iCoffee has generously offered one to a Boulder Locavore reader too!
Disclosure: I was provided an iCoffee Opus Single Cup Brewer with which to experiment, and I'm so thrilled I was. All opinions are my own.