Disclosure: This post contains affiliate links.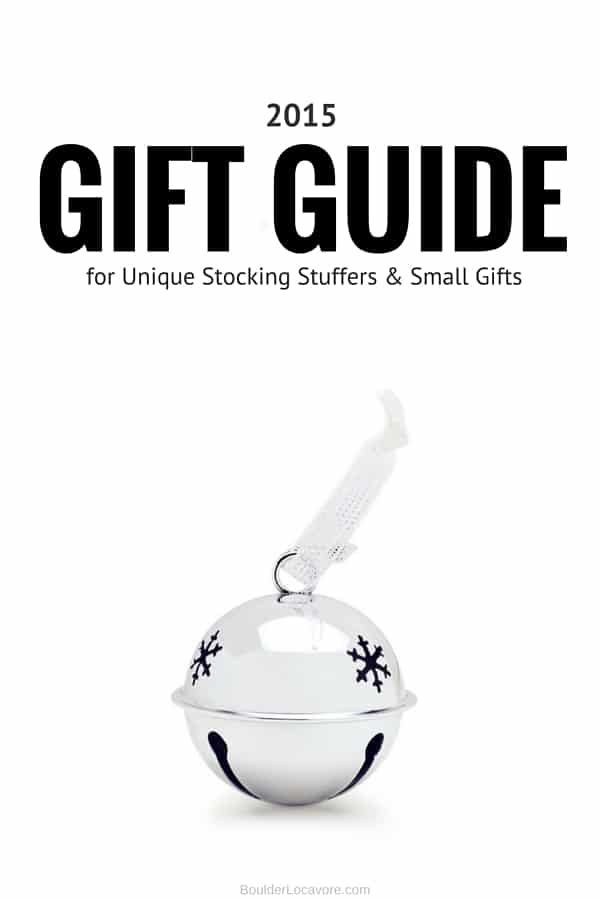 There is no more abrupt holiday transition than from Thanksgiving to preparing for the December holidays. As soon as the leftovers are in the fridge (take a peek at these Thanksgiving leftover recipes too) the shopping, decorating and merry-making begins.
Our family loves the tradition of Christmas stockings. Filled with smaller gifts, it can be a challenge to find things that have use, aren't overly expensive and bring a surprise when opened. I also find each year I need some smaller gifts for neighbors, teachers, service providers that I also want to be special and keeping within a reasonable budget.
For the past few years I've compiled gift guides for some magazines and websites which has me hitting the internet early, scouring for fun ideas for every age and interest. I love an unexpected gift, something everyone else does NOT have. Something a gift-receiver would not even think to ask for and a gift that lifts their spirits when the box is opened. Cool, happy-making ideas that would work for even the most challenging people on your list. These are all criteria I have when collecting ideas which I'm sharing with you today to kick off your shopping! I hope you'll find some unexpected, unique, fun options for those on YOUR list. Each photo links to the gift for larger photos and more information.
For Chicks
I of course find my girlfriends the easiest to buy for but I know that's not the case for everyone. I do have some relatives who are tough and sometimes I find buying something unexpected is really the best way to go. For book-reading cocktailers, a book of cocktails with a literary references. Cheeky eye shadows with pin up girl graphics. We know girls are always cold, right? Toast USB hand warmers that couldn't be cuter. Whisky tasting notes because girls are doing the tasting not just hosting the party anymore. Bring back the vinyl. Who says staplers can't be elegant? I want to make MY own eco-friendly necklace and zone out with an elfin Zen garden too.
For Dudes
Is it just me or are guys harder to buy for on the small gift front? The countdown to the new Star Wars movie is getting as much publicity as the impending new millennium was in 1999. What about a Shakespearian version of the story? Shining one's shoes is a dying art but not if you carry this little kit in your car. You don't HAVE to be wearing red plaid flannel with a 3 day stubble when popping the top of a beer with this stag bottle opener (but it would look good on you). Zombie cribbage anyone? Eleven tools in one and it fits in your wallet. A whole bicycle repair kit in a pop can. Portable man-grooming tools in a handsome brass finish. And a book to teach you all those little things you've never had time to learn.
For Youngsters
"Youngsters" of course is a term relative to one's mindset. I for one would happily receive any of these gifts despite being well out of the single digit age group. These gifts are great for kids, are teen-approved from my lot and great for the right adult too. After all who wouldn't want the scary, dark nighttime moments to be watched over by a tubby unicorn lamp? Or listen to favorite tunes with iridescent prism headphones like a diva. Bring back Backgammon; and in a stylish motif too. Take your toast to bed and it will also warm you up. Everything you've wanted to know about unicorns. Warm your feet like a Yeti wishes it could. Turn your fascination for Tetris into an ever changing light up set of blocks (great for Gemini's like me who get bored easily). While dreaming of a galaxy far, far away, one will keep a light on for you.
For Happy Sipping
Mugs! Can anyone ever have too many mugs?! Not like these. Practice your nautical knot tying over a morning Chai. Sip from a toadstool cup from your Hobbit hole. You can't help smiling with the cute bacon and egg duo. Know a shutterbug who's never without their camera? The person who rips apart the newspaper looking for the crossword puzzle. Watch a deep night sky come alive with constellations when coffee fills the mug. Yoo Who? Dr. Who fans will love this one. Oh my goodness, what needs to said about a big pink octopus mug.
....and Some Sipping Accourement
Could you die for this woodland tea pot? Stove top espresso in minutes. A deep sea diver tea caddy. See through tea brewer and some exotic things to brew in it.
For Those Who Drink the Hooch
There is no question that mixology is at the forefront of dining out and entertaining. Shaking, muddling, infusing and stirring it up are what the cool kids are doing. Ever wanted to make your own Gin? What about eggnog the way Grandma used to make it? Ladies, no more issue with flasks that just don't go with your outfit. A striking gray bracelet that's filled with….you guessed it! Who would ever know the round octopus embossed disk you carry in your pocket it a pop shot glass? Glasses James Bond would envy. A kit to make your wildest cocktail dreams come true. A night sky shaker and shot glass. Hate to make small talk at cocktail parties? Discuss the chemistry of wine from the safety of your own glass.
For Those Who Bake
I love color in my kitchen. It makes me happy. Measuring spoons that look like flowers in a flowerpot holder? That make me happy too. Paleo cookie cutters for dino happy cookie makers. Measuring cups stacked to make a winter tree. A rainbow unicorn sprinkles dispenser. An apron your mama wished she'd had in the kitchen. Elegant pot holders. Nested kitty measuring cups. A hedgehog baking set.
For Those Who Entertain and love a happy Dining Table
Don't YOU keep your butter in a whale at the table? Removing wine corks has never looked so good as with this copper corkscrew. Nautical plates and festive flatware. Whimsical spice shakers filled with holiday spirit and tiny animals. Two peas salt and pepper shakers. Colorful handled wooden serving ware. Golden serving utensils fit for a king.