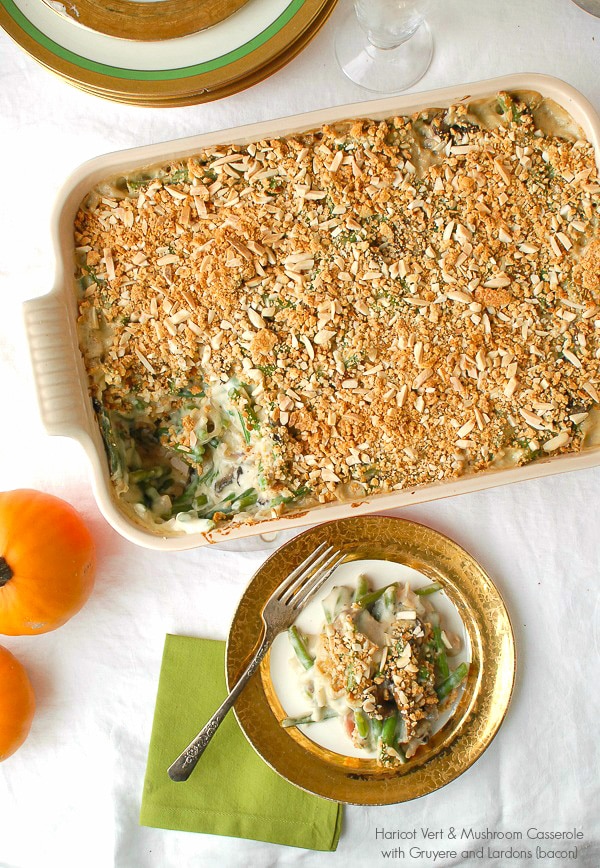 Classic holiday recipes; we love them, we hate them. On my quest to incorporate French-inspired dishes into our Thanksgiving menu this year, an old classic raised its head begging for a make-over: the Green Bean Casserole. I'll come clean right now. Each year my husband suggests we need something green on our menu to accompany all the mouth-watering carb-loaded holiday staples. I've successfully navigated around the green bean casserole instead substituting steamed fresh green beans (much more my style) or even a seasonal green salad.
As I was brainstorming ideas to change this dish around my husband stealthily extracted one of our hundreds of cookbooks (for which only he understands the filing system) revealing the 'American Century Cookbook: the Most Popular Recipes of the 20th Century'. You may have guessed, the iconic Green Bean Casserole is one of said most popular recipes. Campbell's Soup 'home economists' created the recipe in the mid 1950's and people immediately loved it as they continue to today (except me apparently).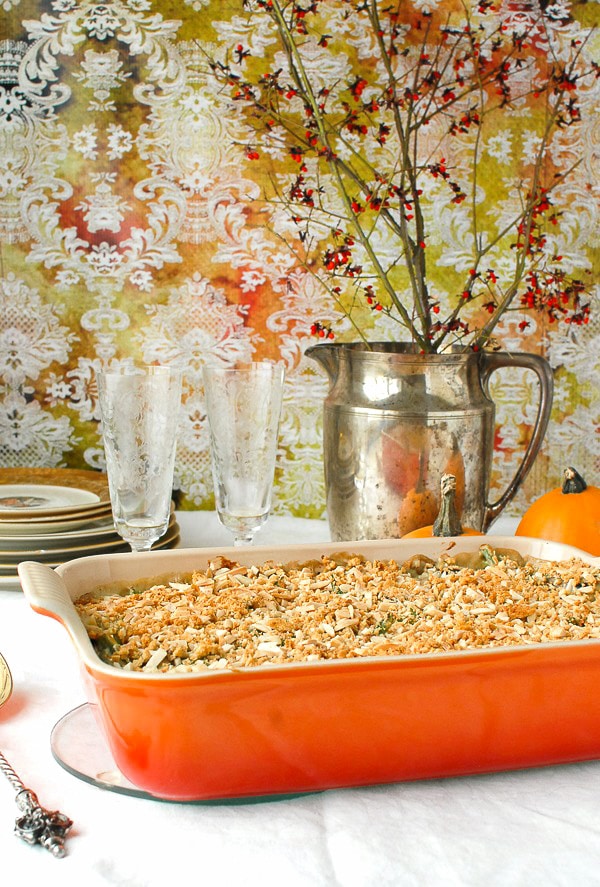 A clear selling point for the recipe is that in addition to being easy to make, it 'leaves room for creativity'. That last phrase makes the hair on the back of my neck stand on end. My intuition is that it is not a creativity I would welcome; a bit like my Grandmother's recipe of chicken tossed in Shake-n-Bake and slathered in Cream of Celery soup baked in the oven, which I loved at the time but now look back on similarly to recalling my Junior High sunbathing on tin foil, on top of the dog house to be closer to the sun, using baby oil and iodine to get a dark tan.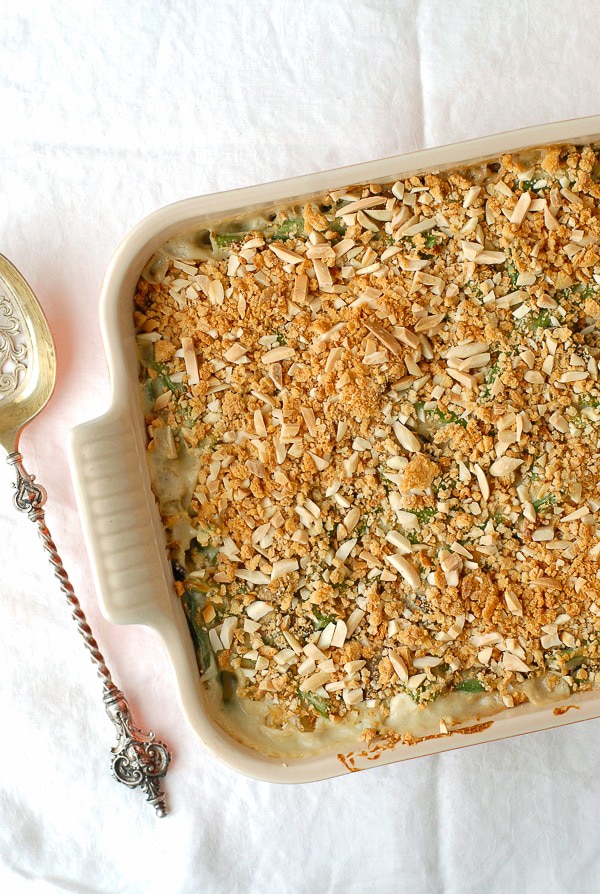 The original green bean casserole recipe included cream of mushroom soup, milk, frozen green beans, canned French-fried onions, soy sauce and pepper. For a variation, one could swap in corn soup for the mushroom and top with slivered almonds. Or the beans and mushroom soup could be swapped out for broccoli and broccoli soup. To be clear I applaud the revolutionary development of the casserole AND soup-based recipes. The ease of preparation and broad availability of so many canned soups opened new doors for the dinner table in the 1950's. I also appreciate the devotion to the green bean casserole made in its original form for almost 70 years; that is a bit awe-inspiring. However today is a new day and time to change it up a bit.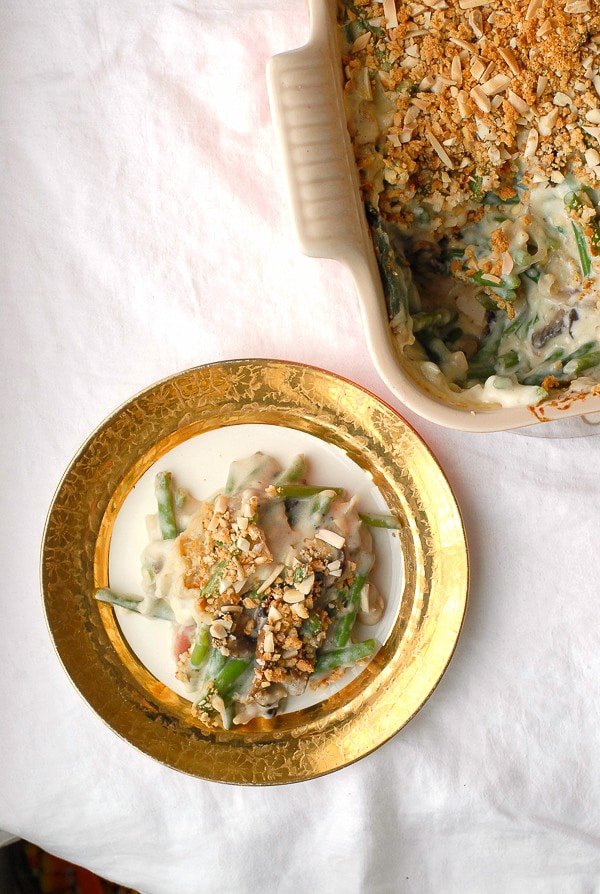 An easy swap out in this holiday classic are the beans. For those unfamiliar Haricot Vert (literally translated from French is 'green bean') they originate in France and are a much thinner, and usually shorter variety of green bean. They are often sold in packages in the produce department especially at this time of year and are a refined bean, perfect for our casserole. Instead of mushroom soup, fresh sautéed mushrooms lend a much deeper, earthy layering of flavor to our dish. I selected a combination of Cremini mushrooms (an older button mushroom than the white variety, with firm texture and more flavor) and Shitake mushrooms (something my Middle School son utters in strained moments, finding glee in swearing without using a bonafide swear word).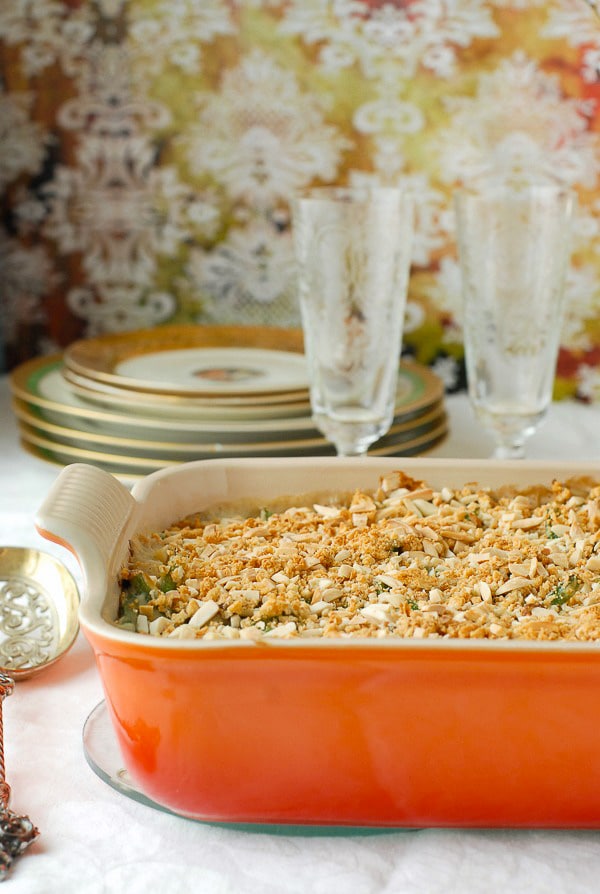 The crunchy canned fried onions on the top of the casserole, have been updated with fresh, sautéed shallot rings in the casserole itself and the crunch-on-top is delivered by a French bread crumb slivered almond combination, lending more flavors too. Lardons (or matchstick slices of bacon), fresh thyme and gruyere cheese all jump on board to make the final casserole creamy, smoky with layers of flavor and beans that still have a good bite (no soggy beans).
An Updated Green Bean Casserole
This French-inspired re-do of the classic Green Bean Casserole elevates the beloved side dish to a whole new level. Everything is fresh with delicate Haricot Vert replacing traditional green beans and fresh sauteed mushrooms taking the place of canned mushroom soup.
Shallot rings, lardons (matchstick slices of bacon), fresh thyme and Gruyere cheese add depth of flavor to the earthy side dish. Topped with French bread crumbs and slivered almonds, the casserole still delivers a crunchy bite!
When preparing a side dish for the holidays at the same time as several other dishes, time consumption can be a challenge. There are some shortcuts with this casserole if needed!
Shortcuts for Making this Green Bean Casserole
Purchase mushrooms pre-sliced. Most grocery stores offer them in the produce department and have a good variety of options.
Use pre-made bread crumbs instead of making your own. Any type will do though a neutral flavor works best.
Most of the more time consuming prep work may be done the day before: trimming the beans, slicing the shallots, grating the cheese, slicing the lardons/bacon, making the bread crumbs and slicing the mushrooms.
Prepping everything only leaving sauteing, combining and baking for the serving day will keep things simple!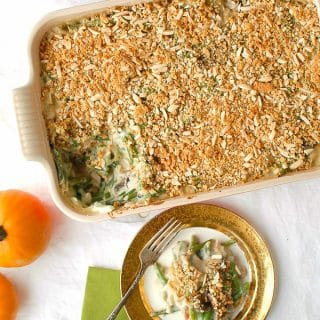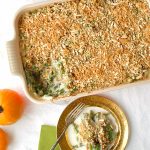 Haricot Vert and Mushroom Casserole with Gruyere and Lardons (bacon)
This French-inspired re-do of the classic Green Bean Casserole elevates the beloved side dish to a whole new level. All ingredients are fresh!
Ingredients
2 ½

pounds

Haricot Vert

, ends trimmed and cut in half (to yield approximately 1 ½ inch lengths) Tip: kitchen shears make this go quickly!

½

cup

uncooked Bacon

, sliced across the slice in 1/8-inch strips (2-3 slices of bacon; will vary due to bacon thickness)

1

stick

(8 tablespoons) Unsalted Butter

1

pound

Cremini Mushrooms

, sliced

½

pound

Shitake Mushrooms

, sliced (tops only; reserve stems for future soup stock)

6

sprigs fresh Thyme

(Lemon Thyme if available), leaves only

¾

teaspoon

plus a large pinch Kosher Salt

¾

teaspoon

plus a large pinch freshly ground Black Pepper

1 ½

cups

Shallots

, 1/8 inch slices across the shallot; separate slices into individual rings

½

cup

Flour

(gluten-free or regular depending on your dietary needs)

3

cups

Whole Milk

1

cup

low sodium Chicken Stock

1 ¾

cups

Gruyere Cheese

(.3 pounds), grated

1

cup

French Bread crumbs*

½

cup

Slivered Almonds

, rough chopped
Instructions
Preheat the oven to 350 degrees. Blanch the haricot vert by processing batches through boiling, lightly salted water for 1 ½ minutes then placing them into an ice bath (large mixing bowl of cold water and ice) until they are full cooled. Place them on a clean kitchen towel to drain and pat dry.

In a large pot (or large deep skilled) sauté the bacon over medium-high heat until the fat is rendered (begins to liquefy) and the bacon lightly browns; 2-3 minutes. The bacon will not cook fully and should still be pliable. Remove from the pan and set aside.

Add 4 tablespoons of butter to the bacon drippings in the pan and allow it to melt over medium heat. Add the mushrooms and thyme, a sprinkle of salt and pepper, and sauté until the mushrooms release their moisture and begin to reduce; 3-4 minutes.

Add the shallots and continue to sauté until the shallots begin to turn translucent. Add the bacon and haricot vert to the mixture and stir to fully incorporate. Remove from heat.

In a large saucepan melt 4 tablespoons of butter over medium heat. Once the butter is melted whisk in the flour forming a roux (a dough-like mixture which is a base for French sauces). Slowly pour in the milk and chicken stock, whisking constantly to fully mix together smoothly. Continue to stir the roux over medium heat until it thickens (3-5 minutes).

Add the cheese to the roux, whisking to help melt the cheese and to make a smooth mixture. Add the cheese sauce, along with ¾ teaspoon of each Kosher Salt and Pepper, to the bean mixture. Stir well to mix all the ingredients together.

Spoon mixture into a 13 x 9 inch 4-quart baking pan and smooth to uniformly fill the pan. Mix together the bread crumbs and chopped almonds and spread evenly over the top of the casserole.

Bake for 30 minutes or until heated through.
Recipe Notes
How to Make Bread Crumbs: I used Udi's gluten-free French Baguette to create gluten-free bread crumbs. Purchased bread crumbs of a different variety may be substituted as well, though a neutral flavor profile is suggested. Toast bread in the toaster or underneath the oven broiler. Break into pieces and process through a chopper, food processor or blender to make crumbs. If the bread is still moist, place on a baking sheet and place underneath the oven broiler, checking frequently, to dry (about a minute); watch them carefully so they don't burn.
Nutrition Facts
Haricot Vert and Mushroom Casserole with Gruyere and Lardons (bacon)
Amount Per Serving
Calories 298
Calories from Fat 126
% Daily Value*
Fat 14g22%
Cholesterol 33mg11%
Sodium 216mg9%
Potassium 724mg21%
Carbohydrates 28g9%
Protein 17g34%
Vitamin A 1150IU23%
Vitamin C 15.4mg19%
Calcium 403mg40%
Iron 2.7mg15%
* Percent Daily Values are based on a 2000 calorie diet.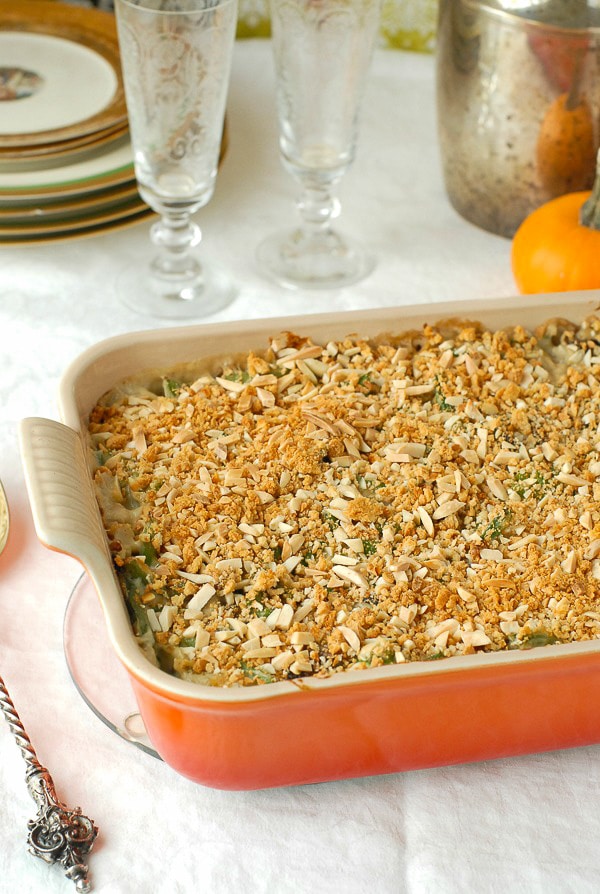 The official Season of Giving begins soon however on Boulder Locavore it begins today! I'm so excited that a favorite partner in my kitchen is kicking off the season:  Le Creuset. The premiere French-maker of enameled cast iron French ovens, and so many additional fabulous products, could not be better matched with this French-inspired holiday classic recipe re-do, wouldn't you agree? I loved seeing them in Paris windows during our vacation this summer; like visiting an old friend in their home town! Le Creuset has kindly provided the vessel for my Haricot Vert and Mushroom Casserole and feel a Boulder Locavore reader deserves one too! The Heritage 4 quart rectangular dish works in the oven, refrigerator and freezer and heats evenly throughout the dish. It is essentially non-stick making clean up easy too. It is available in several colors and the winner may select their color (subject to availability). It's perfect for all sorts of baking, lasagna, sheet cakes and more.
Disclosure: I received a duplicate Le Creuset Heritage 4-quart Rectangular Dish for the purposes of this post. All opinions are my own.