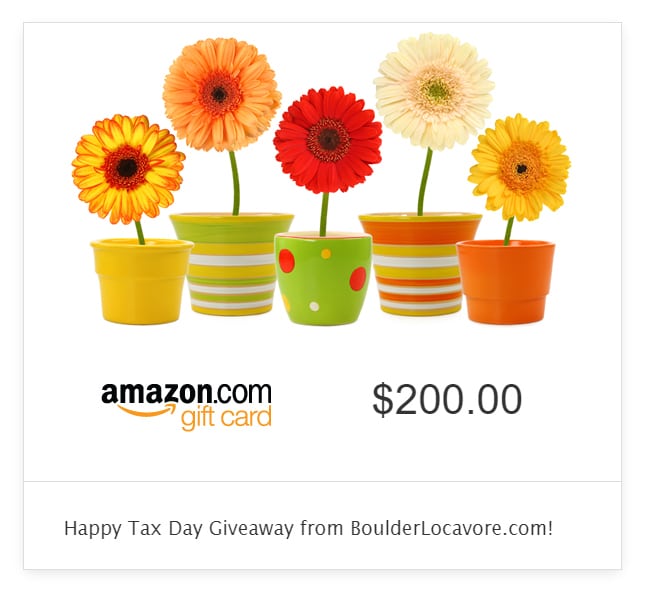 For Americans, this weekend is associated with getting their personal taxes done (and for those in Colorado, a big, fat snow storm jolting us out of our spring reverie with 70 degree temps last week).  Normally tax day for Americans is April 15th, however this year it is April 18th, giving a few day respite thanks to Abraham Lincoln.  Emancipation Day, a legal holiday normally only celebrated in Washington DC, commemorating the Compensated Emancipation Act (signed by Abe) normally falls on April 16th.  Since the sixteenth is a Saturday, it moved to the nearest weekday, the fifteenth, pushing the tax deadline to Monday April 18th.  If your taxes are done you probably could care less about this and if you are still toiling over your taxes, you are just happy for the extra time regardless of the historically-based significance!
Despite how well I plan and intend to do my taxes in late January, each year I tend to find myself staring at April looming large on the calendar and realizing I have not started the process yet.  It's an all-inclusive experience I find.  Like moving to another planet.  One full of spread sheets, calculators, receipts and other joyful things. Fortunately, I'm done and it's time to celebrate.
Regardless of your tax status or whether you live in the U.S., we are giving away a $200 Amazon.com Gift Card!  I love Amazon.com because I believe anything and everything I could possibly want or need in the world is available there.  I think you'll find the same.  Whether is be entertainment, clothes, gardening supplies, vacation supplies, a better tax preparation software for taxes next year, you'll find it there!
This giveaway is sponsored by BoulderLocavore.com and is open to international readers as well as readers in the U.S.  The gift card will be delivered via email and must be used on Amazon.com only (not other international Amazon sites).  Here is more information on International Shipments and Customs when shopping with Amazon.com outside of the U.S. 
NOTE:  for those doing the extra entry of subscribing to Boulder Locavore, please be sure to VERIFY the email you are sent confirming your subscription or your giveaway entry will NOT be valid.
Continue to enter the giveway!