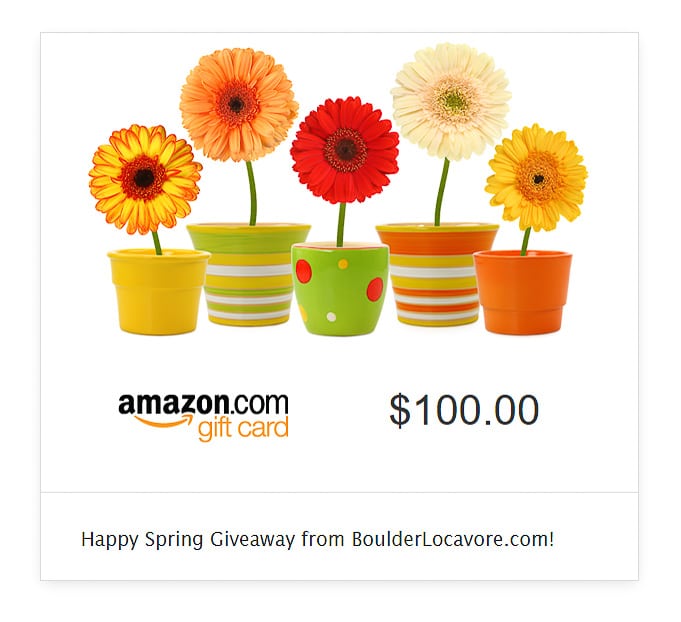 It feels like the right time to spring a surprise on you!  No pun intended.  Ok, maybe a little pun intended.  We haven't had a giveaway since the holidays and spring is the time to change it up.  I've been seeing cute photos of kids frolicking in new Easter togs; girls in sleeveless party dresses and boys in smart looking dress shorts and handsome shirts.  Gardening articles are causing me to dream about putting in my summer garden.  I have travel on the brain, both literally and I think traveling past cold weather clothing and huddling by a fire!  I'm ready to get up and out!  How about you?
I love Amazon.com.  I have Amazon Prime and recently told a friend I'm convinced with the great selection, prices and fast, free shipping, that a person could never leave their house again and remain fully stocked thanks to Amazon!  You can order food, supplies, clothes, entertainment and never step foot outside again.  Not that I recommend that but I'm convinced pretty much anything you could want, is available on Amazon.com!  Because of that it seemed a perfect option for this giveaway!  You can start your garden, weather the rest of winter with a stockpile of movies, order treats for Easter, a new dress, tools for a long overdue project or anything you choose!
This giveaway is sponsored by BoulderLocavore.com and is open to international readers as well as readers in the U.S.  The gift card will be delivered via email and must be used on Amazon.com only (not other international Amazon sites).  Here is more information on International Shipments and Customs when shopping with Amazon.com outside of the U.S. NOTE:  for those doing the extra entry of subscribing to Boulder Locavore, please be sure to VERIFY the email you are sent confirming your subscription or your giveaway entry will NOT be valid.
Continue to enter the giveway!