Baking with gluten-free flours can be like moving to a new country but with some quick education you'll be baking like a gluten-free pro in no time! Gluten-Free Basics: Flours and Baking will put you on the path to success in one quick read.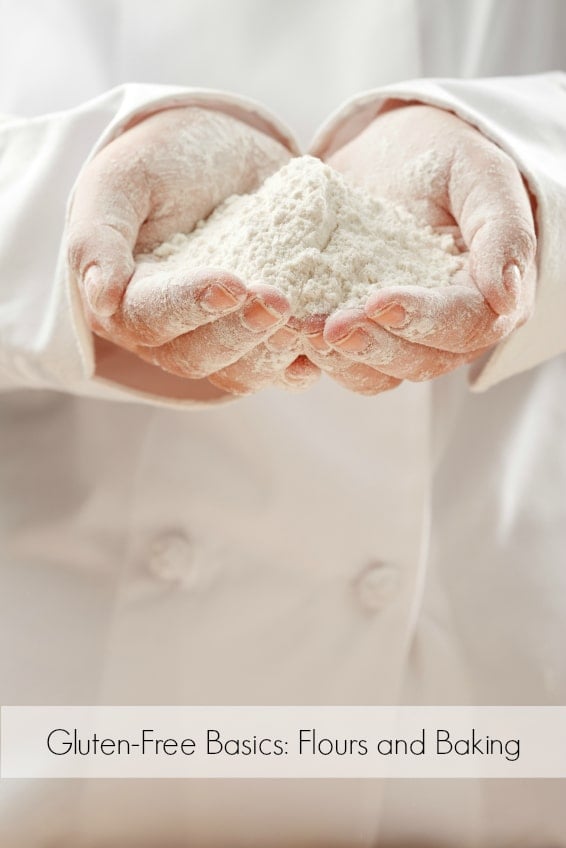 When I look back on my gluten-free journey one of the biggest learning curves for me was gluten-free flours and baking. When baking with wheat flour there were few situations when I ventured outside of the basic all-purpose flour, whole wheat flour or cake flour. Gluten-free flours are an entirely different situation and I wanted to share some of my findings over the nine years of being gluten-free.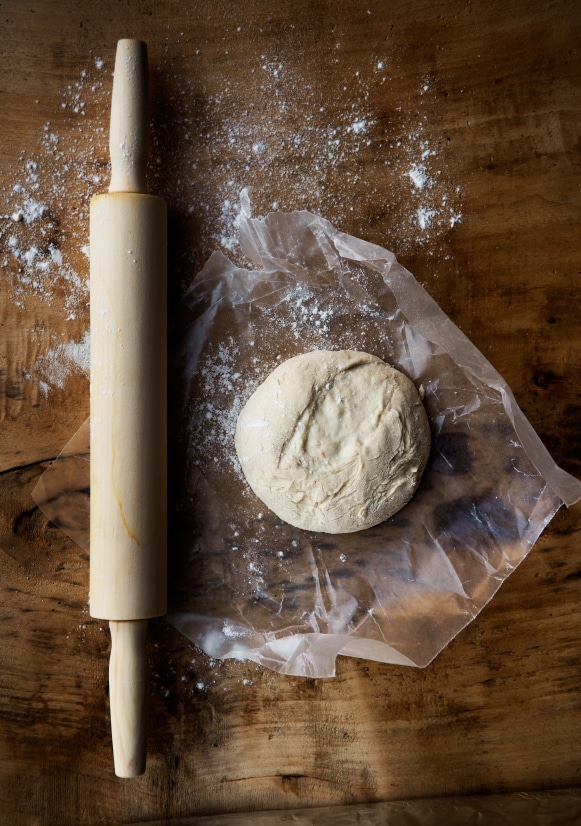 Why Does Gluten-Free Baking Require Multiple Types of Flour and Starches?
As a reminder gluten is a protein in barley, wheat and rye (and is implicated in oats as well though they are not naturally glutinous). Gluten is a binding agent, the element in wheat flour that holds everything together when baking. The reason multiple flours need to be used in gluten-free baking is that generally no one gluten-free flour can provide the binding of a wheat flour and therefore needs to be combined with multiple flours and/or starches to allow baked goods to turn out well.
Who Knew There Are So Many Different Types of Flour?!
I learned early on any grain or nut can be made into flour. Candidly when opening the door to gluten-free baking from scratch, I was overwhelmed with the flour options. I had lost my all-purpose flour compass! Initially I drew from a series of cookbooks I purchased nine years ago when being first diagnosed as gluten-intolerant. The cookbooks were written by one of the original gluten-free cooks who featured Gar-Fava flour in most of the recipes.
In hindsight I realize it was most likely for the binding properties. Made from garbanzo beans and fava beans it is not a favorite of mine. Though is does perform well in baked goods, it has a green, beany taste to me that I can't get over in something like a cookie in particular. Before becoming gluten-free I would never have guessed beans would be used as a flour. Though not loving my first dip into a gluten-free flour, it was a jumping off place for me to realize all flour tastes differently and behaves differently, which was something I never considered when baking solely with wheat flours.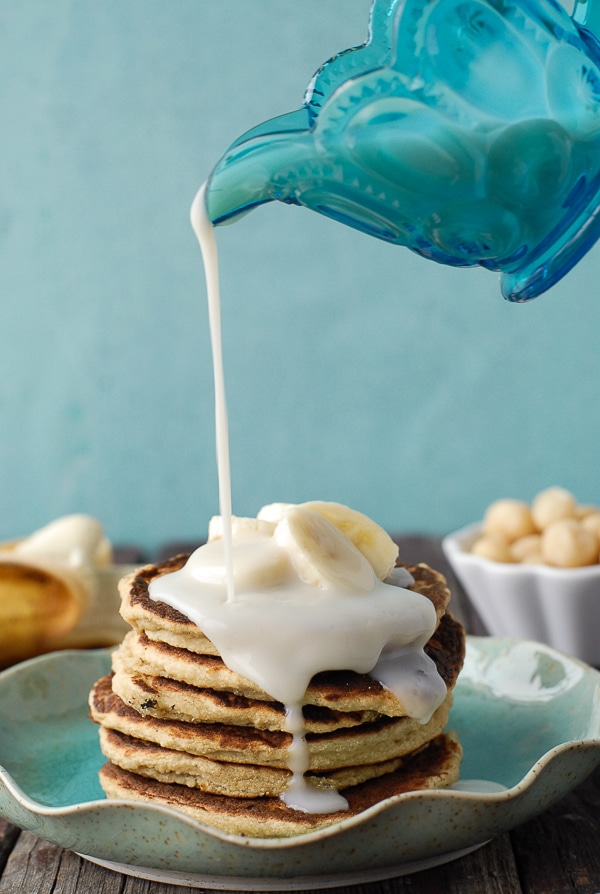 Fortunately there are many wonderfully flavored flours. I am particularly fond of Oat Flour which I've used in recipes such as Little Apple Oat Cakes in Jars and Cranberry White Chocolate Pecan Cookies without another partner flour with great results. It's subtly sweet, has nice texture and good binding properties as well. Coconut flour is delicious and definitely has a light flavor of coconut. Coconut flour is high in fiber, low in carbohydrates, and naturally gluten-fee.
In my experimentation I've found the absorbency of liquids differs with coconut flour and like the result when combining it with other flours, such as oat flour in Banana Macadamia Nut Pancakes. The pancakes are light, airy with a hint of coconut flavor. Almond flour is another favorite. As with coconut flour, nut flours have a different absorbency than grain or bean flours so the ratio of liquids and dry ingredients cannot usually remain the same when swapping in a nut flour. In addition to the flavor and texture difference, the different flours provide a variety of nutrients which can bolster your baking efforts. The Celiac Support Association has prepared a comprehensive list of gluten-free grains and flours with descriptions of each.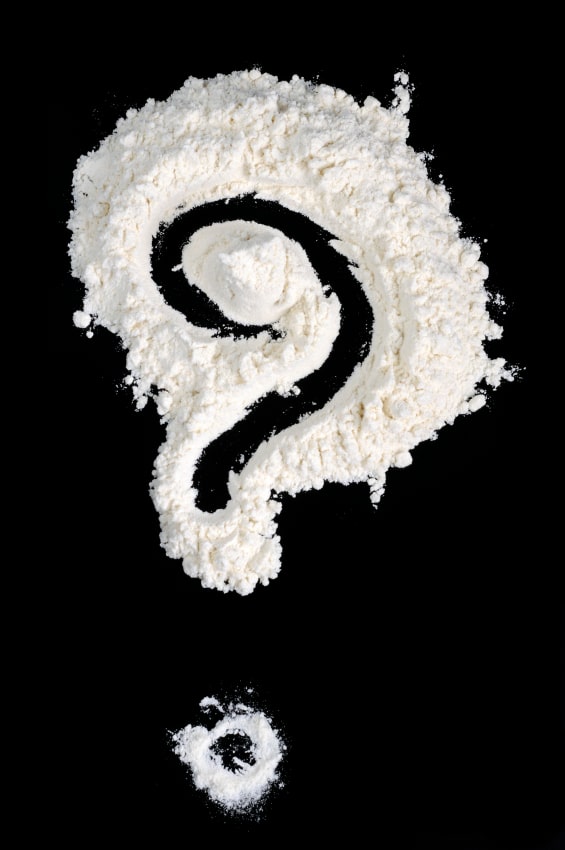 Should Gums Be Used in Gluten-Free Baking?
A big question in gluten-free baking is regarding use of gums; Xanthan Gum and Guar Gum in particular. When I began gluten-free baking Xanthan Gum was a given believing it mimics the elasticity and binding properties found in wheat dough. Over time I have stopped using gums in my baking. The primary reason is that I can discern the textural difference in the baked goods and I don't care for it.
Additionally there have been cases in which people are sensitive to xanthan gum and have found it causes digestive distress. There is no right or wrong decision with the use of gums however if digestive distress accompanies baked goods using gums, experimenting with excluding them may be a worthwhile endeavor. You'll find if looking the topic up on the internet it is quite a debate. Like many choices, I believe one needs to find what works personally for them.
Can't This Be Made Easy?
The learning curve on flour use can be daunting. As much as I enjoy the experimentation with flour blends there are times when I feel too lazy to blend them up. One available-for-purchase blend I particularly love is King Arthur's Gluten-Free Flour blend. It has a consistency very similar to all-purpose gluten flour, without a strong flavor and I've found it offers an end result quite similar to baked goods using wheat flour. It also does not include any gums. There are many blend recipes available on the internet as well which you can blend in bulk and have on hand. I'll list some below.
Whether you enjoy the fun of experimenting with different flours or have a mix that is tried-and-true for you, the world of baking opens widely when baking gluten-free. I've grown to love the outcome of gluten-free baking using different flours.
About.com Gluten-Free Flour Blend
The Urban Baker Homemade Gluten-Free Flour (this recipe measured by weight)
Celiac Support Association: Several Baking Mixes Designated for specific recipe types
This is a sponsored conversation written by me on behalf of Udi's Gluten Free. The opinions and text are all mine.