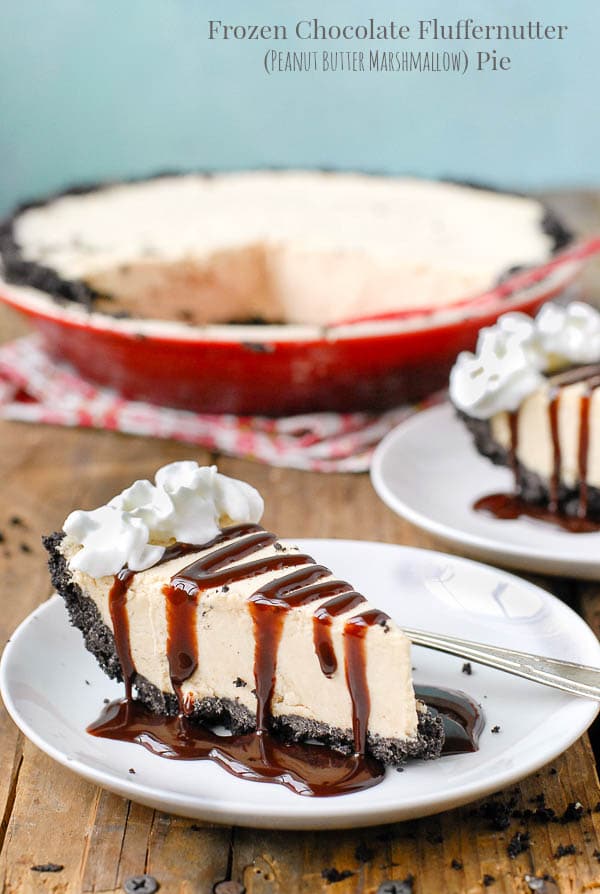 If you are a peanut butter fiend like I am then you are always happy for more recipe suggestions! Peanut Butter Lovers Chocolate Chip Mug Cake (gluten-free) is delicious and ready in minutes, really. Peanut Butter Cup S'mores; need I saw more about that?! 30-Minute Peanut Butter and Jelly Sandwich Cookies are a taste of childhood in a new form.
Frozen Chocolate Fluffernutter (Peanut Butter Marshmallow) Pie
An elevated dessert inspired by the childhood favorite sandwich, the Fluffernutter. A chocolate cookie crust filled with creamy, peanut butter and marshmallow and frozen for a refreshing no-bake pie. It seriously cannot be beat!
Total Time
3
hours
20
minutes
Ingredients
3

cups

gluten-free chocolate cookie crumbs*

(2 pkgs of Glutino sandwich cookies)* or regular gluten cookies if not gluten-free

6

tablespoons

unsalted butter

, melted (plus about a tablespoon unmelted for greasing the pie pan)

35

large marshmallows

(about ½ package; read the quantity on a package to be sure)

1/2

cup

half and half

½

cup

smooth peanut butter

3/4

cups

heavy whipping cream

Optional: Additional whipped cream

, chopped peanuts and/or chocolate sauce to drizzle
Instructions
Butter a deep dish pie pan with butter. Melt 6 tablespoons of butter.

Add cookie crumbs to a mixing bowl with melted butter and stir to thoroughly coat the crumbs until they appear wet or shiny.

Pour coated crumbs into prepared pie pan and distribute evenly around the bottom and sides of the pan. Using your fingers or a mixing spoon, press the crumbs into place creating a dense crust. Place in the freezer.

In a heatproof metal bowl combine the marshmallows, half and half and peanut butter. Place over a pan of boiling water. Stirring often cook until all ingredients have melted and are a smooth consistency. Remove from heat.

Beat heavy cream until stiff peaks form. Fold/stir the whipped cream into the peanut butter-marshmallow mixture until fully combines and smooth.

Pour filling into the prepared cookie crust and place back into the freezer until fully set (at least 3 hours).
Recipe Notes
*My favorite are Pamela's Mini Chocolate Cookies to make crumbs however I was unable to find them when making this pie. Instead I used the chocolate cookies from Glutino Sandwich Cookies, taking apart the sandwich cookies and discarding the middles. For this recipe I used 2 packages of the cookies to make the needed amount. To create cookie crumbs: place cookies in a blender or food processor and blend until crumbs.

I want to connect with you! Leave a comment and follow me on Facebook, Twitter, Pinterest & Instagram!