Summertime is burgeoning with the spirit of travel.  The recent weeks of the World Cup have lured many of us to Brazil, whether it be live or on our televisions, giving a glimpse into the warm, spirited culture of South America.  Live travel is not always possible however travel in one's kitchen can be equally transporting; experiencing the tastes and seasonings of another country's food.  I have just read a summer-perfect cookbook that makes my mouth water each time I hold it's uniquely, cool, faux tiled cover in my hands:  Ceviche Peruvian Kitchen by Martin Morales.  This cookbook proves unequivocally one does not need to hop a plane to go on vacation.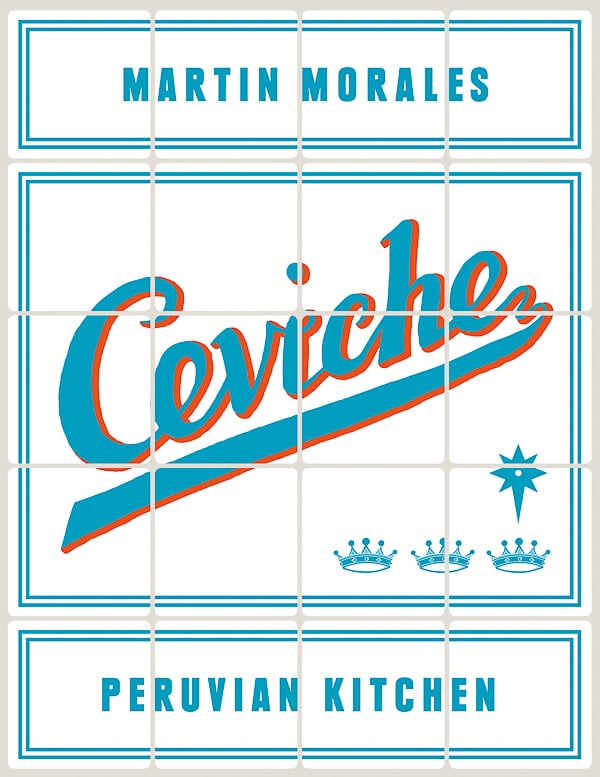 Admittedly I knew nothing about Peruvian food prior to reading Ceviche Peruvian Kitchen.  However within a few pages of starting the introduction I was lit by Morales' enthusiasm and devotion to his native cuisine; which he began to cook as a boy at the hands of food-devoted relatives.  Peruvian cuisine is one of fusion from every direction of the globe: Spain, Italy, Africa, China, and Japan all merging with the indigenous flavors of Peru itself. The food is vibrant, fresh and seasonal.  With Ceviche (a stew made of the freshest fish 'cooked' with citrus juices) being the national dish, the foundation of the book seemed an obvious choice, though the pride and excitement Morales brings to each recipe illustrates the breadth of options on the Peruvian culinary landscape.  Along with the 100 fully-illustrated recipes is a wonderful dose of culinary education crossed with arm chair travel, leaving Ceviche Peruvian Kitchen a page-turner.
Ceviche Peruvian Kitchen weaves through the main proteins, vegetarian options, salads, desserts, drinks, Street Food and key staples for the 'Peruvian Larder'.  Even this last section is written in a manner to feel as though the home cook will be traveling through the recipes rather than merely preparing them.  The photography in the cookbook is as stunning as its recipes, offering view into Morales' beloved Peru as well as the simple yet beautifully prepared food.  Family recipes are included along with the fascinating road Morales traveled from a young, carefree lad in Peru to London where he moved with his father at the age of eleven after political upheaval and the failed marriage of his parents.  Regardless of the abrupt and radical change, he held tight of his Peruvian roots and merged them with his new surroundings in London eventually opening a restaurant, Ceviche, in Soho feeling it reflects the verve of the food.  Morales promises his food, both in his restaurant and recipes, will be honest, healthful and vibrant soul food made with care.  What else could you ask for?!
I was rapt in reading Ceviche Peruvian Kitchen having to apply significant restraint to not bolt to the kitchen and begin cooking.  The cookbook includes a list of supply sources for ingredients however most of the recipes are created with readily available, fresh items.  From my view the food is a celebration of ingredients, undoubtedly delivering bold unforgettable flavors.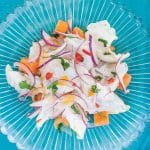 Don Ceviche
"SEA BASS CEVICHE This is our signature dish, so-called as it's really the daddy of all our ceviches and the most popular dish we serve at Ceviche. We suggest sea bass for this recipe, but use whatever firm-textured white fish is freshest at the market." -Ceviche Peruvian Kitchen
Ingredients
1

large red onion

, very thinly sliced

11/3

lb

/ 600 g sea bass fillet

(or other white fish), skinned and trimmed

1

portion Amarillo Chile Tiger's Milk

A few cilantro sprigs

, leaves finely chopped

1

limo chile

, seeded and finely chopped

1

sweet potato

, cooked and cut into small cubes (see page 221)

Fine sea salt
Instructions
Rinse the onion and then leave it to soak in iced water for 10 minutes. Drain thoroughly, spread out on a paper towel or a clean kitchen towel to remove any excess water and then place in the fridge until needed. This will reduce the strength of the onion and help to keep the slices crisp.

Cut the fish into uniform strips of around 11/4 by 3/4 inch / 3 by 2 cm. Place in a large bowl, add a good pinch of salt, and mix together gently with a metal spoon. The salt will help open the fish's pores. Leave this for 2 minutes and then pour over the tiger's milk and combine gently with the spoon. Leave the fish to "cook" in this marinade for

2 minutes.

Add the onion, cilantro, chile, and sweet potato to the fish. Mix together gently with the spoon and taste to check that the balance of salt, sour, and chile is to your liking. Divide among serving bowls and serve immediately.
Though Ceviche Peruvian Kitchen tells the tale of Morales' culinary adventures, this are not the whole story.  He was a founding member of Apple iTunes and the youngest ever board member of Disney.  As the head of Disney Music he launched the careers of Miley Cyrus and the Jonas Brothers.  A far cry from a Peruvian boy who loved to surf, cook and eat fresh Ceviche on the beach whenever possible.  He clearly is as intriguing as his food!
This is a cookbook you won't want to miss!  Enter to win a copy below.
Recipe and photographs reprinted with permission from Ceviche: Peruvian Kitchen by Martin Morales (Ten Speed Press, © 2014). Photo credit: Paul Winch-Furness.  I received a copy of  Ceviche: Peruvian Kitchen for the purpose of this review.  All opinions are my own.