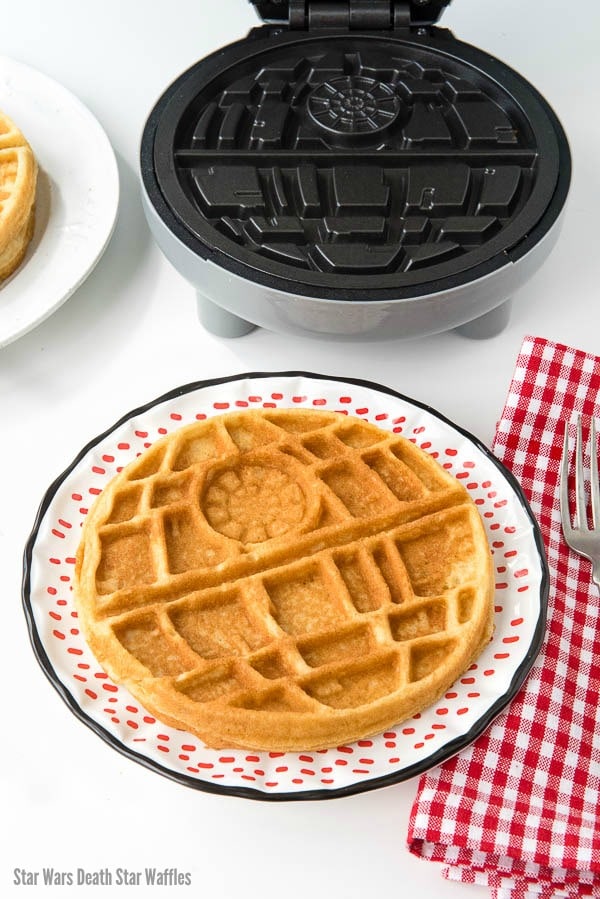 I'm super excited to share today's post with you!  One of my family's absolute favorite gift websites, ThinkGeek, asked if I would be interested in reviewing their Star Wars Death Star Waffle Maker and Dragon Cake Pan.  Of course I said yes, and had I not I'm sure my children would have held me hostage until I acquiesced.
Unless you are living under a rock with no wifi you know the latest Star Wars movie The Force Awakens is available as of today for purchase.  We attended the movie in the theater when it opened, which was packed, and it was completely exciting for die hard Star Wars fans of the original series, newer fans and those on the fringe.  Star Wars is a series that has captured the interest of multiple generations and I was astounded at the passion of the theater audience.  I struck up a conversation with the man next to me who owns an fully functioning R2D2 robot, of which he was clearly very proud.  I thought that was exciting until watching The Force Awakens which left me yearning for a BB-8 Droid of my own (I'd settle for the life size floor lamp too….in a heartbeat).
When I was able to pull myself away from the vast selection of Star Wars items on ThinkGeek (dying for this Star Wars Planetary Glassware set and Death Star Sphere Ice Mold), I realized there would be no better way to start a day for a Star Wars fan than with Death Star Waffles, right?  I mean, it makes breakfast much more exciting for anyone.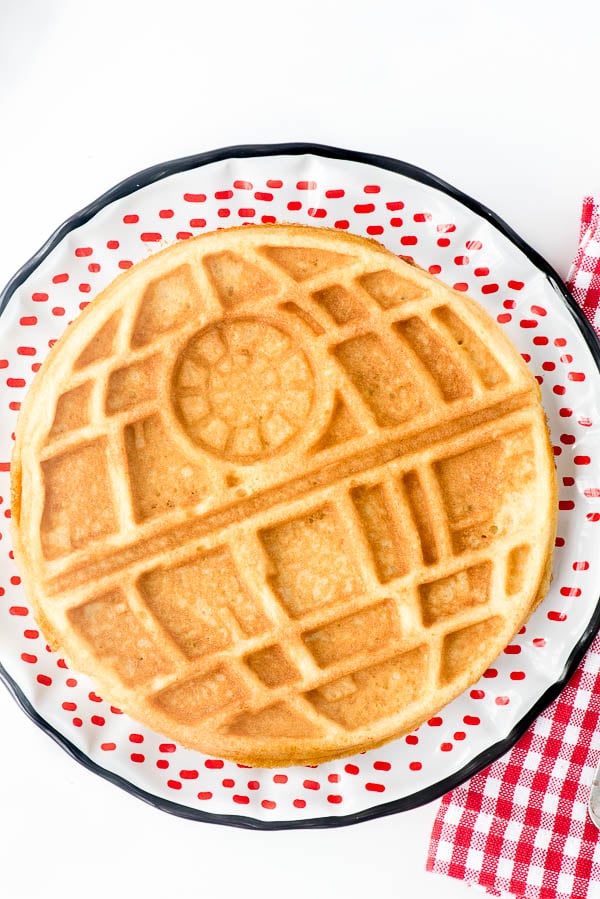 The waffle maker is very simple to use.  Follow the instructions that come with it (preheat, spray with non-stick spray, don't overfill, etc) and the waffles come out perfect every time.  They are a good size, 6 1/2 inches in diameter.  We tried the waffle maker out with a simple gluten-free waffle mix and the waffles were great.  It's a product that I feel will get much use in the Boulder Locavore kitchen.  May the forks be with you on this one!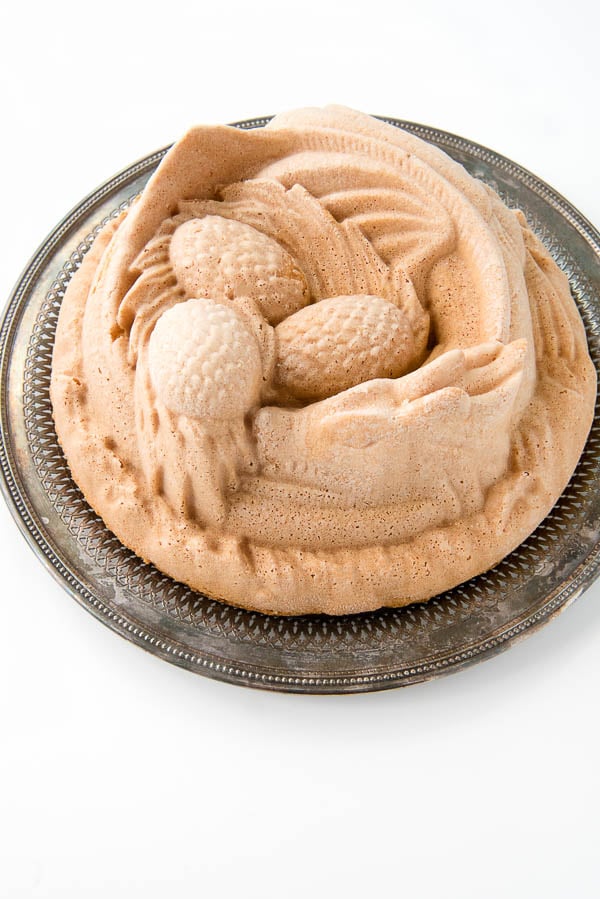 We've had a long fascination with dragons in our household.  After multiple holiday marathons of the full Harry Potter series, and The Hobbit trilogy, anything with dragons brings rapt attention.  My husband is a Game of Thrones watcher and with the next season starting this month the Dragon Cake seemed a good idea for celebrating that.
I love decorative cake pans like the Dragon Cake Pan.  It is a premium pan made of  cast heavy-gauge aluminum alloy and holds just under 8 cups of batter.  Prepping detailed pans is the key for success to ensure all the details appear on the cake when it's released from the mold.  There are tips on the ThinkGeek product page and following them allows successful release of the cake in perfect condition. The comments on the page by those who have used the pan provide very specific details for using the pan so be sure to read those too.  In my opinion the pan is comparably priced to similar high-quality pans.  And of course no one else has a dragon pan!
There are no instructions that come with the pan about baking with it and the pan does have some unique aspects that aren't obvious; such as it requires 2 cakes mixes though the entire volume of the mixes is not used (this from the item Tips on ThinkGeek).  As recommended above, read the product page instructions and in addition I'm sharing my baking instructions (below) which produced the cake shown in my personal photo above.  I purposely did not glaze or frost the cake so you could see what it looks like just out of the pan.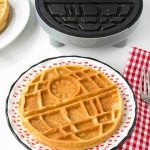 Dragon Cake
Ingredients
2

Cake Mixes of choice

(gluten-free or regular; I used Pillsbury Gluten-free Yellow Cake Mix) and required ingredients (eggs, oil, etc)

No Stick Cooking Spray

Flour

(gluten-free or regular)
Instructions
Preheat the oven to 350 degrees.

Spray the Dragon Cake pan liberally with no-stick cooking spray. Cover the entire inside with a light sprinkling of flour (I used gluten-free); sprinkle liberally then turn upside down and tap strongly on a hard surface a few times to release any excess flour. Repeat if areas are left exposed with no flour coating.

Prepare the cake mixes as per the box instructions. Note: I prepared the mixes together. Spoon into the pan leaving 1 inch between the top of the batter and the top edge of the cake pan (all of the batter may not be used).

Tap the bottom of the pan forcefully on a hard surface multiple times to release any air bubbles. Bake at 350 for 45 minutes;check the center with a knife. If the center seems firm and the knife comes out clean the cake is done. Note: my cake took 50 minutes uncovered and an additional 20 minutes with a heavy duty piece of foil laid on top of the cake, shiny side facing up. Since all ovens and cake mixes differ use this as a guide for your own baking and ensure the knife comes out clean as a test of doneness.

Remove the cake from the oven and immediately turn upside down on a cooling rack. Periodically tap the cake pan with a wooden spoon to help the cake release. Allow cake to cool at least 20 minutes before trying to lift off the pan. Note: my pan was still hot when I removed it and the cake came out easily.

Once the cake is fully cooked, frost or glaze to your preference.
The design is so unique and whimsical I'm thrilled to have it in my cake pan arsenal.
ThinkGeek is full of unique novelty and gift items I've never found elsewhere.  Candidly I often dread big gift giving holidays as it's so hard to find anything truly unique.  It's the first stop website for my kids.  My highschool daughter and her brainiack girl pack love ThinkGeek.  They are way into science and math, all with a great sense of humor too.  I know her two lockermates got Think Geek birthday gifts this year; the Schröinger's Cat Executive Decision Maker (most of us need to hop on the internet for a science lesson to appreicate this one) and a Knight Pen which is super cool and their school mascot.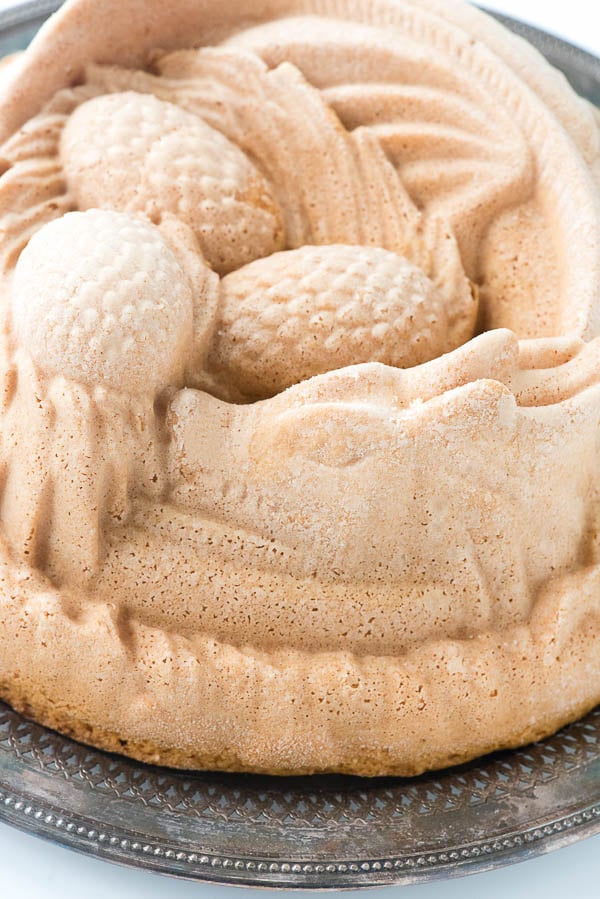 It's not unusal for me to find my son taking a homework break watching product videos on ThinkGeek; the latest for this Technomancer 2.0 Digital Wizard Hoodie and Hoverkraft Digital Construction Challenge.  To me ThinkGeek is an unending source of inspired products I don't see other places.  Perfect for current culture themes and popular TV shows (The Walking Dead, anybody?).  Take a look; I think you'll find lots of options you never expected!
Disclosure: I was provided a Death Star Waffle Maker and a Dragon Cake Pan for the purposes of this review.  All opinions are my own.