When I was in college, one of my 'health-conscious' roommates (whom I realized later was more so a closeted Bulimic) was obsessed with  juice fasting and always wanted me to jump on board. Loving something novel, I agreed to some fast fasts however with no nutritional foundation or guidance. The Mac Daddy was an eleven day juice fast, at the end of which, another not-so-health-conscious roommate talked me in to breaking at a drive in theater drinking Screwdriver cocktails rationalizing they had orange juice in them. Thank goodness times have changed and the benefits of juicing have come into a knowledgeable vogue, offering health, energy and immune system benefits for those who partake.
Juicing, as well as 'Juice cleansing' or detoxing, have become wildly popular in the recent years with the value of freshly made juice becoming a mainstream of healthy diets everywhere. Newly-released, beautiful, 'Juice: Recipes for Juicing, Cleansing and Living Well', is chock full of 100 recipes covering a variety of juices as well as a safe guide to cleansing, elixirs, flavored waters and more. I personally attended a juicing workshop during a weekend healthy lifestyle program and promptly left the event to buy my own juicer. Those who have only experienced staid breakfast juice options of canned pineapple, not-so-fresh orange juice, and the occasional grapefruit juice have another thing coming with the experience of live juice. When juicing fresh from produce, the result is almost electric in the flavor and energy boost. I had never liked juice prior to making it fresh as I felt 'weird' after drinking it. This is a completely different drink.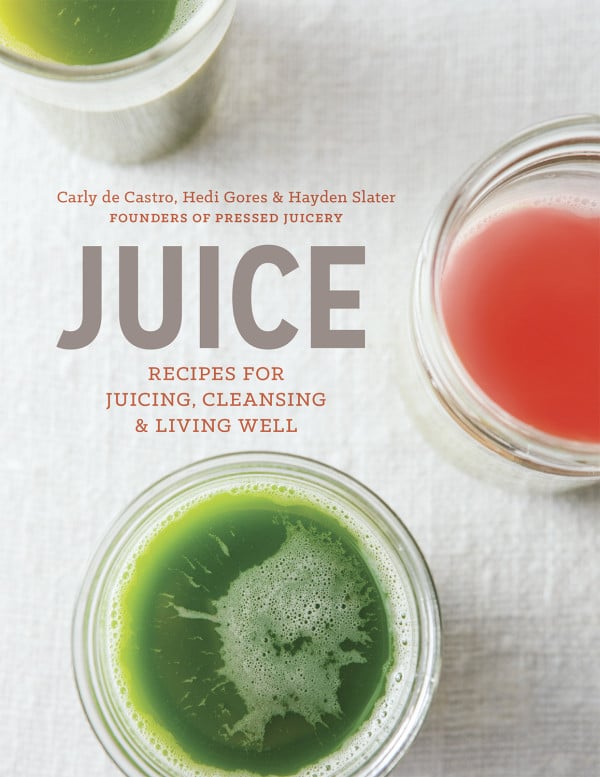 Juice is penned by Carly de Castro, Hedi Gores and Hayden Slater, founder of the famed LA 'Pressed Juicery'. The book's introduction is an earnest account of the starting of Pressed Juicery, stemming from De Castro's personal journey through weight gain at a young age, leaving her depressed, sluggish-feeling and unhealthy, eventually trying green juice at the hand of a friend. Through lots of research and her own health turnaround, De Castro partnered with the other founders to start Pressed Juicery, a venture about which they are very passionate. These are beautiful, healthy-looking people with a desire to open their experience and recipes to all whom are interested.
Juice travels through all possible topics relating to juice, incorporating topical vignettes from experts such as an overview from Alejandro Junger MD, insight on alkalinity, radiant skin, green juice, sprouting and more from luminaries in the field. The book is a pleasing small size, well organized with beautiful photography turning the art of juicing into an inviting playground rather than a dry trip to a crunchy health food store circa 1973. All the cool people juice, and the book makes you want to jump on board.
I love the simple education about the methods of juicing and types of juicing machines. There is also instruction about Super Foods and helpful herbs to yield a glowing complexion. The actual juice recipes abound, covering Green Juices, Citrus, Root vegetables, fruit combinations, how to make nut milks, Smoothies which add some fiber and bulk to the juice, and Savory and Spicy. The elixir chapter addresses how to integrate natural options to support the body whether it be for a cold or sour stomach. Lastly the book offers a comprehensive guide on detoxing safely with juice and a resource guide for purchasing.
This is a perfect time of the year to experiment with juicing, in the heat of summer when fresh produce abounds. I appreciate the tested creative options in the book and look forward to whipping up the recipes in my home kitchen. This is a gorgeous book and will quench the thirst for all those interested in learning more about juice and to experiment with delicious recipes.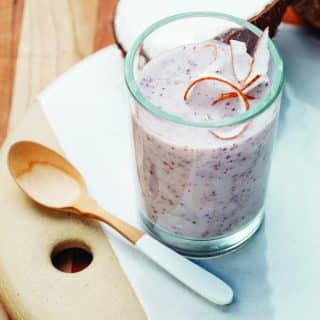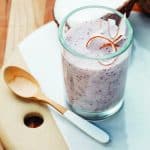 Coconut Mint Chip Smoothie
"This smoothie tastes like mint chip ice cream. Seriously." -Juice: Recipes for Juicing, Cleansing and Living Well
Servings
1
-2 16-ounce smoothies
Ingredients
2

cups

coconut water

1

⁄2 avocado

, pitted and peeled, or meat from 1 raw, young Thai coconut

5

fresh mint leaves

1

tablespoon

cacao nibs

3

or 4 ice cubes
Instructions
Blend all ingredients until smooth.
Nutrition Facts
Coconut Mint Chip Smoothie
Amount Per Serving
Calories 456
Calories from Fat 306
% Daily Value*
Fat 34g52%
Cholesterol 0mg0%
Sodium 519mg22%
Potassium 2174mg62%
Carbohydrates 36g12%
Protein 8g16%
Vitamin A 505IU10%
Vitamin C 33.2mg40%
Calcium 152mg15%
Iron 2.8mg16%
* Percent Daily Values are based on a 2000 calorie diet.
Reprinted with permission from Juice by Carly de Castro, Hedi Gores & Hayden Slater (Ten Speed Press, © 2014). I received a copy of  Juice:  Recipes for Juicing, Cleansing and Living Well  for the purpose of this review. All opinions are my own.