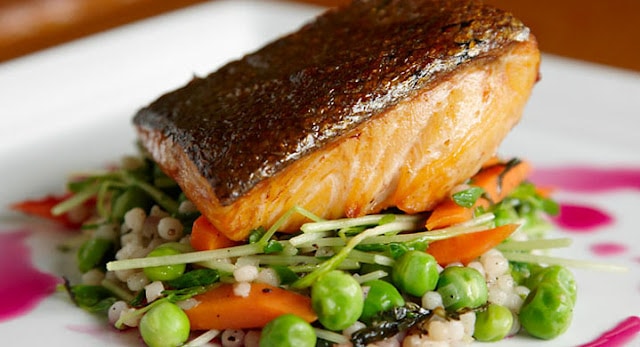 Grilled Wild Salmon (Chef Will Nolan)
If you are a Today show watcher you'll be fortunate to be starting your day today with one of Colorado's finest, Chef Will Nolan, the Chef de Cuisine of restaurant Eight K situated in the luxurious Snowmass Viceroy Hotel.

 

 

Though we claim him as our own, his roots and I suspect heart remain with his New Orleans heritage; a place which fostered his love of a cuisine that has remained an influence through his culinary travels and which he continues to lavish on diners coveting his food.
His appearance on the Today show (at 9:50 a.m. MST) will showcase some of these dishes with the New Orleans' flair but also the approachable quality of his delicious bites.

 

Chef Nolan offers food that pulls you tighter to the table, merging innovation with comfort, yielding authentic, thoughtful food for real people.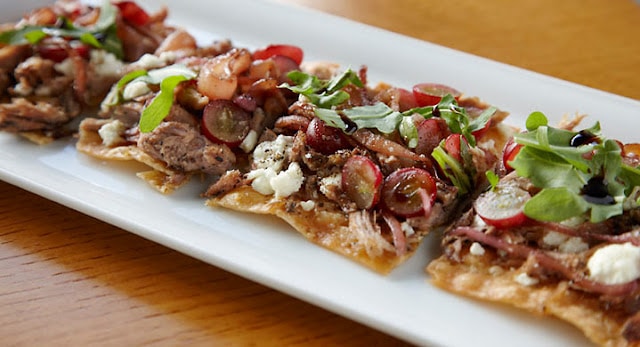 Duck Confit Flatbread (Chef Will Nolan)
With this as a backdrop it is no surprise he's been recognized by Food and Wine as a finalist in The People's Best New Chef award.

 

The award honors 'up and coming innovators who have run their own kitchens for five years or less.'

 

Chef Nolan is one of 100 finalists nationwide.

 

The winner will be selected by diner's votes from now through March 11.
Chef Nolan began his true culinary career by attending the Le Cordon Bleu College of the Culinary Arts (formerly known as the Western Culinary Institute) in Portland Oregon though joined the culinary workforce in High School working at a New Orleans' BBQ restaurant.

 

He has a proven track record at a number of acclaimed restaurants in New Orleans including Paillard's where he was Executive Chef and guided the restaurant to be honored as one of New Orleans' Best New Restaurants.

 

He's worked under the guidance of New Orleans' 'Greats', Chefs Jonathan Wright and Kevin Vizard.

 

Before moving to Colorado Chef Nolan helped to open a New Orleans' style restaurant in arguably one of the world's best food cities, Singapore ('The Big Easy' on Sentosa Island).

 

With this breadth of experience and solid foundation those of us who have enjoyed his food relish his more recent move to our fair state of Colorado.

 

He's made his mark not only with the creativity and passion one can taste in his food but his commitment to using local, organic ingredients woven into inspired seasonal menus.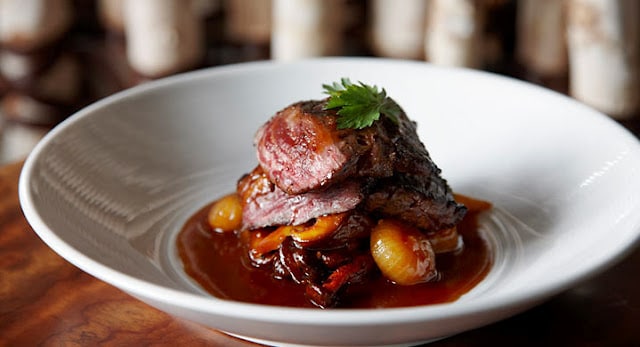 Grilled Terres Major Steak (Chef Will Nolan)
  

Colorado is developing a very exciting food scene and it is the inspiration and passion of chefs like Will Nolan who are adding 'great dining' as a top bill to the reasons both to live here and to visit.

 

He's come with his heritage and has embraced the culinary resources of Colorado to produce exciting, award winning food.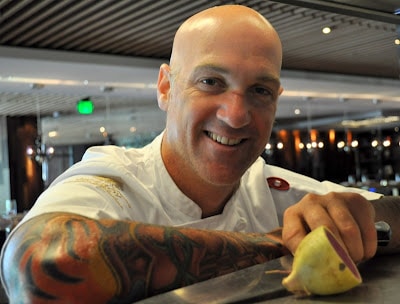 Chef Will Nolan
Chef Nolan provided me one of the recipes which has been very popular at his restaurant Eight K that he will also be preparing on the Today Show; his segment demonstrating how to make fancy restaurant food at home with ease.

 

Admittedly I was braced for a 'chef recipe'; one that is sophisticated, yet very complicated and needing translation for a home cook.

 

I think you'll agree the recipe sounds delicious and is something you can easily master at home.

 

He's included an additional recipe for his own Boudin Blanc (a homemade 'white sausage') that you can use in the sausage stuffing recipe.
SAUSAGE STUFFED CORNISH GAME HENS with PARSLEY SAUCE
At the restaurant we make our own Boudin Blanc (recipe to follow), but you can buy a good quality bulk sausage to use instead.

  

–Chef Will Nolan
·

        
4 Cornish game hens (or other small birds like quail), deboned
·

        
2 pounds bulk Sausage, Country-Style (or see Chef Nolan's recipe below)
·

        
1 cup green onions, sliced
·

        
1 cup chopped parsley
·

        
2 cups Jasmine rice (or other white rice), cooked
·

        
2 teaspoon cayenne
·

        
½ cup cold water
·

        
Salt and pepper to taste
·

        
2 medium Shallots, finely diced
·

        
4 button mushrooms, thinly sliced
·

        
2 tablespoons butter
·

        
1 cup dry white wine
·

        
1 cup crème fraiche or sour cream
·

        
2 large egg yolks
·

        
Juice of half lemon
·

        
½ cup parsley leaves, chopped
1.
 

Preheat oven to 325 degrees.

 

Season hens inside and out with salt and pepper.
2.
In a mixing bowl, combine sausage, green onions, parsley, rice, water and cayenne.

 

Season with salt and pepper.
3.
Stuff each hen cavity with the sausage stuffing.

 

The bird should be full.

 

Tie legs together with kitchen twine.
4.
Place birds in a baking dish.

 

Cover with foil and bake at 325 degrees for about an hour or until meat thermometer inserted in the center of the stuffing reads 165 degrees.
5.
Turn oven to 500 degrees, remove foil and allow the bird to brown.

 

Remove from oven.

 

Let hens rest for 15-20 minutes.
6.
To Make Parsley Sauce
:

 

In a separate pan, 'sweat' (cook over low temperature until releasing moisture, becoming translucent but not browned) the shallots and mushrooms in 1 tablespoon of butter.

 

Add the wine and reduce by ¾.

 

Add mixture to a blender with the parsley and blend until smooth.

 

Add crème fraiche (or sour cream) and blend until smooth.

 

Add egg yolks and blend until smooth.
7.
Pour mixture into a sauce pot and add lemon juice.

 

Whisk in 1 tablespoon butter.

 

Salt and pepper to taste.
8.
To serve
:

 

pour ¼ cup sauce onto each plate.

 

Arrange hens on sauce and serve.

 

Garnish with parsley leaves.
Chef Will Nolan's Boudin Blanc
·

        
2 ½ pounds Boston Butt, cubed
·

        
½ pound chicken liver
·

        
¼ pound green onion
·

        
1 tablespoon cayenne
·

        
1 tablespoon black pepper
·

        
1 ½ pounds cooked white rice
·

        
1 pint cold water
Grind meat, liver, green onion, and parsley.

 

Season with cayenne, salt and pepper.

 

Place mixture in large mixing bowl and add cooked rice and water.

 

Mix to incorporate/combine fully.
If you miss Chef Nolan's Today show segment, you may watch it here after it airs:
http://today.msnbc.msn.com/

.

 
Additional recipes for the dishes he will prepare may be found by clicking here.
More on Food and Wine's The People's Best New Chef award
: The field of 100 nominees for

The People's Best New Chef℠

award includes 10 chefs in each of 10 regions across America. The chefs with the most votes in each of the regions will be named finalists. Of those 10 finalists, the one with the most votes overall will be named

The People's Best New Chef. The People's Best New Chef

finalists and winner will be revealed on March 12; the winner will also be featured in July 2012 issue of FOOD & WINE, the same issue that profiles the Best New Chefs. (Note: Nominees for

The People's Best New Chef

award remain eligible for a Best New Chef award.)
All photographs courtesy of the Snowmass Viceroy Hotel