Iced coffee drinks are refreshing and a great option all year round. No need to spend lots of $$ when you can make this Buttercream Iced Latte at home (only two ingredients too)!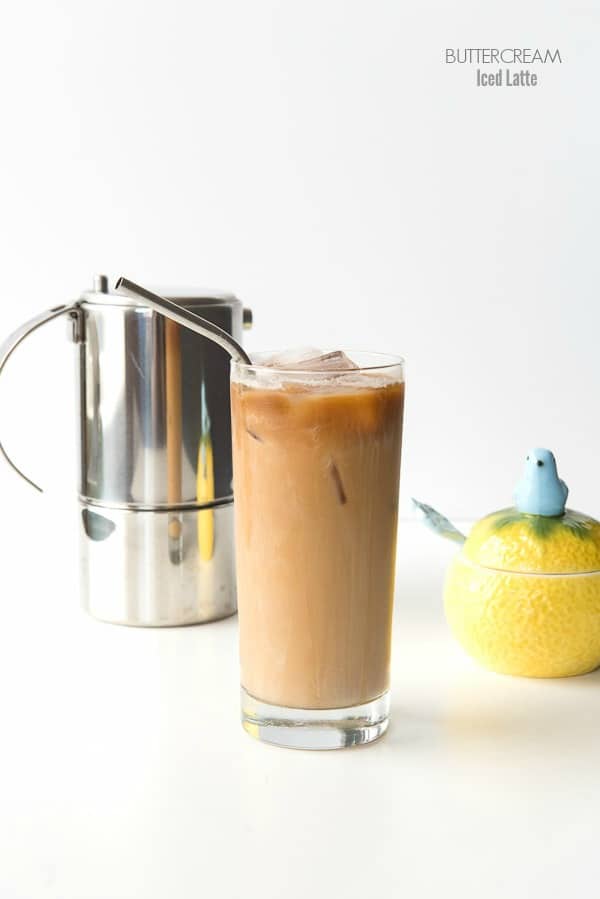 This post is sponsored by White Wave and Horizon Organic, long time valued partners of Boulder Locavore. All opinions are by own.
In certain ways I'm a creature of habit. Despite avoiding anything that feels like a routine, drinking coffee is a daily ritual that punctuates my day. I love to come downstairs to the heady aroma of a freshly brewed pot of coffee. It feels welcoming to me; sort of like being wrapped in a warm blanket.
Pouring a cup of coffee or making it is the first thing I do when I get up in the morning. I love having a cup when I go through my morning email or have a chat with my husband before the madness of the day swings into full force!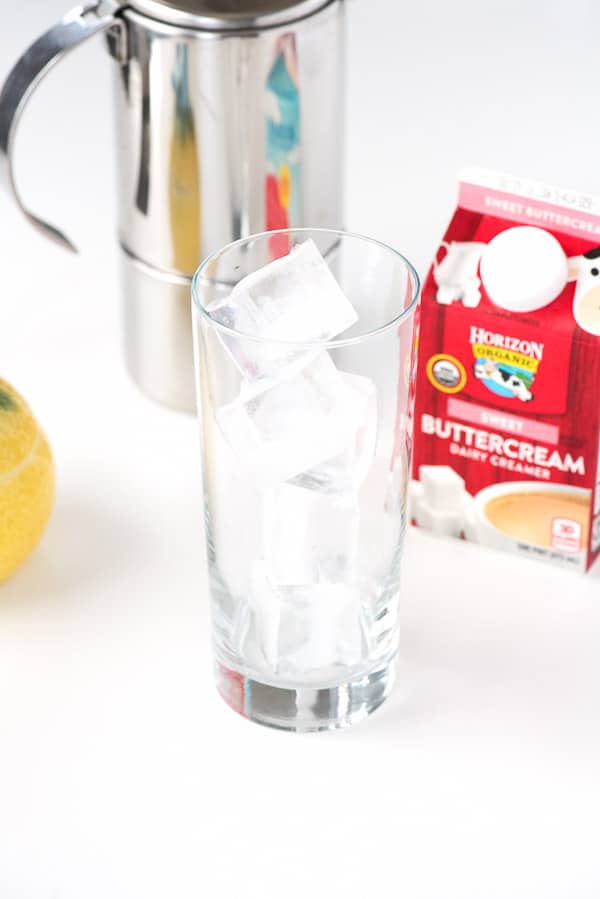 Lately I've been craving iced coffee. Typically, it's something I buy in the late afternoon when I'm out and about but I have a new recipe that is on daily rotation I think you'll love:  Buttercream Iced Latte. It's super simple to make with pure flavors and just two ingredients.
I usually add a splash of milk to my coffee in the morning. I do like flavored coffees when I occasionally buy them but tend not to be that exotic at home. However, I was at our local Super Target last week and when picking up some milk noticed a new dairy creamer from Horizon Organic: Sweet Buttercream. Horizon products are all organic and are made from quality ingredients which I love, so I grabbed a creamer from the dairy case.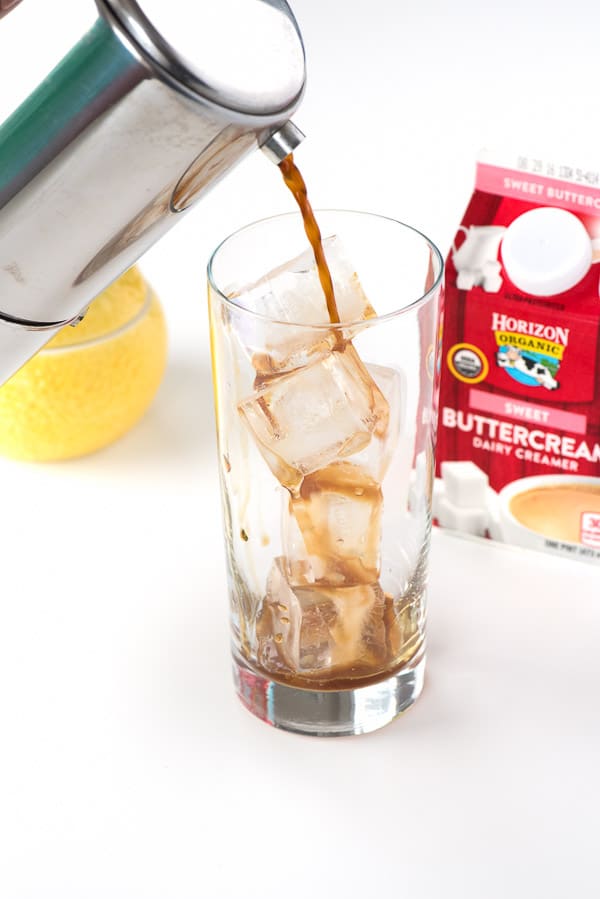 The day was blistering hot. The definition of 'dog days of summer' which for us can last well into early October. I really wanted some iced coffee for my afternoon school pick up run which can be an hour in the car. I decided to break out the new creamer to make a Buttercream Iced Latte for the road.
I was over the moon with the flavor and have made them daily since! Freshly made espresso (caffeinated or decaf both work) poured over ice in a tall glass with some of the Horizon Sweet Buttercream creamer on top. The creamer is light sweet and completely natural tasting (made with all natural flavorings). It gives a great flavor to the iced espresso.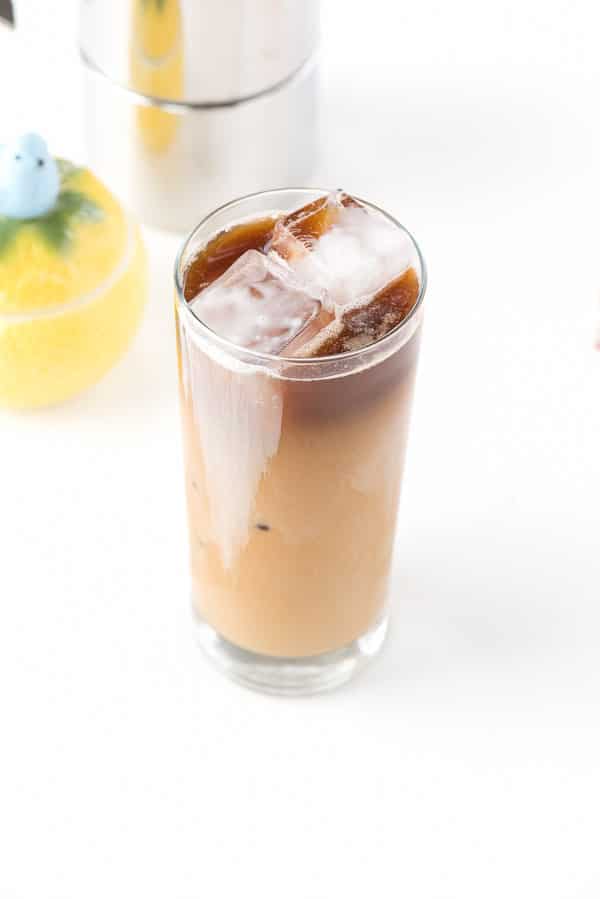 Target has a cool app called Cartwheel. Free to download, it offers discounts on things you are already buying. It's super easy to use too. Horizon creamers will be 20% off using Cartwheel at Target between 9/25/2016-10/22/16. It's the perfect time to make this Buttercream Iced Latte!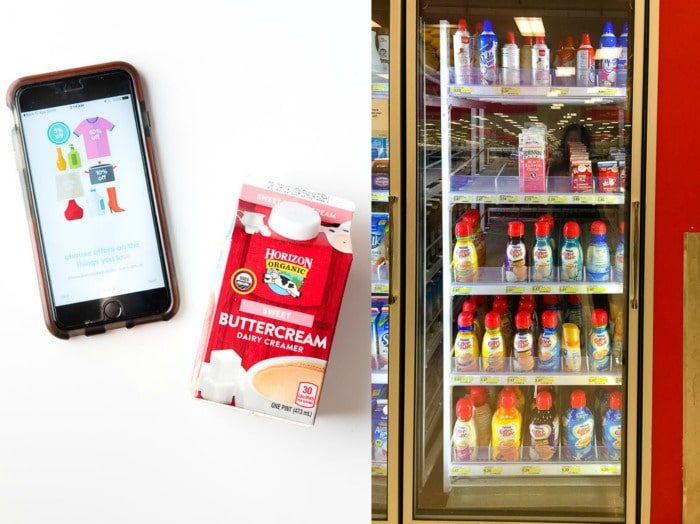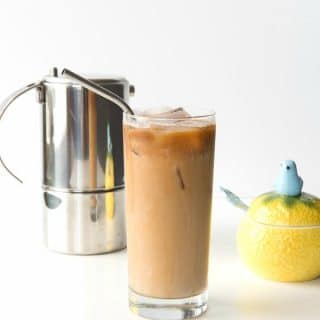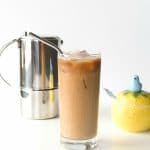 Buttercream Iced Latte
This super easy chilled coffee drink is made with only two ingredients! Fresh espresso is chilled over ice and slightly sweetened with an all organic Sweet Buttercream creamer. It tastes fresh and natural.Adjust proportions is using a a different size glass. Espresso will will the glass over ice to be 3/4 full. After more ice is added creamer fills to the top!
Ingredients
4

ounces

prepared Espresso

(caffeinated or decaffeinated)*

2

ounces

Horizon Sweet Buttercream Creamer

Ice
Instructions
Fill a 14-ounce glass with ice. Pour in the hot espresso. Fill with more ice (some ice will melt due to heat of the espresso) and pour in creamer to fill. Stir and enjoy!
Recipe Notes
*if freshly made espresso is unavailable, instant espresso may be used made from powdered espresso and boiling water.
Nutrition Facts
Buttercream Iced Latte
Amount Per Serving
Calories 83
Calories from Fat 54
% Daily Value*
Fat 6g9%
Cholesterol 20mg7%
Sodium 39mg2%
Potassium 204mg6%
Carbohydrates 4g1%
Protein 1g2%
Vitamin A 200IU4%
Calcium 60mg6%
* Percent Daily Values are based on a 2000 calorie diet.