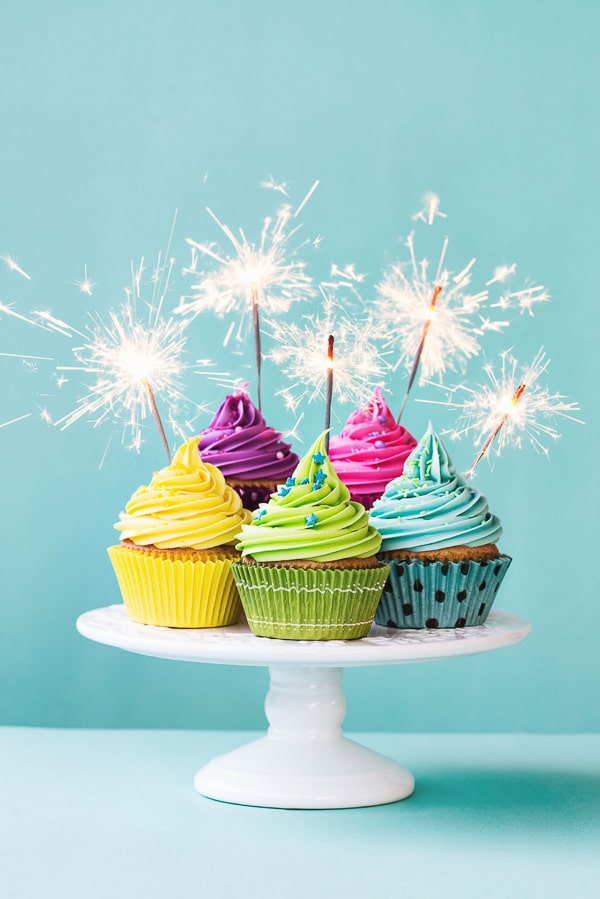 'And so it begins….'  Those were the first words I ever wrote on BoulderLocavore.com 5 years ago!  At times I shudder looking back on my early posts.  Often with no photos, or posting something I loved with about 3 sentences.  I thought if I posted something that people would find me.  I thought 'If I write it, they will come'.  Not back then.
I had simple analytics on my website that would tell me if anyone was looking and where they were from.  I will never forget the day that 10 people visited or when the analytics showed someone from Alaska was on the site!  My kids were so impressed.  I also installed a whirling globe widget in my sidebar that lit up showing the locations of the readers on the site in real time.  It looked a bit cheap but I was mesmerized and really did not want to take it down until someone from Antarctica logged it!  I did finally take it down but never would have dreamed where Boulder Locavore would go and I have you to thank for it!
Originally I began Boulder Locavore, as the name suggests, to share Boulder-local resources.  In a personal experiment to live over a Colorado winter sourcing my main food locally I found many fantastic resources I had no idea existed.  On the fateful day I decided to start a blog, not even really understanding what one was, I had tired of answering friends request for links to my findings requiring me to search, and cut and paste them into emails.  I thought starting a place where they could visit would be smart.
Pretty quickly though I realized that I enjoyed creating recipes to use the seasonal produce I was eating.  When one eats seasonally, or has a farm share as I do, the ingredients lead the way.  You pick the ingredients and then figure out what to do with them which is different than buying what you need for a recipe.  You responded to that, and my love of infusing liquor, changing the course of Boulder Locavore to really focus on seasonal recipes (food and cocktails) and world travels.  I learned more about photography, spruced up the website and here we are 5 whole years later!  Now people from Alaska still read along with people from thousands of people daily from New York City, Houston, Chicago, Los Angeles, London England, Toronto Canada, Seattle, Portland and of course Denver; those are currently Boulder Locavore Top 10 reader cities and there are many more.  Kind of unbelievable really.
If you would have asked where I thought BoulderLocavore.com would be in 5 years, I don't know what I would have said in September of 2010, but I never would have dreamed it would be here.  There isn't a day that passes in which I'm not grateful to you, my readers, for without you BoulderLocavore.com would be nothing!  Thank you from the bottom of my heart.
Ok now let's celebrate!  Last month I did a little Back to School Giveaway of a $100 Amazon.com Gift Card and it was a smash hit!  Want to do it again?!  Why not.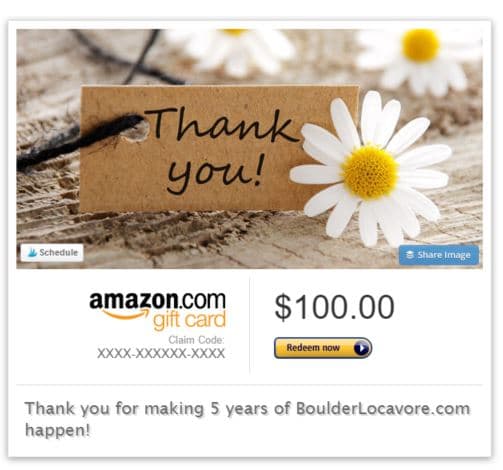 As with the last time this giveaway is not sponsored (just a little gift of thanks from me) and is open to international readers as well as readers in the U.S.  The gift card will be delivered via email and must be used on Amazon.com only (not other international Amazon sites).  Here is more information on International Shipments and Customs when shopping with Amazon.com outside of the U.S. NOTE:  for those doing the extra entry of subscribing to Boulder Locavore, please be sure to VERIFY the email you are sent confirming your subscription or your giveaway entry will be be valid.