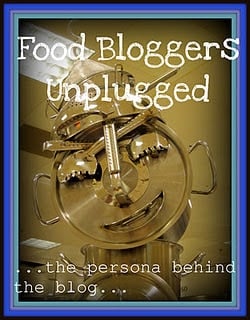 Last week Brit blogger friend Caroline (All That I'm Eating) asked that I fill out this set of questions allowing readers more insight to the 'person behind the blog.'

It has been floating around across the pond and she kicked to me in the U.S.

Ironically when I started my blog I really did not want to reveal much about myself personally feeling wary of the internet but also desiring my voice about food to be heard through no filters.

That has evolved and I love the essence of what this set of questions reveals and therefore agreed to do them.
I don't remember how I found Caroline originally but I was immediately attracted to her local food perspective and fancying a good dose of 'arm chair travel' loved accompanying her to the English Farmer's Market and local restaurants in print.

Our bond was sealed however over our mutual fascination and love for infusing…..anything.

We've bounced recipes back and forth, each trying our best to replicate with our local region's seasonal spoils.
What or who inspired you to start your blog?
Two years ago I endeavored to see if I could eat as a locavore over a Colorado winter (it's a very seasonal place so it was not obvious it could happen), with the only produce and meat I ate being from

within a 100 mile radius

.

I found a number of great resources through that personal challenge and after sending so many friends emails with details all of them I decided putting it in one place would be easier!

I also have always loved to write so a blog was an obvious next step.
Who is your foodie inspiration?
That changes but Michael Pollan is a demi-God to me.

I think he arose at a time to educate people on so many aspects of food at its core (food IS a system); it awoke a lot of people up to become more aware of what they are eating and the impact of their choices.
Your greasiest most batter splattered cook book is?
You know at the moment it is my Grandmother's recipe box which has recipes in her hand and my Great Grandmother's.

Ironically they ate 'clean' food but with flair.

I do love Deborah Madison too; an American seasonal chef who truly celebrates the season's bounty with gorgeous food.

When I began to eat as a locavore it completely shifted my way of food preparation.

I'd go to my CSA farm, get my weekly share and then have to figure out what to make (vs. taking the recipe ingredient list to the store).

The food drives the recipe, not the other way around.

Deborah Madison is great to have 'on the team' when eating seasonally to turn any produce into a flavorful, interesting dish.
The best thing you have ever eaten in another country, where was it and what was it?
I am really bad at the 'pick only one thing' questions.

VERY hard to narrow but what pops to mind is Hokkein Mee, a noodle dish with pork, shrimp and chili

sauce I'd have every morning for breakfast at the canteen where I worked in Singapore.

Beautiful thin noodles.

Love all the food there.

Was sad to leave it when I moved back to the U.S.

AND there was the Oyster Omelet (not what you'd think of in Western countries as an omelet) at the Newton's Circus Hawker Center too….
Another Food Blogger's table you would like to eat at?
I can only pick one?

Heidi Swanson from 101 Cookbooks would be fun.

I love her food aesthetic and she seems to live a rich life.

Would be a good dinner conversation.

(Although an evening tippling with Caroline would be fun too with all her local infusions!)

The other part of my food story telling is in the photography which is equally important to me.

If I had to pick one Food Photographer to dine with it would be hands down Penny de los Santos.

She is a person who operates on life's vibration wherever she goes it seems.

Her eye for people, circumstances and food is unsurpassed and reflects the beauty of her spirit I suspect.
What one kitchen gadget would you like Santa to bring you? (if money were no object)
I think a sous-vide machine would be fun.

I've been tempted to try it on my own with my Food Saver (a machine that vacuum seals food) and a large pan of water.

A Vitamix blender is on the list too.

Oops; you said one.
Who taught you how to cook?
I'm really self-taught.

Probably out of necessity when going to college!

I remember having a stir fry cookbook, a wok and having two things I could actually cook on 'repeat'.

Fortunately I was in California where fresh food was abundant.

I remember learning to cook shark.

That seems weird now as I don't think it's a mainstream fish any longer

(maybe it never way)

.

I have taken cooking classes along the way mainly out of interest for regional cooking.

My husband is a great cook too and we like complimentary cuisines.

I've learned a lot from him.
I'm coming to you for dinner, what is your signature dish?
Completely depends on the season.

But right now Paella would be nice!
What is your guilty food pleasure?
I don't believe 'guilt' and 'food' belong in the same sentence together.

Therefore I don't have one.
Reveal something about yourself that others would be surprised to learn?
That I began my college education studying Marine Biology.

After the shark comment, maybe that would not be such a surprise.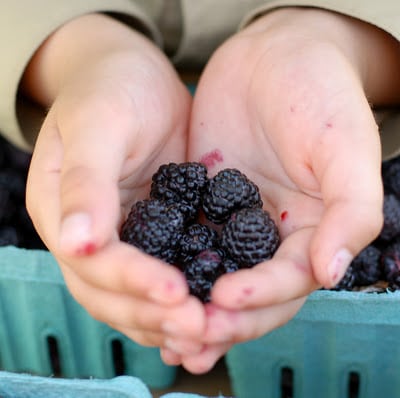 My task to finish this off is to select 5 additional bloggers to answer these same questions.

Not an easy task with all the wonderful and varied blogs available.

I wanted to extend Caroline's choice of me and select bloggers who each stand out as reflecting aspects of my food orientation which I hold core and dear.

These bloggers are spread geographically, and all bear dedication to locally grown and sourced food each in a slightly different way.

They are all entirely cool, down to earth women writers who should not be missed.

Rosemarried: Lindsay and I met a year ago being the second and third swappers in the monthly vintage recipe swap we participate in. She lives in Portland Oregon, perhaps the most enviable food locale in the U.S. (fortunately I live in another one!). She truly embraces all her area has to offer (including being part of the leadership of her local Farmer's Market) and it shows in her food. It's fresh in concept, innovative yet still approachable.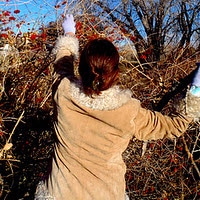 Hunger and Thirst for Life:
A Colorado local blog with a completely different angle; foraging.

Foraging is something I really became intrigued by (but am still a bit of a scaredy cat over) last year.

In coming upon

'Butter's'

blog I was very excited and intrigued about her commitment not only to the act of foraging but the quality of her food preparation.

I think foraging is coming into vogue frankly and people like Butter bring the practice into the foodie culture with panache.

She has worked with local restaurants to provide foraged food as well.

The Dusty Baker: A key element in my food is being gluten free. That shift happened over 5 years ago from medical necessity and I was determined to not have it be my cross to bear despite it needing to be incorporated into everything I consume. Three words I'd use to describe Jacqueline are 'joyful', 'exuberant' and 'unstoppable'. She also is a gluten free foodie and nothing stands in her way. A mover and shaker in New York City, she delivers a constant stream of delectable gluten free food fit for any dietary needs or palate. She's clear about all ingredients and her love of food.

The Tomato Tart. Sabrina and I really bonded last year over her personal grass roots endeavor to support the Japanese victims of the earthquake via tapping the blogging community to hold an online Bake Sale. The effort was tremendous yielding a tidy profit to be donated to Japanese non-profit and Sabrina not only conceived of it but managed all the technical details which were no small feat. She's a native San Franciscan and we've shared many a moment over some of the long time restaurants there. Sabrina to me represents the 'cool of food'. Like Lindsay I feel she takes advantage of all her regional offerings and presents sophisticated but approachable food and drink in a manner that reflects her unending originality. Everything about her is cool, down to her drawer of vintage, mismatched, unpolished silver. Everything.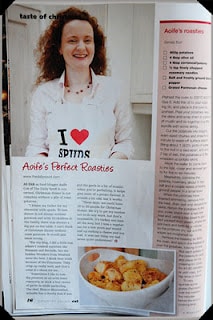 The Daily Spud: My friend Aoife will not be answering these questions but her blog is too good to miss. Her star which has been burning brightly in her home country of Ireland but also in Europe has taken flight. The awards, recognition and opportunities are beginning to outpace her! I picked Aoife loving her blog and her undying devotion to the Irish beloved potato. She kindly did a guest post for me this past St. Patrick's Day setting the record straight about what goes on in the homeland of that fair holiday. Being one who loves Ireland personally, and its people, Aoife delivers a great dose of the Motherland I personally thrive on. For any smitten with a good Irish accent, at the end of Aoife's reflection of 2011 (post date 1.1.2012) there is an interview about her blog and you can hear her glorious accent describe what her blog is about.