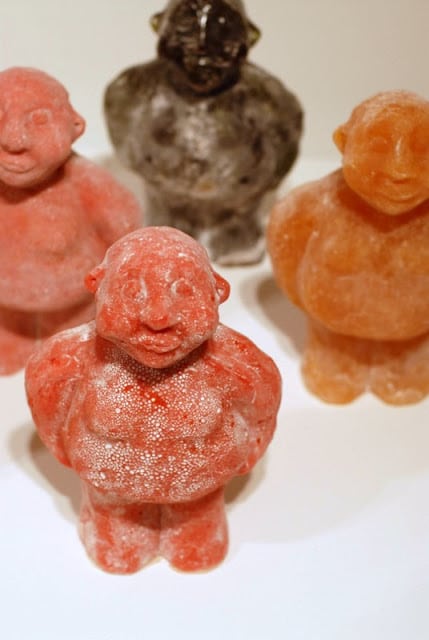 Little Fat Kids (melted and cast candy figurines) by Viviane Le Courtois
I believe writing about art is like writing about wine; one must be fluent in a different vocabulary.  One for which there is an 'in crowd' with specialized, descriptive talents, finally honed to not only convey the dimensionality of the experience but not spill the whole story. 
Like food, art is personal.  Unlike food, when one writes about art and tells the whole tale they rob the potential exhibit-goer of the organic experience only derived with a first, fresh encounter.   In short when walking in to see the Edible? exhibit by Viviane Le Courtois  at the Boulder Museum of Contemporary Art (fondly known as BMoCA) I was excited sprinkled with a bit of trepidation as the reporter.  I believe I could convey the essence of a pork tenderloin to a blind person but food in art?  A road less traveled for me.
I did not think twice about the companion I wanted to bring along; my dear friend and jewelry artist, Alison Stern of Alison Blair Studios.

 

Alison is one who applies art in her daily living, without even actively thinking about it.

 

Her home by example is a bright, inspired space made up of unique and interesting décor; fun, colorful, happy, sophisticated and approachable down to the most simple detail.

 

Alison's jewelry is the same.

 

Simple, cleanly designed wearable baubles for every budget.

 

Glistening gemstones to brighten anyone's day; so thinks O Magazine, Self, Lucky, the De Young Museum, MoMA, hundreds of happy international customers and those who also share a laugh with her at the Boulder Farmer's Market where she personally sells her jewelry.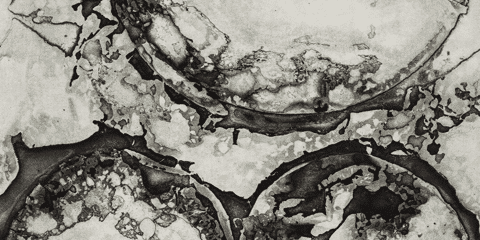 Viviane Le Courtois, Cellules 1 (detail), 2009, natural etching, 1/15 (part of the Garden of Earthly Delights exhibit ; featuring etchings done using the Kombucha 'Mother' on zinc plate)

 

Image courtesy of BMoCA
We entered BMoCA and were greeted by Jordan Robbins, the museum's Marketing Manager to tour us through the exhibit.

 

From the photos I'd seen I was unclear what we'd experience.

 

Viviane Le Courtois, French born in 1969, is now a Denver resident artist who has worked with food as her medium and inspiration for over 20 years.

 

What that might conjure for you surely will not match the extensive and profoundly thoughtful breadth of her work.

 
Shortly into the first exhibit hall I was humbled not only by the simplicity of her work but the extent of her process.

 

This gallery houses the special exhibition commissioned by BMoCA 'In the Garden of Earthly Delights'.

 

By looking at the work I felt she had opened layers of relationship with food even I as a 'Foodie' and food writer had not nearly scratched the surface of.

 

This unique exhibit is alive, interactive, social, reflective and vibrant energetically in multiple ways.

 

Viviane also participates in the exhibit on Saturday afternoons between 1:00-3:00 becoming part of the installation herself in a way.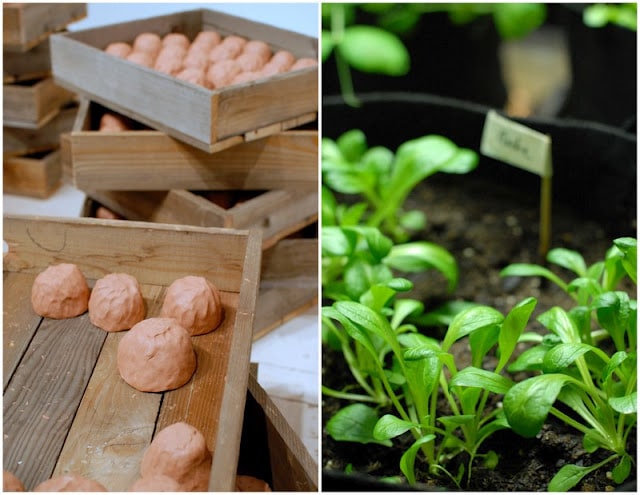 Two of the elements in the commissioned exhibit In the Garden of Earthly Delights.

 

I think you will be delighted at how they are employed!
I don't want to be that friend that blurts out the end of the movie you are dying to see before you've had the chance to go by disclosing too much detail about the exhibits themselves.

 

Part of the beauty of the artistic embrace to me is the authentic meeting of the art on its terms and the organic emotions and experience that ensues (maybe I could be an art writer after all….).

 

I will say I was delighted with The Garden of Earthly Delights which includes growing things in two forms that provide a foundation for an interactive circumstance offering both civilized and primal opportunity for the art patron.

 

Viviane has thoughtfully maneuvered an entire series of moments that culminate in the most perfect example of recycling.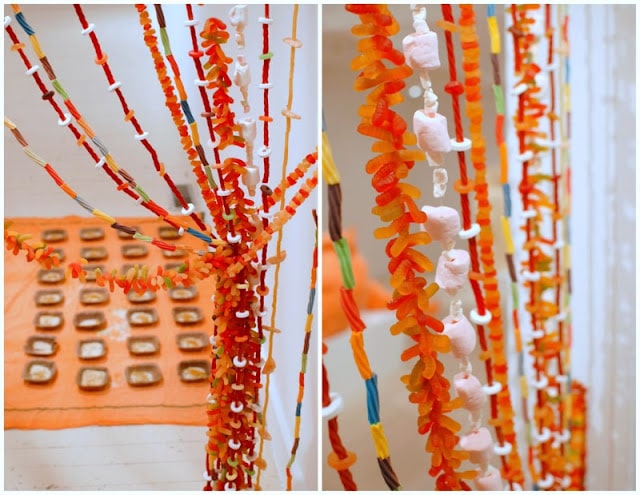 Candy Curtain by Viviane Le Courtois providing a segue from the reflective, self portrait gallery to the junk food inspired gallery (in background on floor 'Offerings for the Homeless'; leaf plates and fabric from India, dried rice, lentils and spices)
Part of her journey has included work with children with introduced her to the world of junk food.

 

Several pieces of her art retrospective reflect this experience of discovery in a number of fanciful and abstract designs.

 

This part of the exhibit is light, fun and intriguing in her use of materials and techniques.

 

I was hugely impressed at the variety of the mediums she's used: sculpture, installation art, etching, film, still photography, performance art and more.

 

Mastering even one medium can take a lifetime so to see her skill in capturing several profound life experiences and in multiple forms gave pause for admiration.

 

I'm sure there might be a variety of responses to the different projects Viviane has undertaken, all of which point to her sensitive exploration of food in terms most would never consider.
An example of this would be a very large two part installation Pickles, paying homage to Viviane's mother's collecting of pickle jars (saving them once the contents had been consumed). She has collected hundreds of jars and expanded what one may pickle to create a visually stunning and inspired collection. My favorites? Hands down the bright pink Peeps marshmallow rabbits, smashed blue M & M's in a pill bottle forming what looks like lapis lazuli and I also loved the 1960's trolls dolls upside down with orange hair suspended as if in formaldehyde.  Collage art at its most beautiful and with a disturbing edge.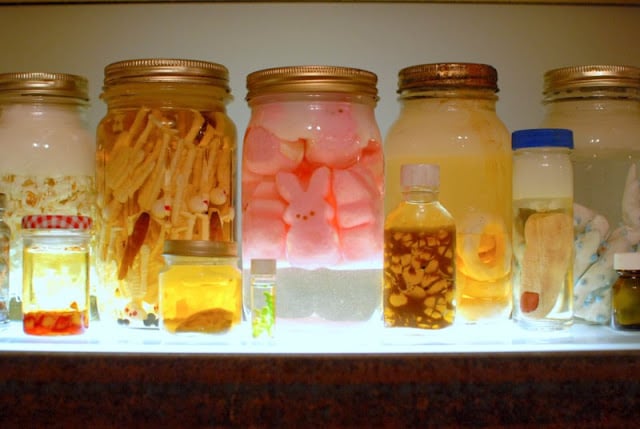 Pickles by Viviane Le Courtois
There are some self portraits both in still and movie form.

 

Some pieces prompt reflection, levity but also perhaps with a slight bit of discomfort, really stemming from our own orientation towards habits and foods (it is a 'G rated' exhibit by the way).

 

I emerged with many questions about what Viviane must be like after being a bystander to her fascinating inner world she has brought into the physical.
This exhibit really exceeded my expectations.

 

I'm not exactly sure what I expected but definitely not something as in depth, thoughtful, extensive and so much in a small space.

 

Without giving away the store, Alison's reaction was that she too was pleasantly surprised, summarizing it to be 'very cool and engaging'.

 

For the love of art or food I'd encourage all to attend this exhibit, adults and children alike.

 

There is a lot to take in and take away.

 

One will leave light hearted and with their thinking caps on!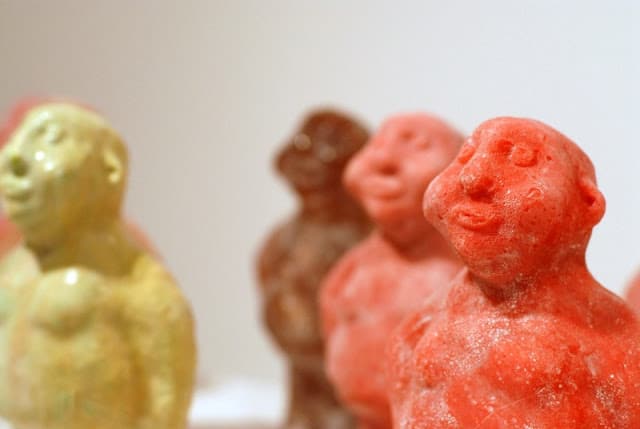 Little Fat Kids (melted and cast candy figurines) by Viviane Le Courtois
To further expand this special food-themed exhibit there will be two additional exhibits as part of The Present Box: Food as Art series.

 

When entering the museum, the area immediately inside to the left (where the museum shop normally resides) will be transformed to house these special presentations.
This weekend March 1-4 will feature Teresa Booth Brown: A Unified (Edible) Scheme.

 

This Colorado based artist (and much more; click here) will be creating a mandala comprised of individual cookies each printed with an edible image.

 

Drawing from the practice of destroying mandalas as a meditation on impermanence, the art patrons will facilitate this thoughtful destruction by eating the cookies.

 

Reception and Rituals: March 1 & 2 6 p.m.
The weekend of March 8-11 will feature bARTer collective: FoodLore.

 

This experience touts a culinary experience by trading of a food-related story or memory tried to a recipe in exchange for a commemorative object.

 

The experience will feature food, trading, interactive performances, surprises and a special contribution by guest artist Rebecca Vaughan.

 

I cannot think of a more perfect marriage between my loves of art and cocktails than viewing the Edible? exhibit during the hottest ticket in town: the upcoming Boulder's Best Mixologist event Sunday March 11 from 4:30-6:30 p.m.  With Edible? as a backdrop, local restaurants will be serving up their best talent in the mixology department aiming at the title of Boulder's Best Mixologist.  Mixology contestants will be representing Aji, Hapa Sushi, The Kitchen, OAK at Fourteenth (last year's winner), The Pinyon, Riff's, Salt and the West End Tavern.  Event patrons will sample, critique and ultimately determine the winner.
This event is the brainchild of Randi Curtis (Principal of Randi C. Events), who represents Boulder Distillery (303Vodka, 303Whiskey and Rob's Mountain Gin; also a sponsor of the mixology event).  Having conceived of such events as Boulder Distillery's Woodstock-esque 4 day anniversary party (which included toting a bus full of distillery devotees to a Def Leppard concert in appreciation for their patronage) it was no surprise to me she'd think this up and partner with Downtown Boulder to ensure its success.  Be a part of the action (and part of the proceeds benefits BMoCA too)!
Tickets
: Includes entrance to the event and museum, commemorative shot glass, samples of all cocktails, appetizers and voting privileges.

 

All participating restaurants will offer ticket holders a free cocktail with dinner the evening of the event.

 

Must be 21 to participate; ID's required.

 

 
·

        
$45 in advance/$50 at the door.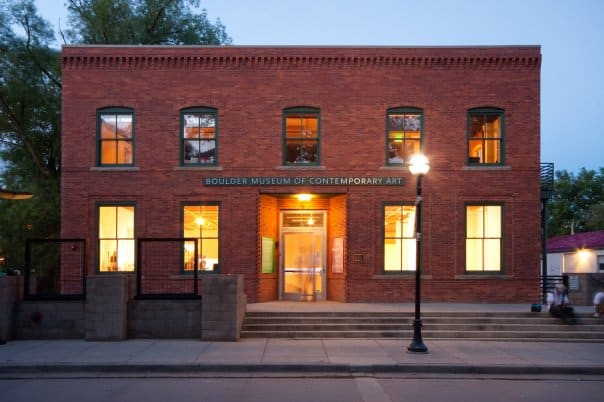 BMoCA
is a true Boulder treasure. Nestled squarely on 13th Street across the creek from the Dushanbe Tea House and during the growing season, in the middle of the Farmer's Market, they have been serving up richly inspired contemporary art exhibits affordably to Boulder since 1972.

 

With three seasonal installations annually, a boatload of fun events and classes for all ages it is an absolute 'must go'.

 

At every Farmer's Market they roll out an interactive kid's art station AND entrance to the museum is free!

 

I'm personally thrilled about a museum facilitated an Urban Foraging walk on April 21 lead by my favorite forager Kate Armstrong which will include a chit chat at the end with Viviane

L

e Courtois (Edible? exhibit artist) whist noshing on the urban foraging finds!
For all details on visiting BMoCA (location/contact, hours, admission, parking, etc) click here.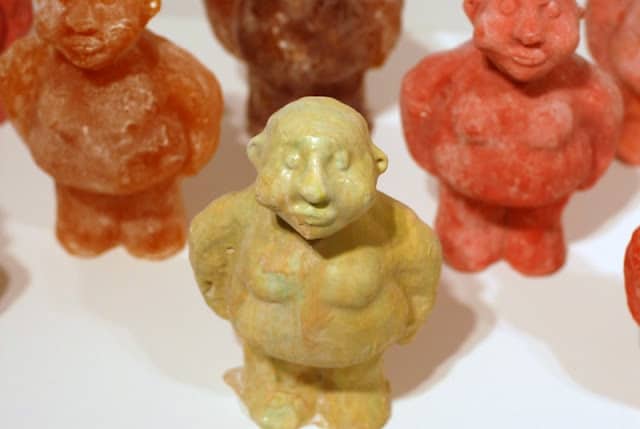 Little Fat Kids (melted and cast candy figurines) by Viviane Le Courtois
All photography by Boulder Locavore unless otherwise noted.