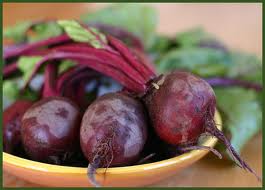 I WANT to be a beet lover.

 

I'm trying.

 

I'm currently a committed beet 'eater', ardently experimenting with recipes and restaurant entrees.

 

But I want to be on the road to overcoming my 'non-love' for beets.
Growing up my only exposure was canned beets for school hot lunch.

 

Enough said.

 

As I became a CSA member and locavore it was apparent beets were now integrated into my food life and I had no idea what to do with them.

 

I've ventured to try a beet salad at a few upscale restaurants and I liked them.

 

They did not taste like beets.

 

I love the COLOR of beets, all kinds.

 

I would gladly WEAR beets but have trouble fully embracing them with my current culinary palette.
Here's my problem.

 

The very reason I feel like I SHOULD eat them, their deep earthiness, is what repels me.

 

My friend RC (from the Rioja outing) says they taste 'dirty'; they do.

 

And not because they have not been washed properly.
Ok, ok.

 

I want to conquer this and you can help me.  I have a fridge full of beets waiting to become the object of my desire.

  I'm looking for a winning recipe

for beets that allows me to eat them without trying to get them across my tongue as fast as possible without touching it. In return I will award the winner a copy of Michael Pollan's 'Food Rules: An Eater's Manual' (a modern day guide everyone who eats should read and consider in my opinion).
I'm truly looking for a recipe that does not go further into the intense sweet flavor but offsets it.

 

As an indicator,

 

the closest I've come at home to liking beets is grilling them and putting them on salad with fresh, local (of course) goat cheese.
Please send me a fabulous 'get the girl to like beets' recipe I will love to
boulderlocavore@comcast.net
by Tuesday November 16.

 

I will announce the winner Saturday November 20 (just in time for Thanksgiving) in a blog post which will include the recipe as well as any glorious facts about YOU you'd like to share.
Honorable Mention:

 

If you post a comment on your favorite post/entry on my blog, artfully working in the word BEET, it will qualify for a second giveaway entry (be clever; no, 'this is for your beet giveaway' comments please!). You must still send a recipe!
I don't care where you are in the world.

 

If you have a life changing beet recipe, email it to me at boulderlocavore@comcast.net.