Whether getting ready for school and for fall, this $250 Amazon.com Gift Card Giveaway will come in handy for your shopping! Open to international entrants too.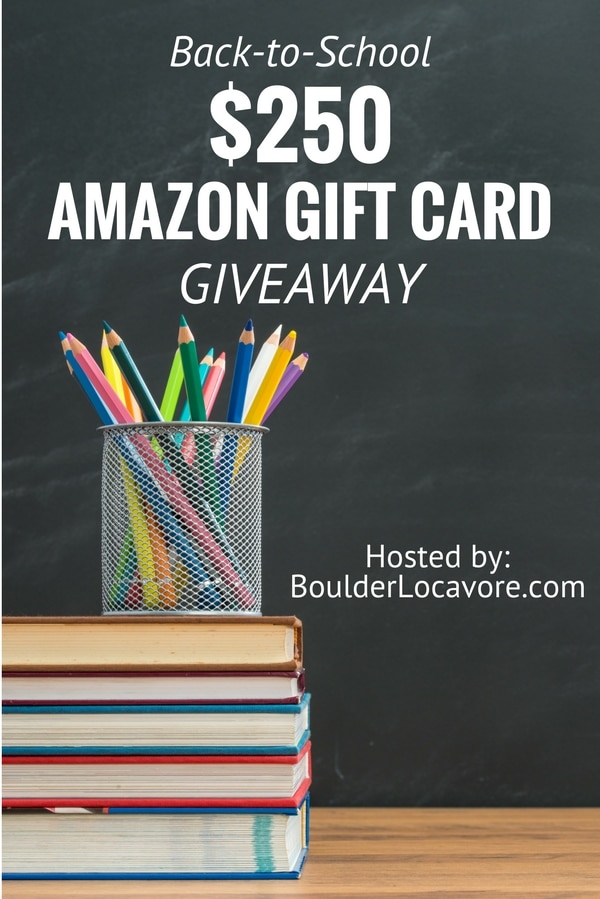 Though there are still some weeks left of summer once school starts it feels over to me. Not in a bad way. I love looking ahead to the cool of fall, cozy recipes and autumn clothes. The temperatures are giving no hint at summer ending but with one week until Labor Day, it's winding down.
We have had a dense summer. I told a friend it felt like running in front of a cartoon snowball. Between preparing to launch my daughter to college and my son to high school (including loads to shopping, errands, forms, etc.), making sure we did everything fun we really wanted to or had put off, I dubbed it the 'No Stones Left Unturned' summer. That did not come without lots of planning.
We also took a fabulous trip to Ireland and Scotland (which I'll share more about later) landing three of us ill including my collegiate daughter being diagnosed with pneumonia the night before she was scheduled to move into her dorm. It's also been the summer of flexibility and contingency plans! After navigating the week, it looks like we are on the other side of the pneumonia (I'm on the same med's having similar symptoms) and on the mend.
However, at the moment toast and jello is on my diet so until I get back into the kitchen I thought a Back-to-School $250 Amazon Gift Card Giveaway might be a fun surprise. I've learned kids in college need fewer supplies but they are all more expensive! Hopefully for those shopping for school supplies this will be a welcome giveaway and for those who don't have to worry about that, I'm sure you can find some fun things on Amazon!
This is not a sponsored giveaway, just a little gift from me for a reader, with my thanks for reading! This giveaway is open to international readers as well as readers in the U.S. The gift card will be delivered via email and must be used on Amazon.com only (not other international Amazon sites). Here is more information on International Shipments and Customs when shopping with Amazon.com outside of the U.S. 
NOTE:  for those doing the extra entry of subscribing to Boulder Locavore, please be sure to VERIFY the email you are sent confirming your subscription or your giveaway entry will be valid. Also, if you are currently an email subscriber to Boulder Locavore, you may still fill out that option for optional entry (you will not receive multiple emails unless signing up with an alternative email address to the one you are currently subscribed with).
This giveaway is not associated with Amazon.com and is hosted solely by BoulderLocavore.com