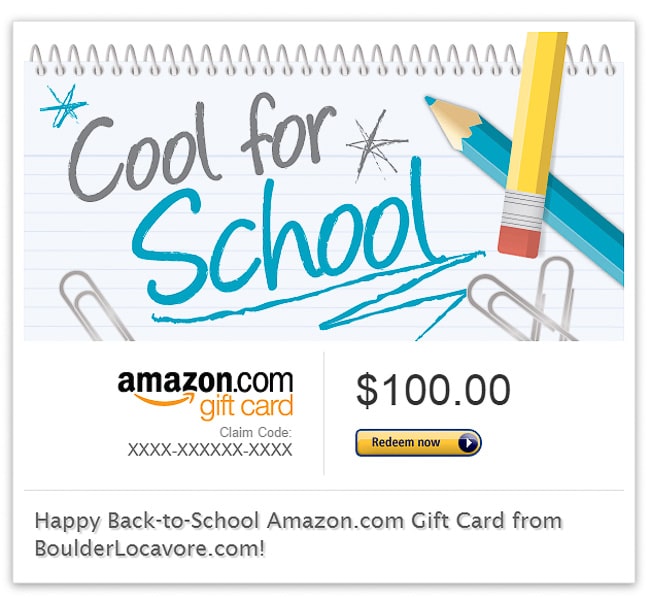 Being the last week of August (and technically the first week of September too), school is back in session for many or will be next week!  It seems like the perfect time to have a Back-to-School $100 Amazon.com Gift Card Giveaway!
This year I decided to do something different with buying school supplies.  Normally we go uber early mainly because I hate the last minute palpable angst of parents rummaging through five cent folders and supplies.  It makes me anxious.  I like to go when it's quiet and unhurried, as do my kids.
This year we took on a more environmentally and financially responsible approach, really evaluating what supplies from last year could be reused (who needs a new metal ruler every year?), taking inventory of supplies we bought ahead and then really buying what the kid's needed.  I can't tell you how many large bags of partially used supplies we have because we get new ones every year.  My point in all of this?  Getting started for the school year is pricey any way you slice it.
Whether you are involved with school starting or not, the change of seasons also brings new interests and consideration of what you might need heading into the active cooking and holiday season of the year too.  I'm going to share some of my favorite, affordable things from Amazon.com with you.  With Amazon Prime, it's often faster and less expensive to order online rather than run from store to store hoping to find something specific.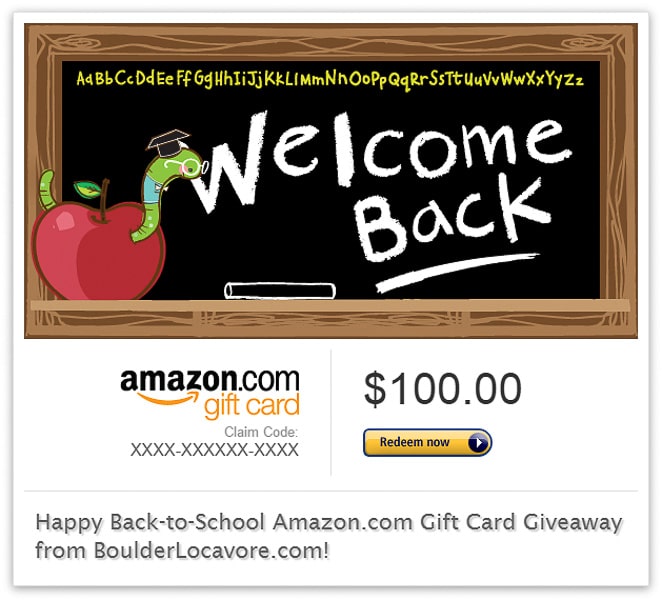 This is a sole reason we are eating more fruits and vegetables.  And it's fun!
Don't end summer without buying one of these.  Truly a life changer.
The sky is the limit for what you can create with this.  I have some ideas to help you out too.  You can't forget these too.
I never would have guessed I would use this as much as I do.  I now own 2.  It's effortless.
I'd be tempted to have another baby just to buy these.  Or maybe I'll buy them for myself.  It's our secret!
We use this just as often in the chilly months as in the warm months.  Here are some ideas of what you could make too!
The.Best.Ever.  And I love all of the colors (gift idea too).
I used to have one of these and just bought this one again.  A must have for the chilly months.
Couldn't live without this.  Anything 'set it and forget it' is for me.  You'll want to use these too!
This is not a sponsored giveaway, just a little gift from me for a reader, with my thanks for reading!  This giveaway is open to international readers as well as readers in the U.S.  The gift card will be delivered via email and must be used on Amazon.com only (not other international Amazon sites).  Here is more information on International Shipments and Customs when shopping with Amazon.com outside of the U.S. 
NOTE:  for those doing the extra entry of subscribing to Boulder Locavore, please be sure to VERIFY the email you are sent confirming your subscription or your giveaway entry will be be valid.  Also if you are currently an email subscriber to Boulder Locavore, you may still fill out that option for optional entry (you will not receive multiple emails unless signing up with an alternative email address to the one you are currently subscribed with).
(continue to enter the giveaway)