This post is sponsored by Tapinfluence granting me the opportunity to share my experience attending and speaking at their first State of Influence conference!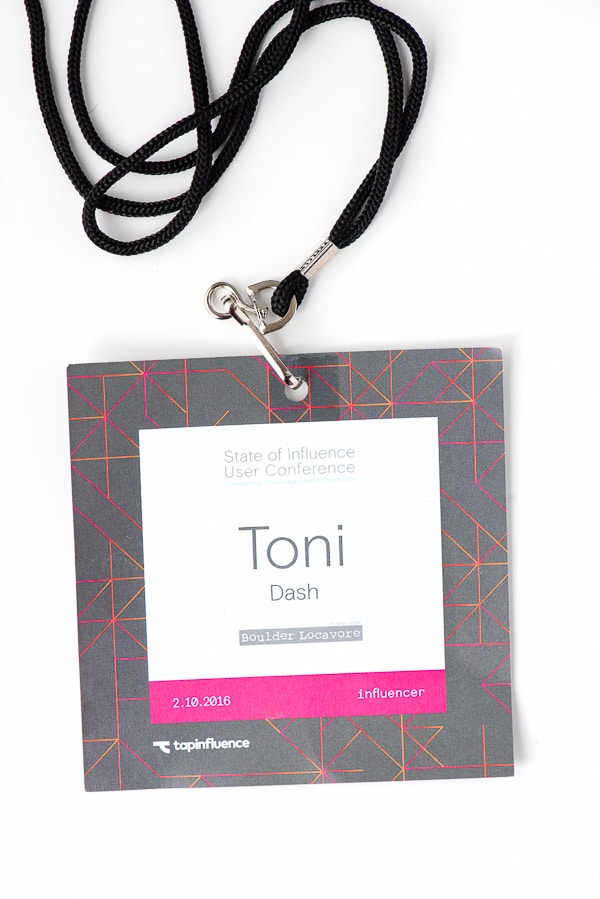 I mentioned in this delicious post last week that I'd just been at a conference, spoken at the conference, and found it an energizing experience.  I'm excited today to tell you more.  For regular readers it's a peek behind the curtain of things I'm involved with for Boulder Locavore that get me out of the kitchen.  The focus of the conference itself may not be the main point of interest for you, but I think the reminders it provided for me will be, since they really are all about you!
For some context, Tapinfluence is a Boulder-based company which has created a software platform allowing 'influencers' (bloggers) and brands to connect for sharing sponsored content on our websites.  I first met them 4 years ago when they connected me with Udi's Gluten-Free, a brand I use daily and love, which turned into a long term ambassador role I've felt honored to hold.  'Tap' has continued to connect me with other brands over the years, such as Silk and Horizon, with whom I've also developed a cherished long term relationship and love sharing their products with you monthly.
Tapinfluence contacted me while in the process of organizing their first State of Influence conference, an event to combine marketers and bloggers to discuss our industry and working together successfully.  I was asked to speak on a panel about what I view as success when working with brands, as well as be available to address questions from brand and PR representatives when working with bloggers.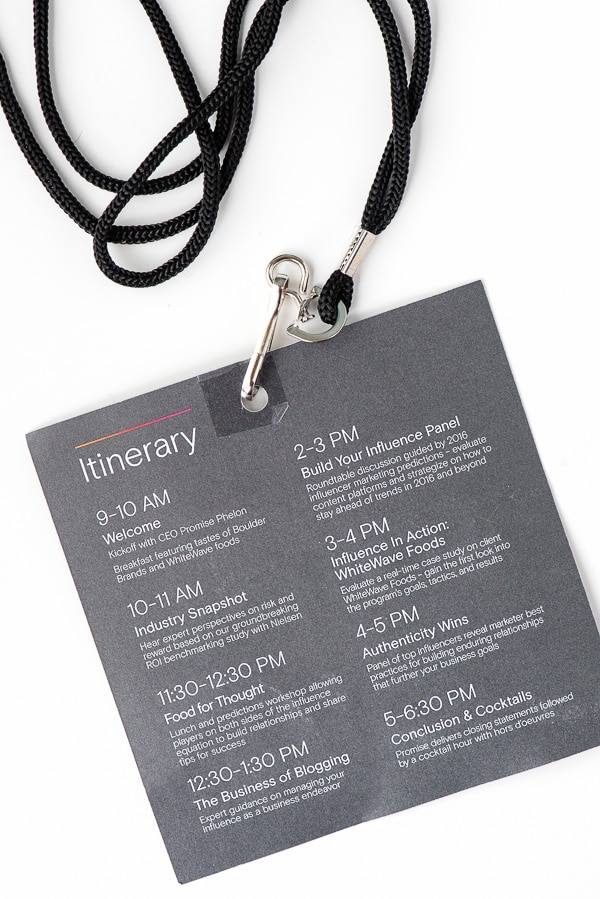 Though I'd been given an agenda I really wasn't sure what to expect of the day.  I arrived early to a crew of happy, excited Tapinfluence employees, already hard at work at standing desks and open, interactive work spaces with brightly colored accent walls.  The environment was friendly-feeling, energetically vibrant with an easy physical flow that seemed metaphorical of how the company works together. A large open area had been setup for the collection of brand representatives and agents who had flown in from all over the U.S., as well as local bloggers, to spend the day learning about the state of our industry, assimilating tools for supporting our individual work efforts and finally the chance for us all to speak together about the practices of brand-blogger collaborations.
A few things struck me as the day evolved.  I had the chance to meet contacts at Tapinfluence and Silk with whom I've partnered for years and have never met live, despite being 15 minutes away.  It was a joyous meeting on all accounts and reminded me of finally meeting a pen-pal assigned in fourth grade after years of hand-printed letters passing between us.  Something changes between people when you meet live.  The relationship deepens in that instant of a handshake (or hug with some of these girls).  The three dimensional person behind the email signature comes to life and your connection is permanently expanded.
The panel I was part of was called 'Authenticity Wins'.  I shared the panel with friend and colleague Yvette Marquez-Sharpnack (Muy Bueno Cookbook) and dual blogger Dave Taylor (Go Fatherhood  and Ask Dave Taylor).  Though we were there to speak about both our personal sponsored work experiences and coach those newer on the brand side working with bloggers, what quickly emerged is the ferociously protective relationship the bloggers present at the conference have for their readers; me included.  To us our readers are invaluable and the purest definition of having a blog.  We can create a blog but the readers are what give it a soul. This was the foundation from where all of our advice sprung.
Our discussion ranged from simple mechanics of how bloggers are able to do certain tasks technically with our websites, to advice about people not following through on their commitments and how to handle that.  Somewhere in the discussion I shared this thought which was captured in the Tapinfluence newsletter following the conference: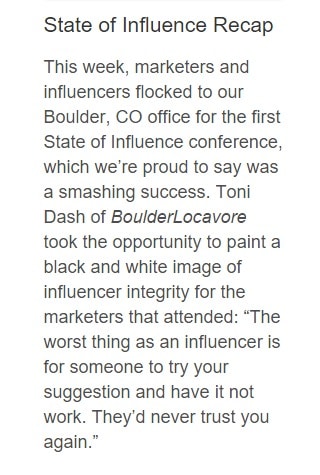 This to me speaks to the responsibility those of us on the panel feel about integrity of information shared on our blogs, and integrity of relationship both with our readers and in partnerships with brands we may choose to feature.  We strive to ensure our recipes are tested and sound.  That recommendations we make are those we'd give to our families.  If I wouldn't feed it to my kids (cocktails excluded) I'm not going to suggest you eat it.  If we met on the street we could look you in the eye knowing we'd done our diligence to ensure anything we tell you is something you can rely on as the tested truth for us.
I was personally sparked by multiple moments, challenging me to think bigger about Boulder Locavore's journey to be the best it can be for my readers.  On a bigger picture level, if I were to summarize the value of the conference for the attendees, I would say we all walked in as bloggers or marketers, separate parts of an overall system.  By the end of the day it felt like we were one group of people, all striving for the same end result.  We left excited for the future, armed with insight and tools to forge successful and rewarding partnerships.
This is a sponsored conversation written by me on behalf of TapInfluence. The opinions and text are all mine.