Summer is almost here which seems a perfect time for an Amazon.com gift card giveaway! Whether it be for travel items, things to maximize fun in the sun, or as in my case some basics to make it through the end of the school year, there are plenty of things to spend some extra cash on!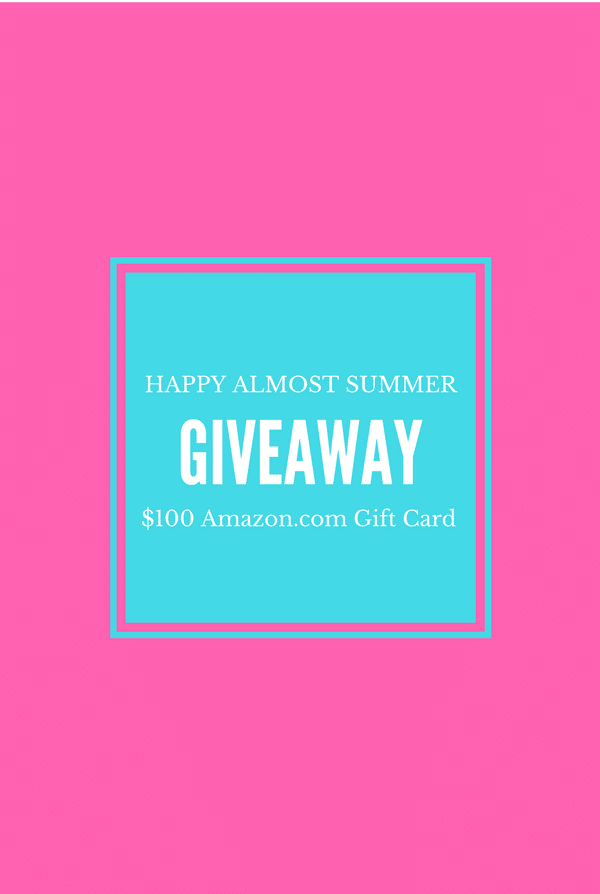 What a CRAZY time of year! I'm finding myself waking up at 2:00 a.m. with a thousand things on my mind and placing orders on Amazon.com. New dress shoes for my son before his graduation ceremony. Swim suits for my kids before their summer swim team starts this week. My favorite eye cream, to combat the effects of lack of sleep and my unending to do list that are aging me by the day.
Last night I woke up precisely at 1:33 a.m. to the sounds of an animal gnawing and scratching on the other side of the bedroom ceiling. We don't have an attic so it has gained entry from some unknown spot on the roof and is setting up shop, reminding me in the wee hours that I'm not alone. I think my next Amazon purchase will be for noise canceling earphones and maybe some melatonin so I can get a few hours of sleep until the animal specialists can find it a new home.
What's my point to all of this? I could not live without Amazon.com. Whether it be for kitchen odds and ends, gluten-free pantry supplies, a chiffon shawl for the senior prom needed overnight, new sports sweat-proof earbuds after wrecking my regular ones, getting a jump on college dorm supplies, or a thank you gift of my favorite ice cream maker, I'm placing orders right now daily.
With summer on the short horizon I thought some of you may be doing the same thing. So today rather than sharing a recipe I'm doing a giveaway of a $100 Amazon.com gift card!
This is not a sponsored giveaway, just a little gift from me for a reader, with my thanks for reading! This giveaway is open to U.S. AND international readers. The gift card will be delivered via email and must be used on Amazon.com only (not other international Amazon sites). Here is more information on International Shipments and Customs when shopping with Amazon.com outside of the U.S. 
PLEASE READ>>The winner will be contacted within 24 hours of the giveaway ending at the email used to enter. A response is required within 48 hours of notification or an alternate winner will be selected. There have been some non-responses to the past giveaways causing the prize to be passed on so be sure to check your email!
NOTE:  for those doing the extra entry of subscribing to Boulder Locavore, please be sure to VERIFY the email you are sent confirming your subscription or your giveaway entry will be valid. Also, if you are currently an email subscriber to Boulder Locavore, you may still fill out that option for optional  entry (you will not receive multiple emails unless signing up with an alternative email address to the one you are currently subscribed with).