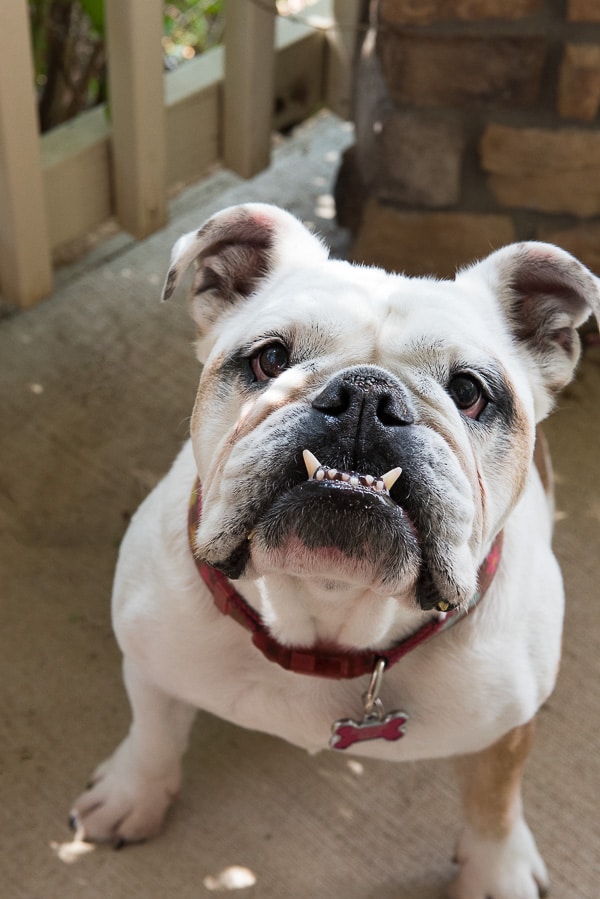 This is a sponsored post written by me on behalf of Beneful Brand Dog Food. All opinions are 100% mine.
This week is National Dog Week and I'm so excited to share a special day of appreciation for our family MVP, Lola the English Bulldog. Anyone who has had a dog can most likely attest to their undying friendship and Lola is the quintessential family friend. She is with me all day long, sitting behind my desk chair while I work, facing the door in case anyone comes in. She's on the ready for taste testing any of the recipes I develop and just wants to be where I am. We took a day out to celebrate her and do the things she loves; come take a peek!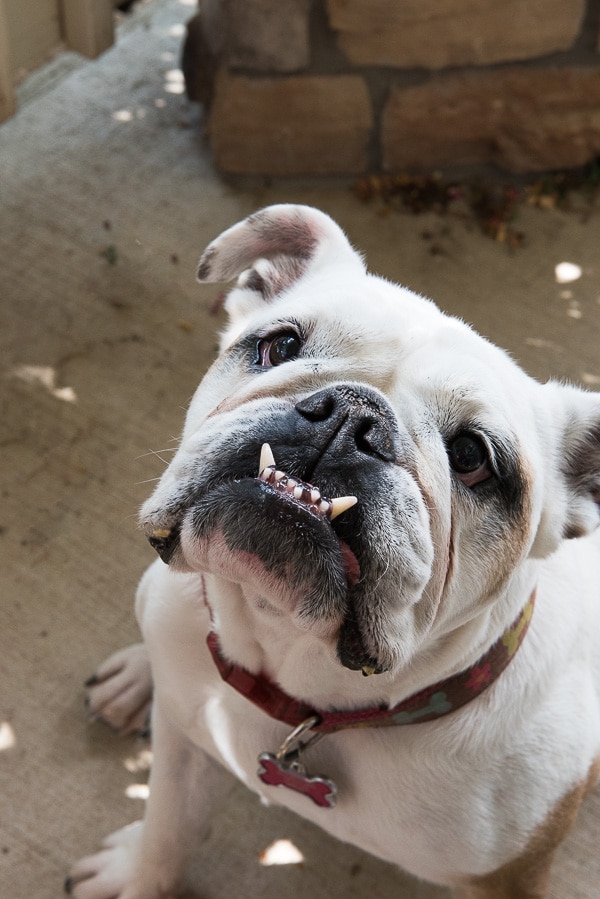 Lola loves to go for walks however English Bulldogs are very heat sensitive due to their flat faces so when we go out for walks it really needs to be in the cool of the day, and usually for shorter distances so she doesn't overheat. We started the day with about a ten block walk which Lola loved and it was the perfect prelude for a nap, which she does often. English Bulldogs are really noisy so when she sleeps she snores very loudly; there is never any question where she is in the house.
Lola loves to ride in the car. I think really she just wants to be with her people so if I'm going somewhere she always wants to ride along. I took her along on my round trip to pick my kids up from school which on this day was about an hour long. It's a great time for more napping……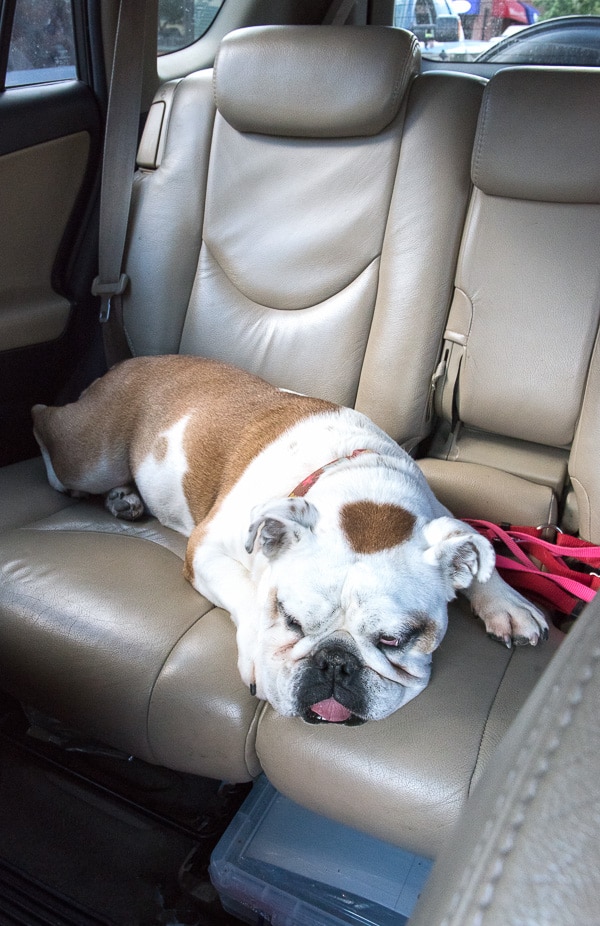 And thinking about when the kids will come out of the school…….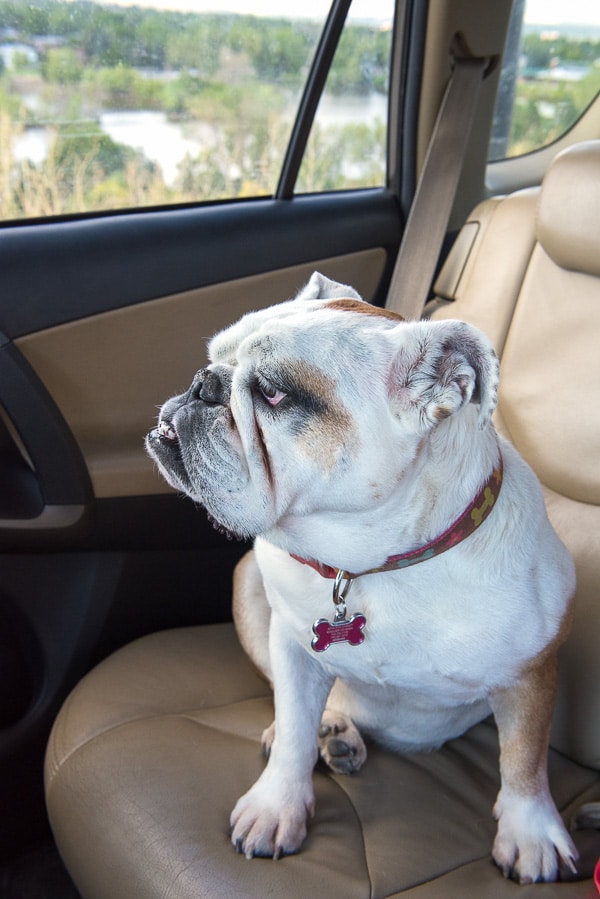 And if the window is rolled down, to hang out the window like a boss because in Lola's world everyone is on the planet to pay attention to her. And they do. She's very social. And cute in that never-going-to-be-prom-queen sort of way.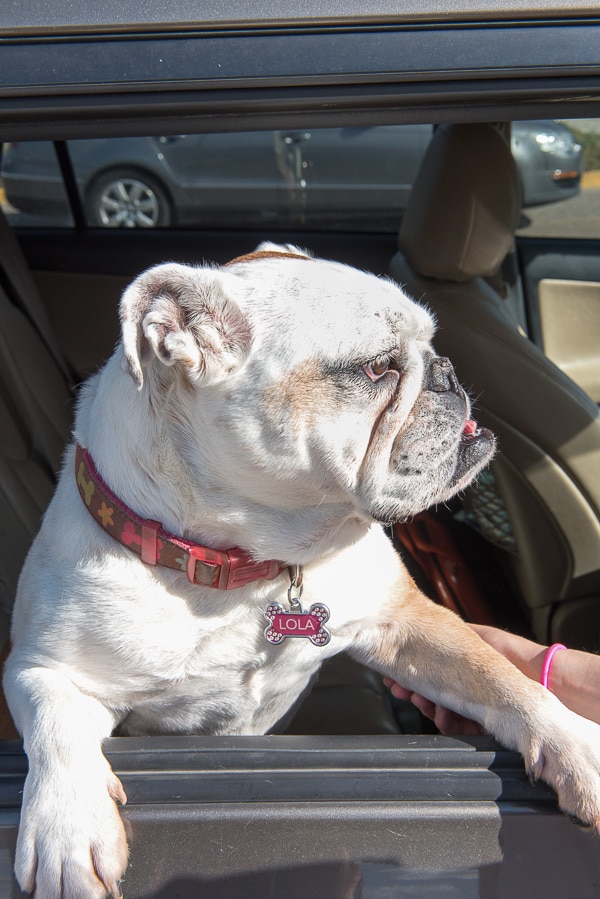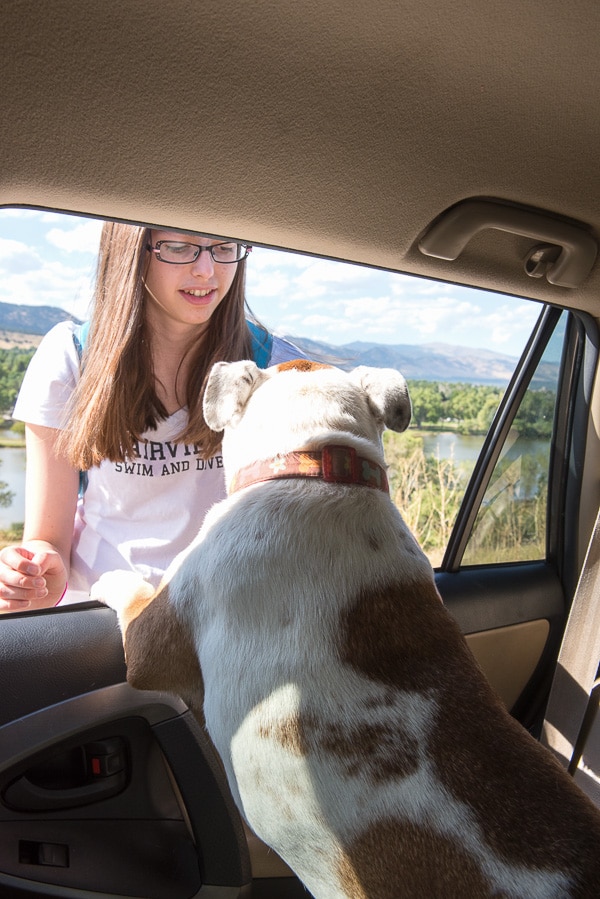 Instead of going home we decided to take another short walk this one by a lake on our way home. It was a beautiful fall day with the colors beginning to change and a warm breeze blowing. When arriving at the lake Lola spotted a duck. Her pace picked up as she began to run (which resembles a tiny rhinoceros trotting swiftly) to investigate. She was intensely curious and getting wet was no obstacle to furthering her investigation.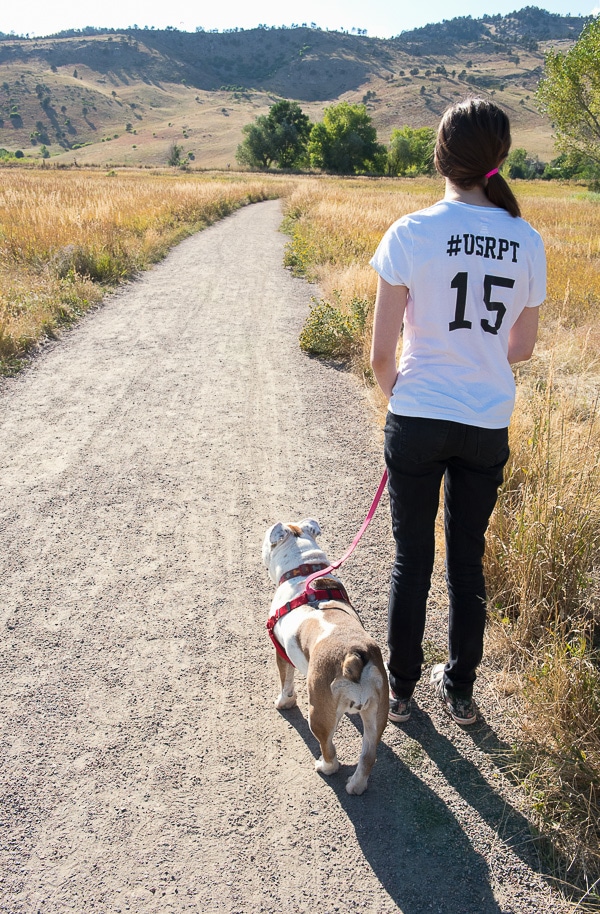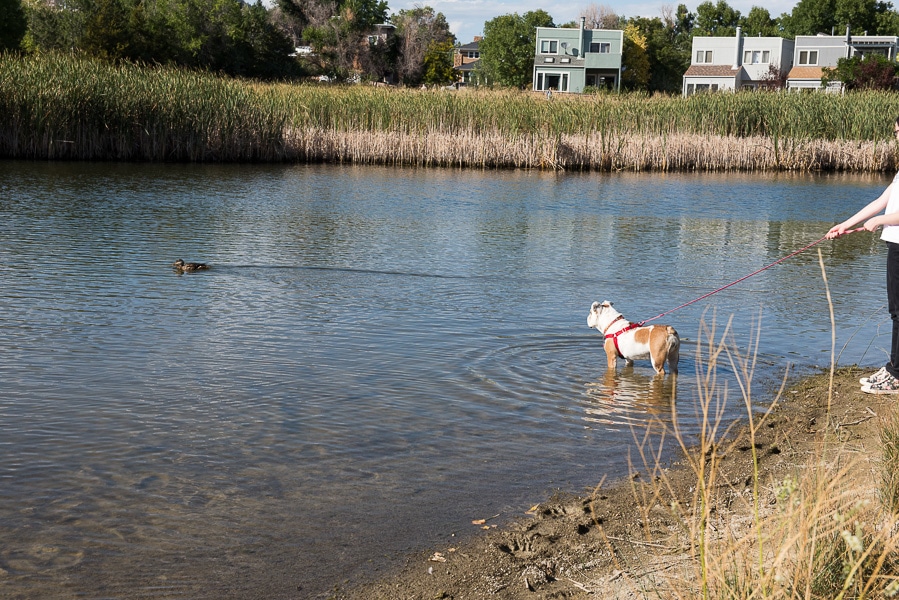 Fortunately she was on a leash because for a moment I think she forgot that she equivalent of a 50 pound brick when it comes to swimming (English Bulldogs should wear special floatation vests when venturing in to water) and that her legs are only about 6 inches long. Dreams of being a Labrador Retriever or a large jungle cat seemed to be passing through her mind as she almost yanked my daughter into the lake to learn more about these ducks.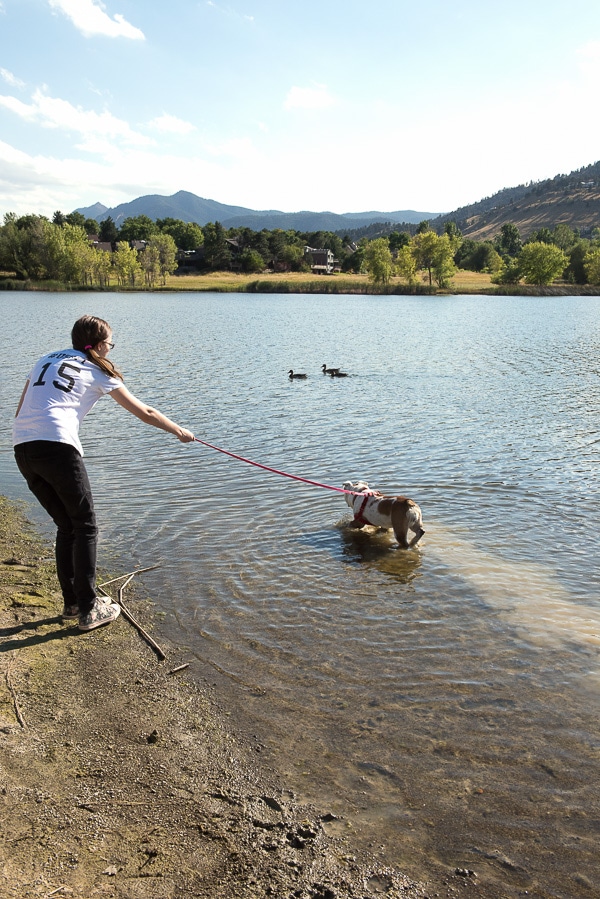 On the way home we stopped at a little café with outside dining where we could sit in the shade and the waiters usually bring her a treat or water with ice. On this given day her bistro manners were not quite on point as she tried to climb into the third chair and join the table.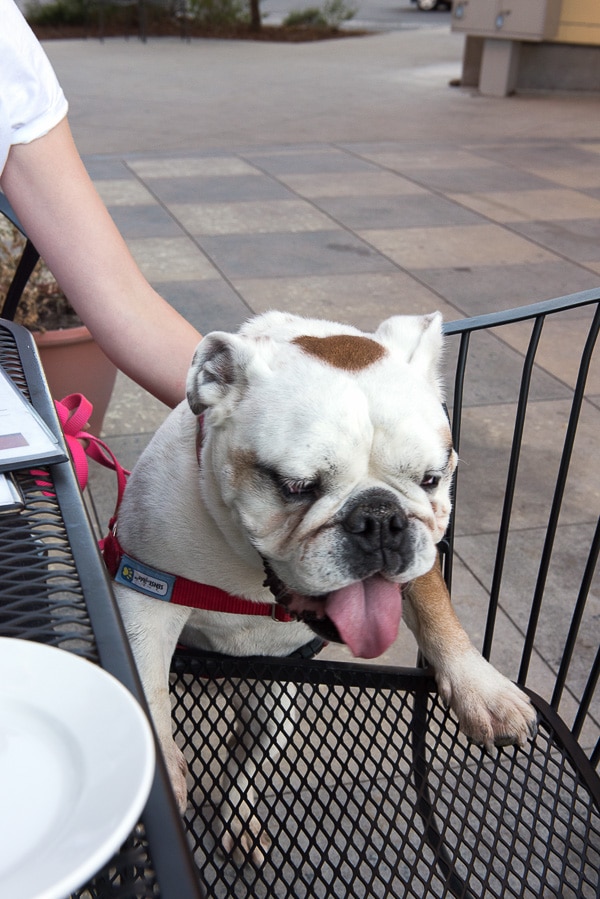 She waited, not so patiently, for a server to bring her something. When she's agitated she makes a sort of chirping noise; if you were blindfolded and guessing the animal making the sound you'd probably guess a squirrel or a porpoise in a lower sound register (not the ambiance other diners are hoping for I'm sure). The only thing they were serving up on this day were compliments about how cute our male dog is. People always assume Lola is a boy (despite the pink blinged out name tag on her collar), I suppose because she's not so dainty.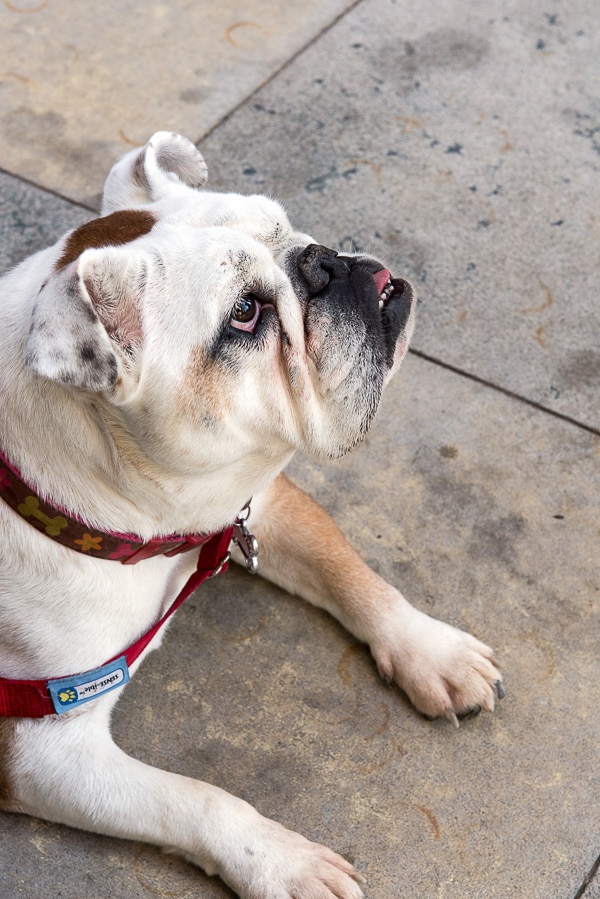 Lola did not love this attempt at something special for her day.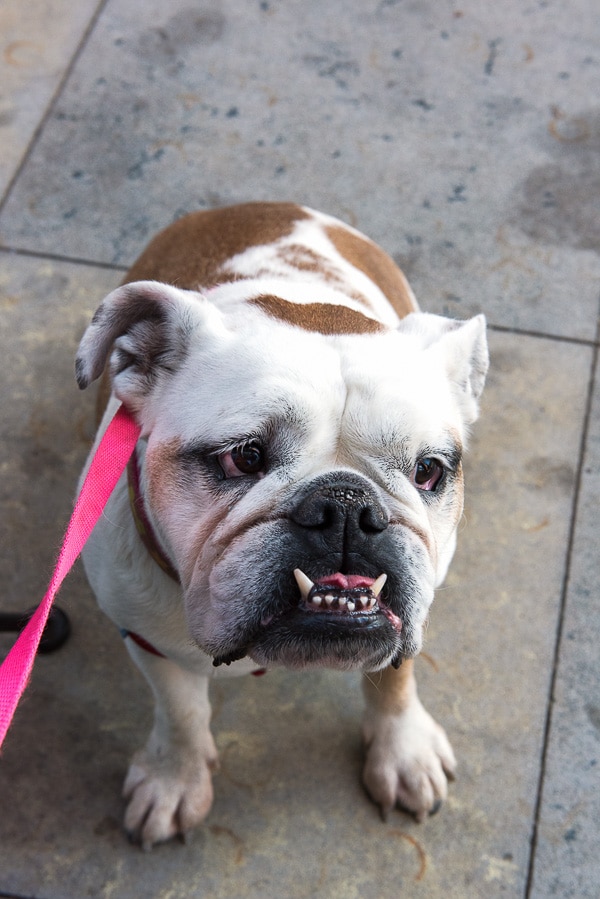 When we got home there was a box waiting in the mail for her. Who doesn't love getting real mail? Lola is no exception especially when it's from Beneful. New toys and treats AND a new leash? It doesn't get much better than that. Whenever she gets something new or special (to her) she gingerly picks it up in her mouth and trots it over to her dog bed to enjoy it. She insisted I put the leash on her immediately even though we were not going out for yet another walk. She loved a squeaky tennis ball which she carries around and chases oh-so-briefly in the backyard. Bulldogs have a short attention span.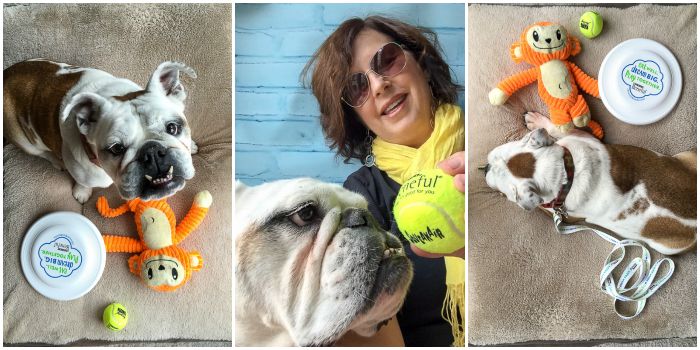 The only thing that is better than new toys is meal time, which happens like clockwork or Lola reminds us about it. She doesn't discern between her own meal time and ours. She's of the 'what's mine is mine, and what's yours is mine' mentality.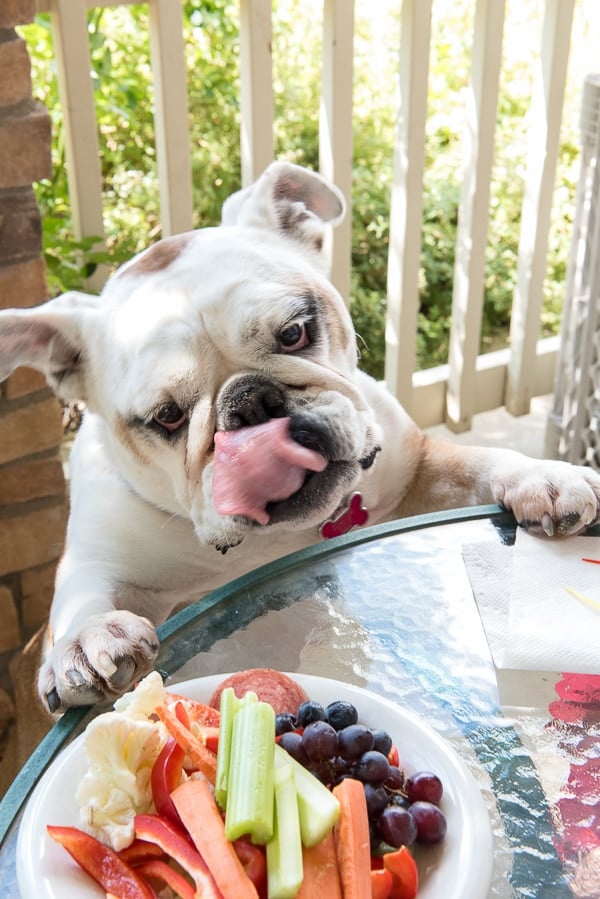 In all seriousness we are thoughtful about what we feed her knowing keeping her healthy and trim is a secret to a fuller and longer life.
There is not an hour that goes by I do not feel so fortunate to have a friend like Lola in my life. She's funny, adoring and just wants to be with me; that's all she needs to be happy. Who doesn't love a friend like that? Chances are if you are reading this you too have a furry BFF and can relate.