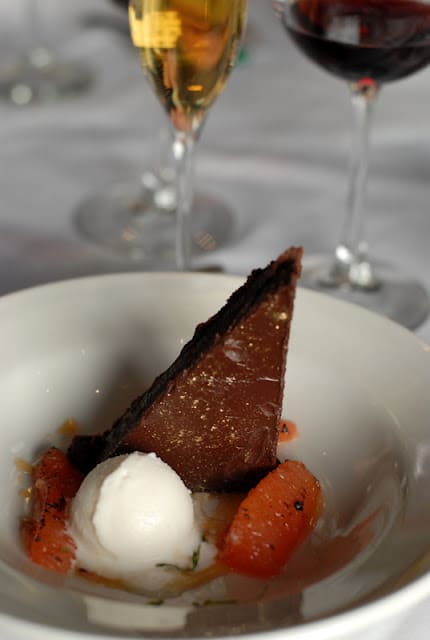 For those unfamiliar with the picturesque hamlet that is Estes Park, it is the guardian town to Rocky Mountain National park, snuggled into the first pitching peaks of the majestic mountain range.

 

A mere 50 minutes from Boulder, when ending

 

the easy winding drive one is greeted by a 'the-hills-are-alive' vista of a sprawling lake and the white, red-roofed Stanley Hotel poised elegantly on the mountainside.

 

It sits as a timeless sentinel; a nod to a bygone era of stately lodging with an East Coast essence while continuing to reinvent itself to mesh with current day expectations.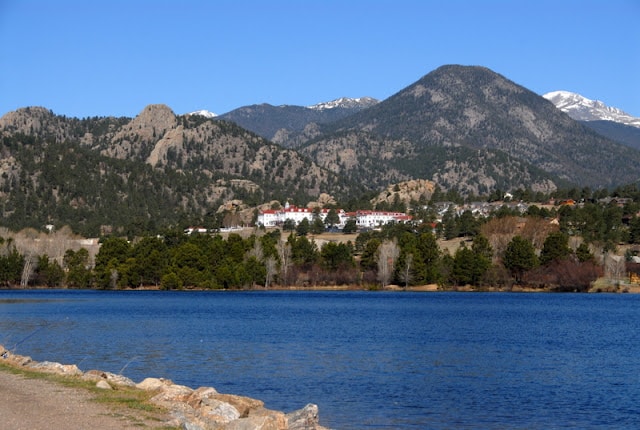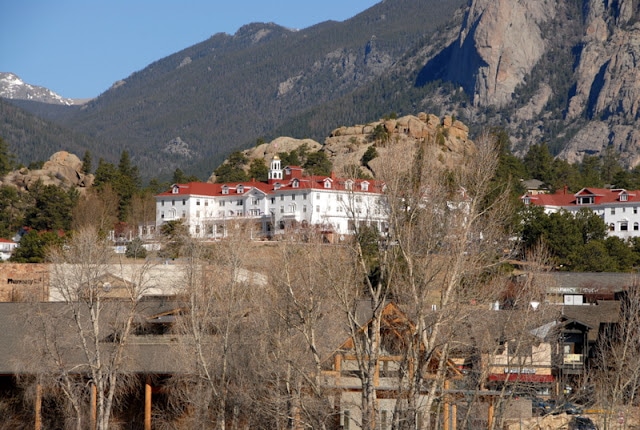 The Stanley has a colorful past having been started by F. O. Stanley, famous steam engine inventor when moving to Colorado for health reasons.

 

Not finding suitable lodging he built the hotel estate in 1909.

 

Stephen King fans will know the Stanley from its 'redrum' role in King's thriller 'The Shining'.

 

King is said to have over-wintered at the Stanley at a time the hotel did not operate in the winter.

 

Hearing a party when no guests were in residence spiraled into the premise for the nail-biting novel.

 

Though the Stanley has done a wonderful job of holding onto its architectural roots through retaining the original rich carved wood molding and staircases, heavy gilded frames in the common areas, it has also been on a path to deliver what is expected from modern era travel.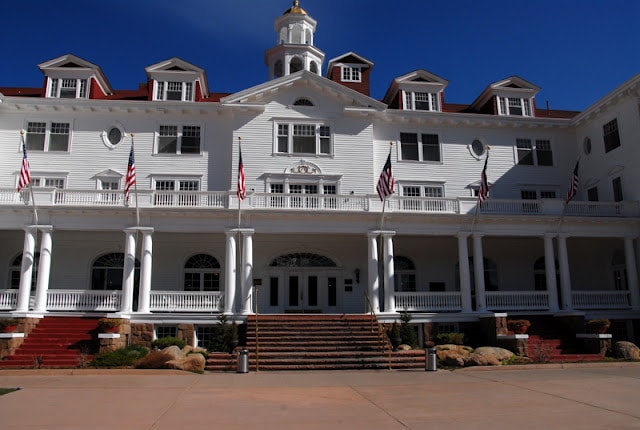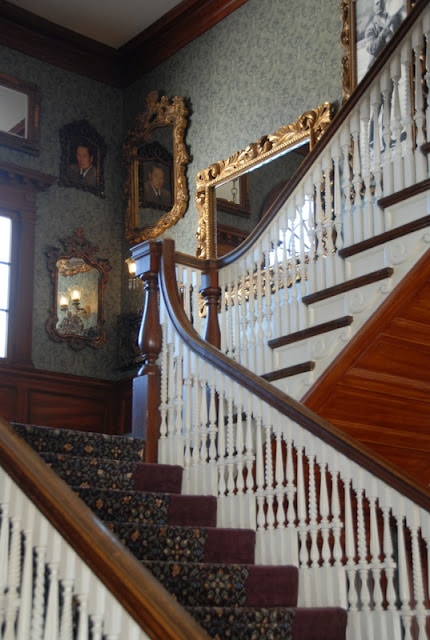 Certainly a central area best showcasing this effort is in the dining.

 

I'll fess up and say 5 years ago I thought of dining at the Stanley more as 'special event' dining; good food but more traditional and formal fare with the venue setting the stage for the meal, not the food taking the lead.

 

Think 'the Roast Beef carving station' kind of dining.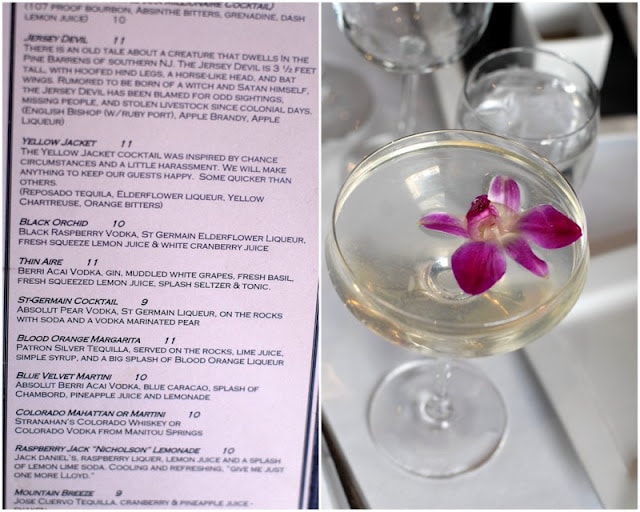 This gorgeous Black Orchid Cocktail is one of many on the Stanley's Historic Cocktail menu.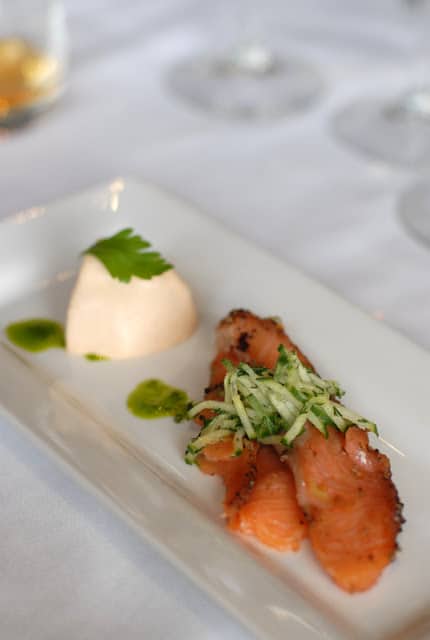 Starter of a 'deconstructed Reuben' featuring House Smoked Pastrami Salmon, Cucumber Slaw and Thousand Island Panna Cotta.

 

Served with rye croutons for gluten consumers.

 

Paired with Cloudy Bay Sauvignon Blanc 2010.
I was invited up to 'catch up' with their new focus on fresh, locally sourced, seasonal cuisine with an expanded wine menu.

 

Mark Orttel, the Director of Food and Beverage for the Stanley greeted our party and wasted no time getting into what they are about. He and Chef Richard Beichner have been at the Stanley for about a year now.

 

They both recognized the virtues of the hotel and its dining as well as opportunities lost which they've put the pedal to the medal to change.

  

The Stanley has an interesting challenge as a dining establishment.

 

It caters to loads of tourists in the summer months, is the high end standard for Estes Park locals as well as is a hop from ultra-foodie Boulder.

 

As Mark colloquially put it, they cater to the 'masses and classes'.

 

Historically the Stanley has been weighted more as a game dining establishment which certainly fits the surroundings but I'm sure not the palates of all who visit them.

 

As well as that is not the current trend in dining.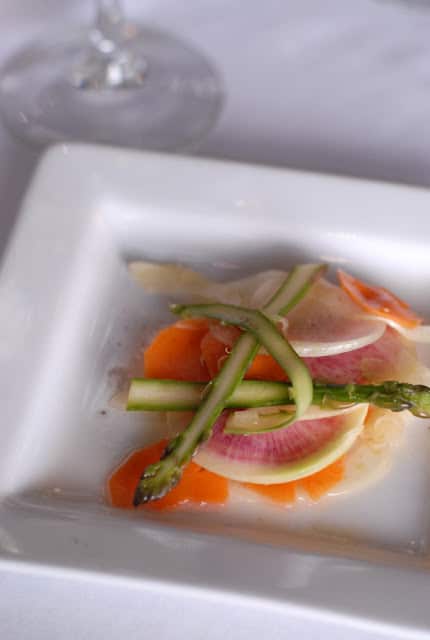 Raw vegetable salad featuring shaved Asparagus, Tokyo Turnip, Fennel, Carrots and Watermelon Radish served in a clear Honey Mustard Vinaigrette dressing.

 

I'll note Chef Beichner shared in detail how he prepared the dressing and it was much more elaborate than the simple name suggests.

 

It was perfection!

 

Paired with Santa Margherita Pinot Grigio.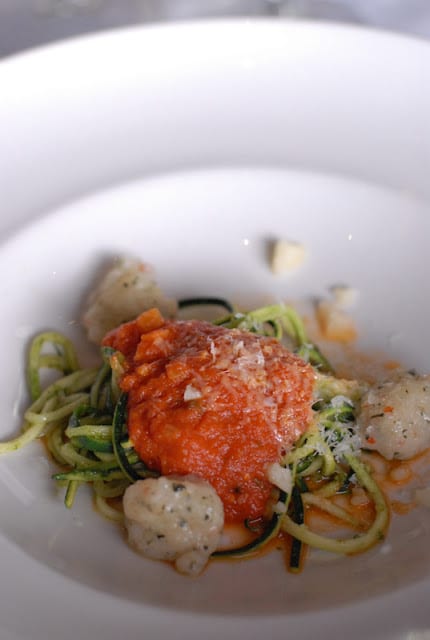 Zucchini 'noodles' with Rock Shrimp 'meatballs' dressed with San Marzano tomato sauce and Truffle Pecorino Cheese.
Adding a fresher touch in the kitchen has proved successful with salads available at all meals as well as soup.

 

Offering more upscale fare to compliment the American food focus is also opening them to a new, current group of food lovers.

 

Based on the food I tasted, they are right on the mark.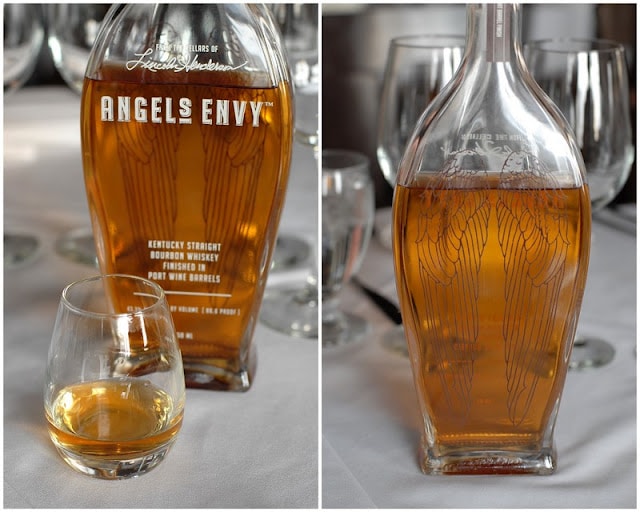 When arriving and admitting to being a bourbon drinker, Mark pulled out Angel's Envy bourbon from the creator of Woodbridge.

 

It was smooth and full bodied without being overwhelming.

 

A prize from the Stanley's 1000 bottle whiskey collection.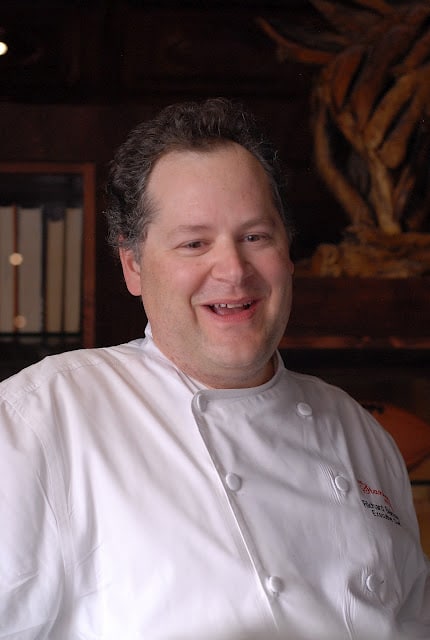 Chef Beichner clearly delighted in the opportunity of creating this beautifully paired meal pulling out all the stops with the quality of his ingredients and cooking methods.
Mark has a passion for whiskey and believes the Stanley now sports the largest whiskey collection in Colorado at 1000 (good) bottles.

 

Part of his mission accomplished has been to create a 'sexy wine list', a historic cocktail menu as well as to improve the food by offering affordable, fine dining.

 

Each Mark and Chef Beichner have extensive and impressive work pedigrees and are applying their cumulative skills to the Stanley's clear benefit.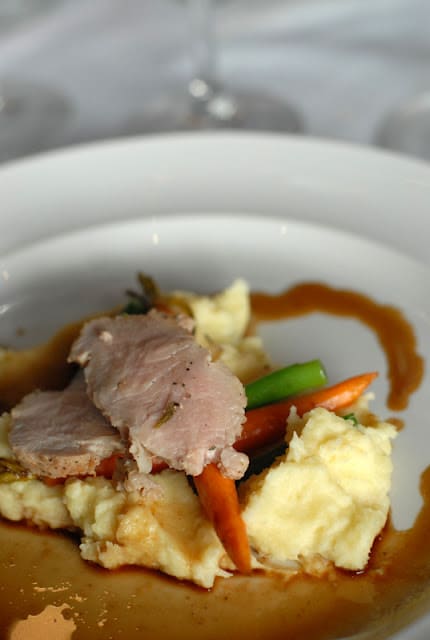 Veal loin marinated in Preserved Lemon and Rosemary, prepared sous-vide then seared.

 

Served with Fresh Corn Polenta or Herbed Whipped Potato for me.

 

Sous-vide Carrots with Brown Butter and Thyme and a Red Wine demi-glace.

 

Paired with Le Nez Pinot Noir, which Mark organized a 90 day exclusive supply of before the wine would be available to other clients.

 
Sustainability and 'being a good neighbor' through sourcing from local farms are high on the hit list.

 

One such relationship Mark highlighted as one of which he's particularly proud is with McGregor Ranch.

 

An historic cattle ranch situated in Estes Park, they were seeking to get out of the cattle business.

  

When Mark learned this he worked with McGregor to be the only remaining customer gaining their agreement they will continue to raise cattle for the Stanley's use exclusively.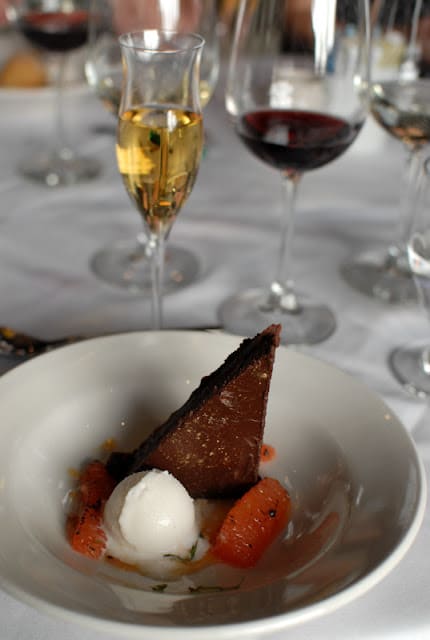 Roasted Grapefruit bruleed, Vanilla Bean Gelato, Grapefruit Salt Caramel with Flourless Chocolate Cake

with edible gold flecks

.

 

Paired with Inniskillin Ice Wine from Canada.

 

A sweet wine prepared from grapes left to freeze on the vine.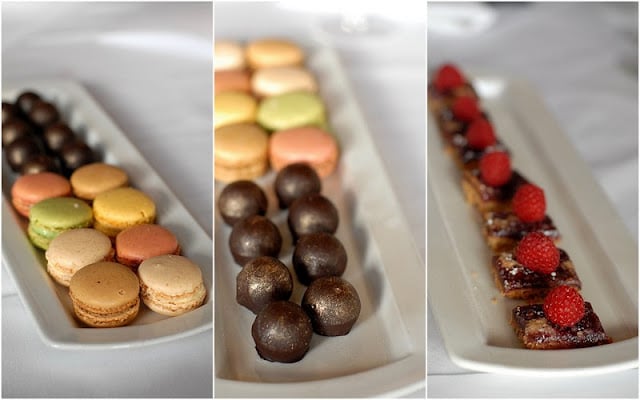 Our final note a selection of Mignardises and Coffee.
Mark is clearly a mover and a shaker as witnessed by his unbridled energy and fast dialog, making it clear no grass grows underneath his feet.

 

Mark's vision is open and vast, with plans for many food and wine dinners, seeking more inclusion for Colorado based winemakers and distillers, batting around ideas for seasonal dinners featuring local food artisans.

 

It's evident he's anxious to facilitate the Stanley's dining serving up American food to be enjoyed by most and higher end cuisine for those wishing it.

 

I departed more than pleasantly surprised not only by the cuisine and wine pairing but about the vision, commitment, execution and plans for the future.

 

The Stanley is now

squarely

on my radar and I look forward to what is in store!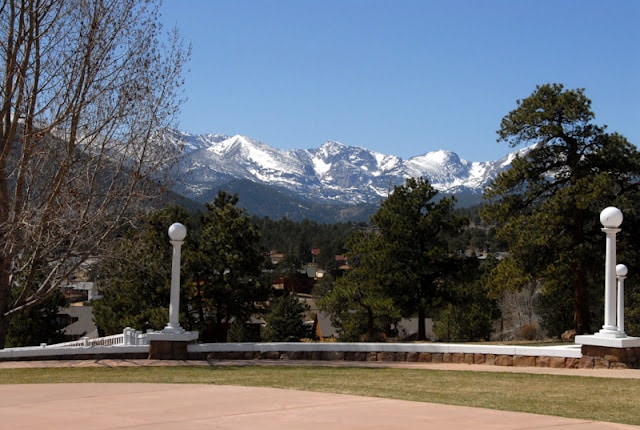 The vista of the Rocky Mountains from the front of the Stanley Hotel.