Moving onto a college campus offers many new experiences especially when trying to support any unique dietary needs or preferences for students. These 6 Winning Tips for Vegan College Students will help navigate the dining hall and dorm room snacking to keep young minds fueled and stomachs full!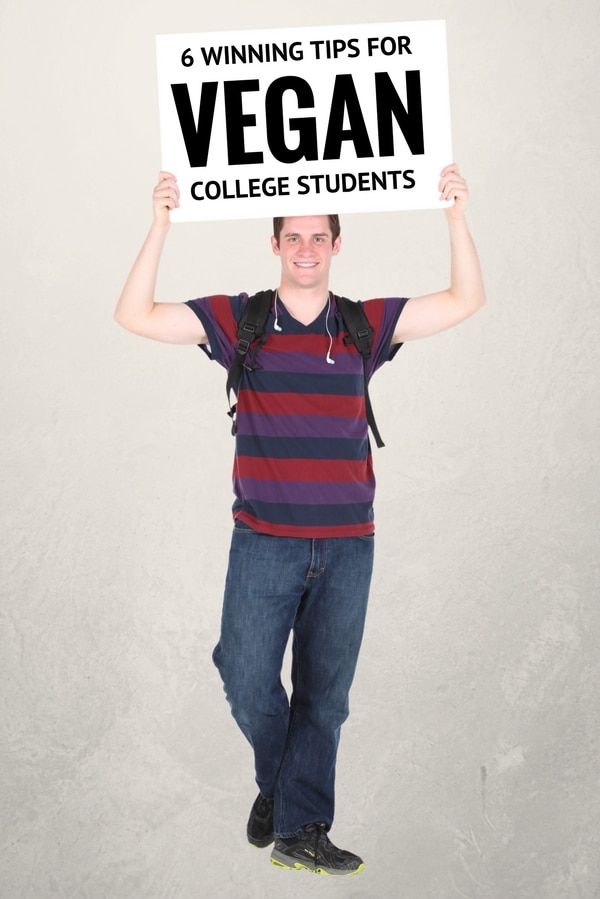 This is a sponsored conversation written by me on behalf of Silk. The opinions and text are all mine.
Guess what I'm doing today? Moving my daughter, my first born, into her first college dorm. Yeeeps! Our summer has been full of college preparation. Hours spent on home store websites fulfilling the endless list of XL twin sheets to shower shoes. Setting up banking. Ticking all the boxes on the college forms. But my biggest concern has been whether she can safely navigate her dietary needs and preferences in the cafeteria. The good news is that kids with special diets and needs can totally do this!
Kids with dietary needs or preferences such as being gluten-free, vegetarian, dairy-free or vegan have such a wide variety of options these days with college dining. Last summer my husband and daughter traipsed across the country looked at colleges and being gluten-free it was her first exposure to what challenges college dining might have in store. She has only consumed Silk soy milk since she was diagnosed as allergic to dairy products as a child and was delighted to find Silk in every single college dining room they visited.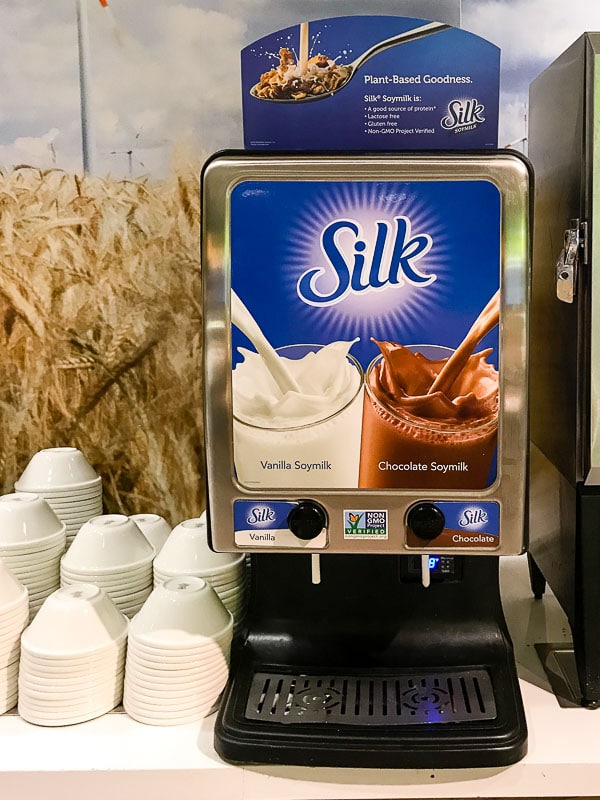 To prepare for this new dining adventure on her own we took a maiden voyage to the main café at our local college, the University of Colorado in Boulder to scout out what vegan kids could eat. I would say CU is outstanding in its field and had every food labeled for ingredients and whether it was Vegan, same for gluten-free. Here are 6 Winning Tips for Vegan College Students eating in the college café:
Call Ahead: these days colleges are completely dialed in to special diets. On our college tours, we found ample information and options for following specific dietary paths such as gluten-free or vegan. The dining hall staff wants to ensure students are eating well and are healthy so students or parents shouldn't hesitate to call them before going to college to learn more or drop in when on campus to have a chat. Coming in armed with a game plan is key to success.
Know your Nutrition: chances are if you are vegan you are knowledgeable about how to get required nutrients from your food but dialing in on sources of plant protein are key. Nuts, seeds, legumes, darky leafy greens, quinoa are all top choices for protein-packed meals. These 5 Powerful Plant Proteins You Need to Know will become your best friend.
Make Burrito Bowls: whether offered as a station in the college dining hall or putting it together on your own, combining beans and rice forms a complete protein making it a powerhouse option to keep bright minds fully fueled for their academic load. Layer on typical taco toppings and some salsa to create a flavorful filling meal.
Load Sandwiches with extra Plant Protein: I have a bias towards getting lots of protein since it has the staying power to keep energy high and a stomach full longer (easier to pay attention in that 8 a.m. Physics class). Most colleges offer multiple options for sandwiches. Higher protein breads loaded with your favorite vegetables (especially dark leafy greens), hummus, chick peas and even a dash of salad dressing to pull the flavors together makes a tasty filling vegan option.
Add Seeds to Everything: At CU, there was an entire counter with nuts and seeds. Seeds have great protein and nutrition with less fat. I'm a big fan of chia seeds and hemp hulls in particular. They add a good dose of protein and fiber without having to eat a lot of them. Throwing them on salads, sandwiches, in soups, on oatmeal are all a great way to up your nutrition.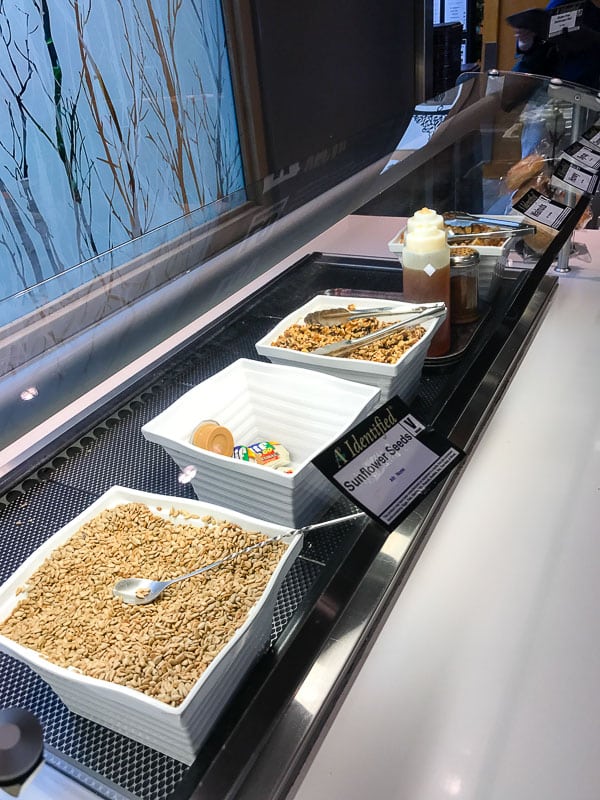 Make Overnight Oats in your Dorm Room: since most dorm rooms have a refrigerator, making overnight oats to have on the go is a great option. Combining nut milk, rolled oats and any other ingredients desired, kids can have a breakfast or snack option anytime. They don't require any special equipment other than jars (which are affordable on a college budget). Add the ingredients, seal, shake and chill. Tossing on some nuts, seeds and fruit before eating adds even more nutrition. My latest favorite? Peach Pie Overnight Oats.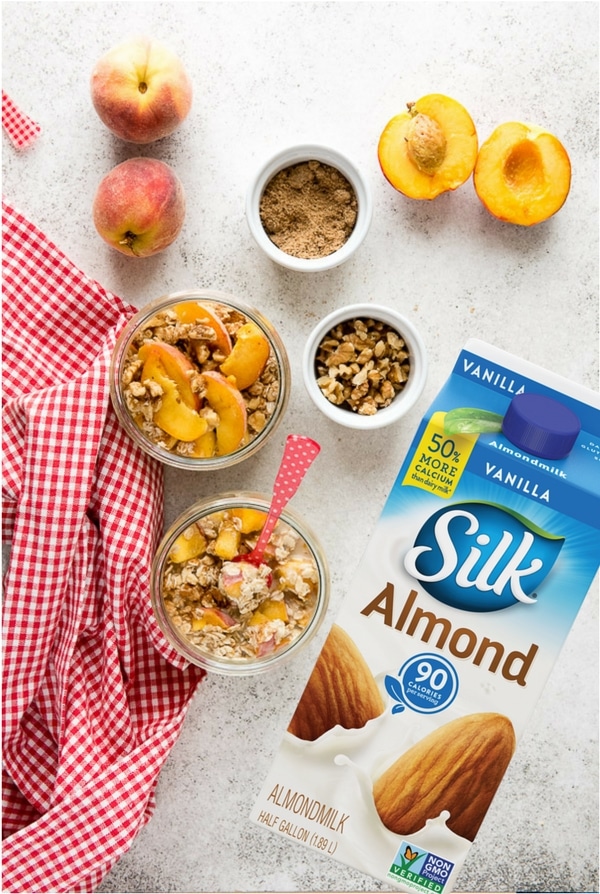 Check out this The Ultimate Vegan Tailgating Guide too!