Pesto recipes are easy and versatile sauces to make at home. Traditional Basil is delicious and just the start! These 25 Recipes will give you loads of options for pasta, salads, appetizers and more.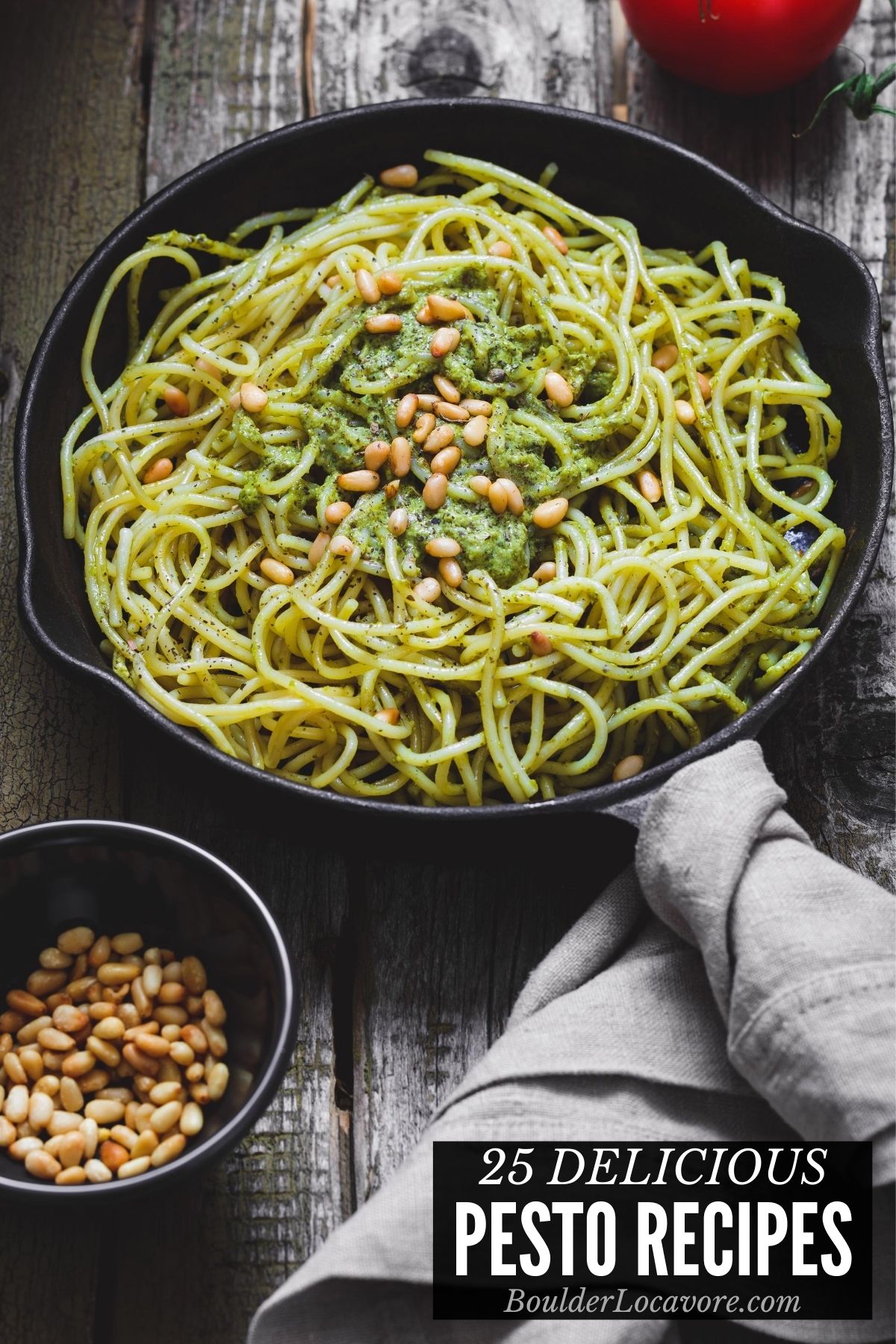 Farmer's Markets and home gardens are brimming with fresh produce, making fresh pesto recipes a perfect easy dinner recipe solution.
It literally takes about five minutes to make.
Toss it in with pasta, spread it on a sandwich or try one of the recipes below.
Most of us are only familiar with a traditional basil pesto recipe but that's only the beginning.
Did you know you can make it with ANY greens and ANY nuts? They all have different flavors and uses!
What IS Pesto?
This aromatic green sauce is used on pasta but that's only the start!
Classic Ingredients
Traditionally pesto recipes include fresh basil leaves, garlic, pine nuts, olive oil and Parmesan cheese (though not always with the cheese).
However, it can be made with any leafy green instead of basil.
Changing up the type of nut gives it a whole new flavor too.
What defines a pesto has stretched to really be:
any Greens,
with a type of Nut,
and olive oil (though not exclusively).
How to Make Pesto
All the pesto recipe ingredients are added to a food processer or blender and whirled into a textured sauce.
It is usually tossed with pasta for a fresh, delicious, quick, EASY entrée.
That's it! The bold flavor seems like it SHOULD take more effort to make; but it doesn't!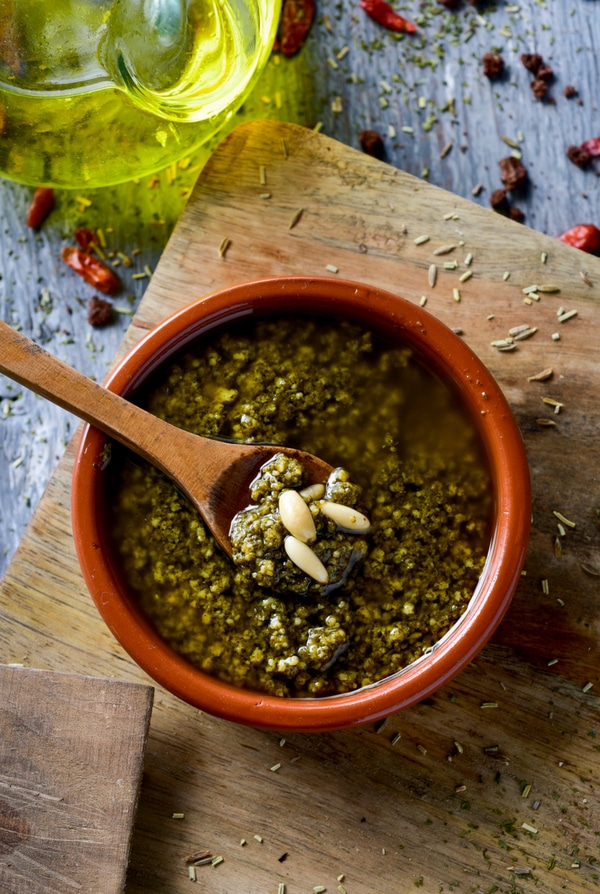 How Long Does It Last in the Refrigerator?
Homemade pesto can be kept, sealed for 5-7 days.
Why Can Pesto Turn Brown?
Oxidizing, the interaction of certain cut produce or herbs with the air, can cause browning of the surface.
Think of guacamole left out or even in the refrigerator if not sealed in an airtight container.
The same can happen with pesto recipes.
Different types of basil can cause the basil version to brown almost immediately.
It still tastes great but is not a pretty bright green color.
Or when left in the refrigerator this can happen.
It's is still good to eat (provided it has not been left in the refrigerator over 4-5 days).
How to Stop it from Browning
Some recommend adding a layer of olive oil to protect the top surface.
Others recommend blanching the basil leaves before making the pesto (but some believe this diminishes the flavor) or adding lemon juice.
Whenever browning occurs, I just stir it up before serving and add it to whatever I'm making.
Can Pesto be Frozen?
Yes! It freezes well provided the cheese is omitted before freezing.
It can be kept frozen for up to 6 months (though I've kept it frozen longer in Foodsaver sealed bags).
TIP: if you love the Parmesan flavor, after thawing frozen pesto stir in finely grated parmesan cheese before serving.
Pro Tips: How to Freeze it
During the summer when my garden is bursting with basil I love making batches of basil pesto.
I freeze it in bags with my Food Saver. They are easy to stack flat and neatly in the freezer for use all year.
Pesto can be frozen in any freezer safe container or bag.
Thaw at room temperature or the bag can be placed in a bowl of warm water to thaw more quickly.
How to Use Pesto
Now that you've made it, here are some great ways to use it!
Spread it on pizza with instead of red sauce or WITH red sauce as a base
Toss it with your favorite pasta
Use it as a spread on a sandwich with sliced deli meats or vegetarian ingredients
It makes a great marinade for meat, chicken or fish before grilling or roasting
Stir it into a favorite risotto recipe
Use it as a sauce on cooked meat, chicken, fish or vegetables
Brush it on warm corn on the cob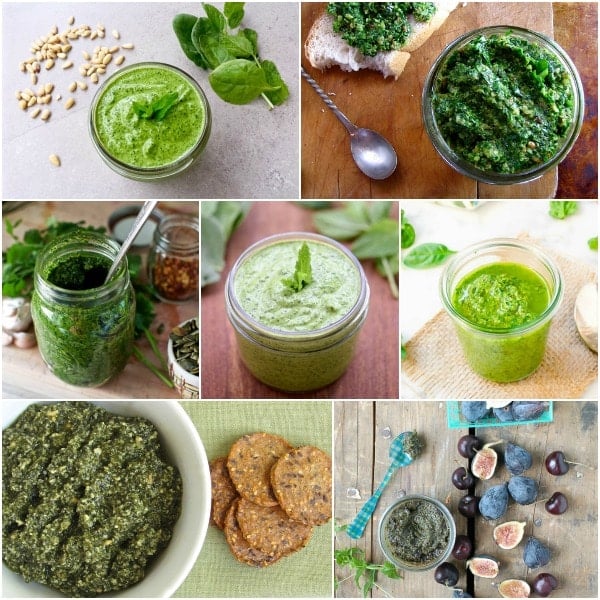 Easy Pesto Recipes
These creative and delicious recipes are made from a variety of ingredient combinations.
The greens included are: basil, mint, spinach, cilantro, seaweed, arugula and Italian parsley.
Pine nuts, pecans, walnuts, pumpkin seeds and almonds make up the mix of nuts in these recipes!
A 5-minute classic Basil Pesto recipe is available in the printable recipe card at the end of the post.
Keeping with a traditional definition, all these recipes have at least one featured green and one type of nut.
Classic Basil Pine Nut with instruction on how to freeze it in ice cube trays (The Lemon Bowl). This handy freezing tip is perfect for fresh batches and saving them for out of season enjoyment!
Spinach Walnut (Flavor the Moments). Spinach, walnuts and some lemon give this bright and healthy recipe big flavor.
Broccoli Basil (Dizzy, Busy and Hungry). The staple pesto recipe ingredients are included in this unique recipe that also sneaks in some broccoli for extra nutrition. No one will ever know!
Cilantro Pumpkin Seed (Hola Jalapeno). This mouthwatering pesto recipe includes a kick from some chile flakes. If cilantro isn't available can be made with any green from parsley, to kale or even beet greens.
Spinach Pecan (Miss in The Kitchen). Toasted pecans and shallot are added to this easy recipe for an added flavor punch.
Bacon Basil (Baked by Rachel). Probably no more needs to said than 'bacon' for this recipe. A bonus is a Chicken Pizza recipe to use the recipe on!
Seaweed (Tasting Page). Calling all adventurous eaters! You'll recognize all the classic recipe ingredients in this one with a swap of basil for seaweed!
Lemony Pistachio Basil (The Lemon Bowl). Pistachios and lemon add a bright and delicious flavor to this versatile recipe.
Pistachio Arugula Sweet Pea (Peas and Crayons). Spicy arugula, peas and pistachios make this recipe spicy and sweet.
Vegan Spinach Mint (Tasting Page). Mint AND spinach give this cheese-free recipe big flavor.
Pea, Arugula and Walnut (Floating Kitchen). Walnuts, peas, arugula AND mint combine with traditional ingredients for a thick, luscious recipe.
Roasted Pepper and Almond (Everyday Maven). This recipe takes up a Mediterranean notch with the addition of jarred roasted red peppers, kalamata olives, flat leaf parsley and smoked paprika! Think 'if tapenade and pesto had a baby…..'
RECIPES with Pesto Included
Here are some great recipes using pesto that showcase all the options with different types of pesto recipes!
Note for Gluten-Free diners: some recipes may need to be adapted using a gluten-free substitute (pasta for instance).
Roast Chicken with Shallots, Radishes and Radish Green Pesto
(
Heather Christo
). Homey roast chicken with shallots is slathered in a radish green, red wine vinegar and pepitas.
Pasta with Parsley Pistachio Pasta (A View From Great Island). Peppery parsley leaf and pistachio top whole grain pasta.
Thai Pesto Chicken Gluten-Free Noodle Bowls (Cotter Crunch). Thai basil, tahini, ginger and chili flakes deliver Thai flavor to filling chicken rice noodle bowls.
Turkey Pesto and Garlic Meatballs (Café Delites). Traditional basil is folded into spicy flavor-packed turkey meatballs. Great on their own or added to pasta or rice.
Chive Pesto Potato Salad Recipe (Ciao Florentina). Chives, red wine vinegar and pumpkin seeds create a delicious result tossed with potatoes in this salad.
Tomato Pesto Soup with Cheesy Croutons (Erren's Kitchen). Red pesto is used in this soup which can be eaten warm or chilled.
Pesto Veggie Burger with Sun Dried Tomato Aioli (Namely Marly). Chickpeas, cannellini beans and loads of great flavors make these protein-rich veggie burgers everyone will love.
Pesto Crusted Rack of Lamb with Roasted Plums (Cook the Story). This mint-basil version is slathered on a rack of lamb for roasting.
Zoodles with Spinach-Kale and Basil Pesto (Simple Roots Wellness). Basil, spinach and kale create the delicious recipe paired with zucchini noodles, cherry tomatoes and mushrooms.
More Delicious Recipes You'll Love
Did you make it? Please RATE THE RECIPE below!
FOLLOW ME on FACEBOOK , TWITTER , INSTAGRAM and PINTEREST!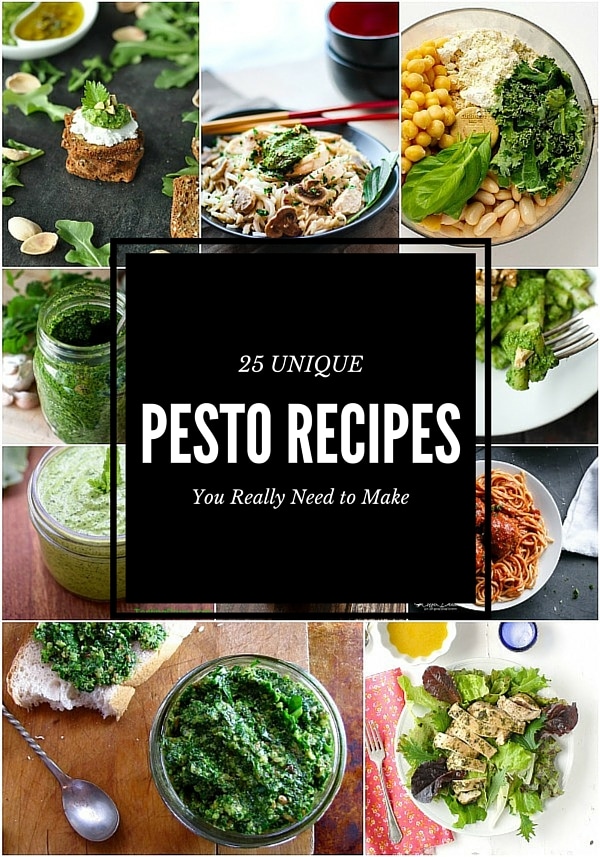 Originally published January 20, 2016