Basil pesto sauce is a 5-minute classic recipe perfect for so many uses. But that's just the start! There are so many exciting ways to make this versatile sauce at home! We've rounded up 25 Best Pesto Recipes that give loads of easy recipe ideas to use this flavorful sauce for pasta, salads, appetizers and more.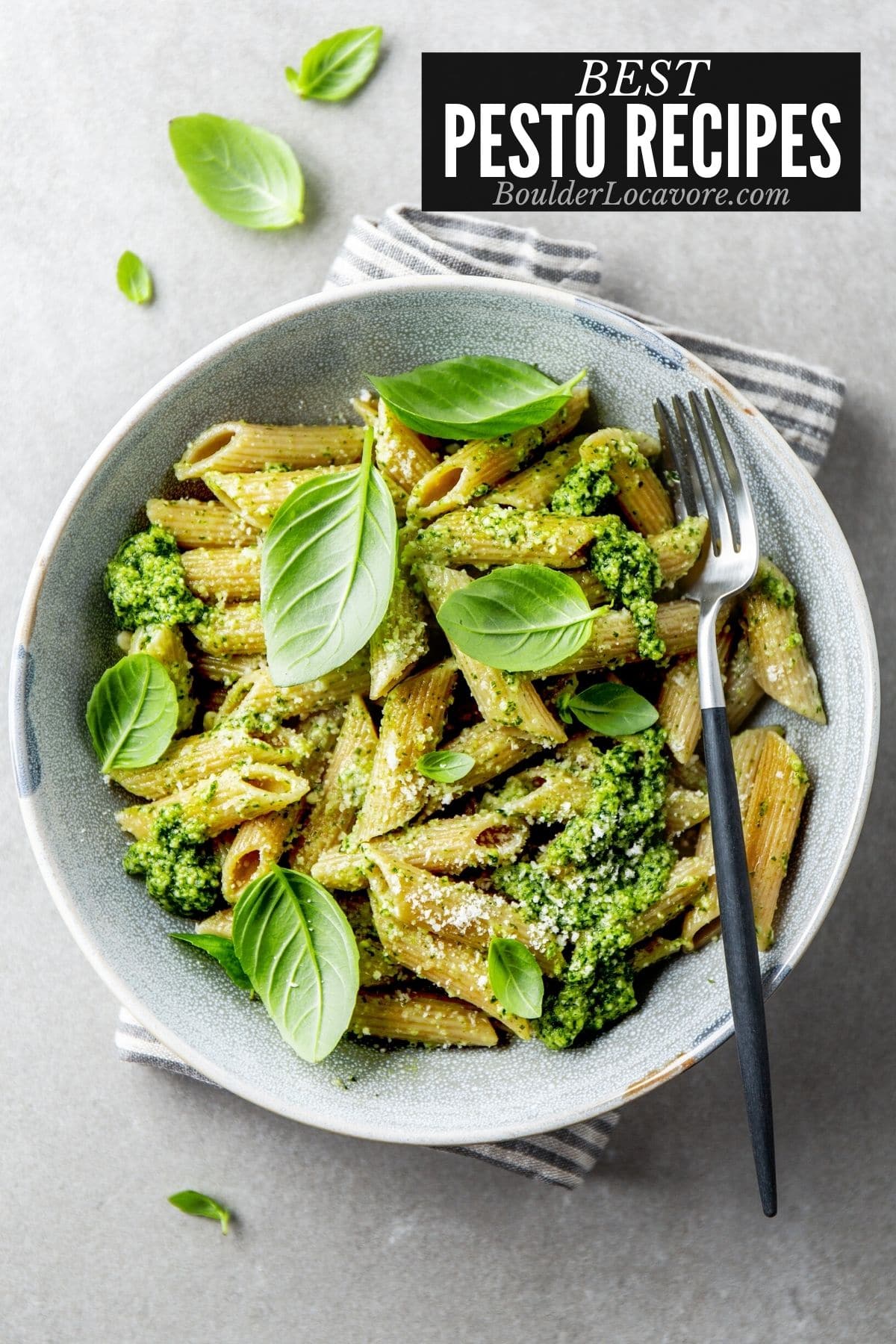 When farmers' markets and home gardens are brimming with fresh produce, making fresh pesto recipes a perfect easy dinner recipe solution.
Most of us are only familiar with a traditional basil pesto recipe but that's only the beginning. There are so many ways to change it up with fresh herbs, different greens and nuts to take the traditional choice of this flavorful sauce to a new level!
Jump to: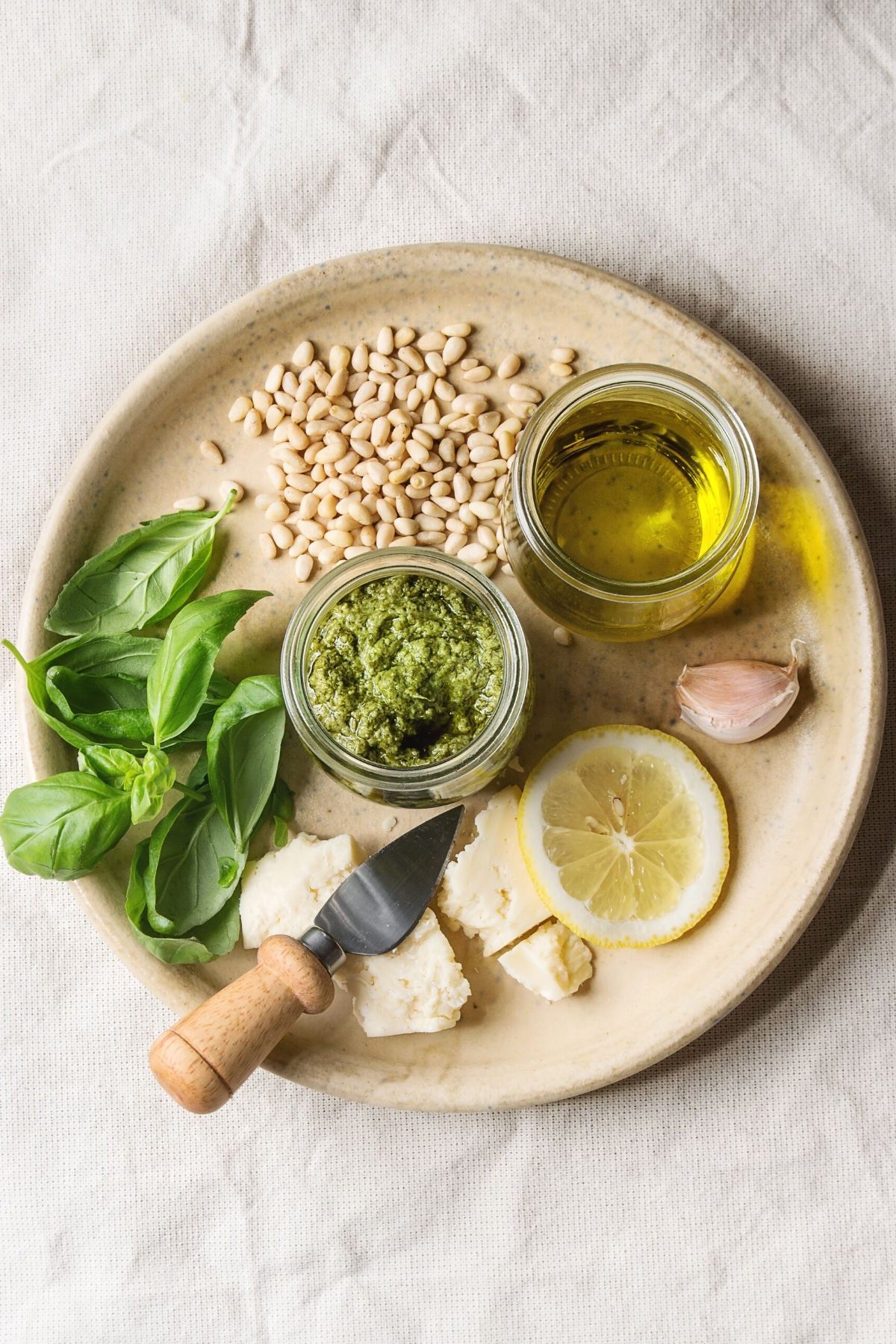 What is Pesto?
This aromatic green sauce is used on pasta but that's only the start!
Classic Ingredients
Traditionally pesto recipes include fresh basil leaves, garlic, pine nuts, olive oil and Parmesan cheese (though not always with the cheese).
However, it can be made with any leafy green instead of basil. Changing up the type of nut gives it a whole new flavor too.
What defines a pesto has stretched to really be:
any Greens,
with a type of Nut,
and olive oil (though not exclusively).
How to make it
All the recipe ingredients are added to a food processer or blender and whirled into a textured sauce. It is usually tossed with pasta for a fresh, delicious, quick, EASY entrée.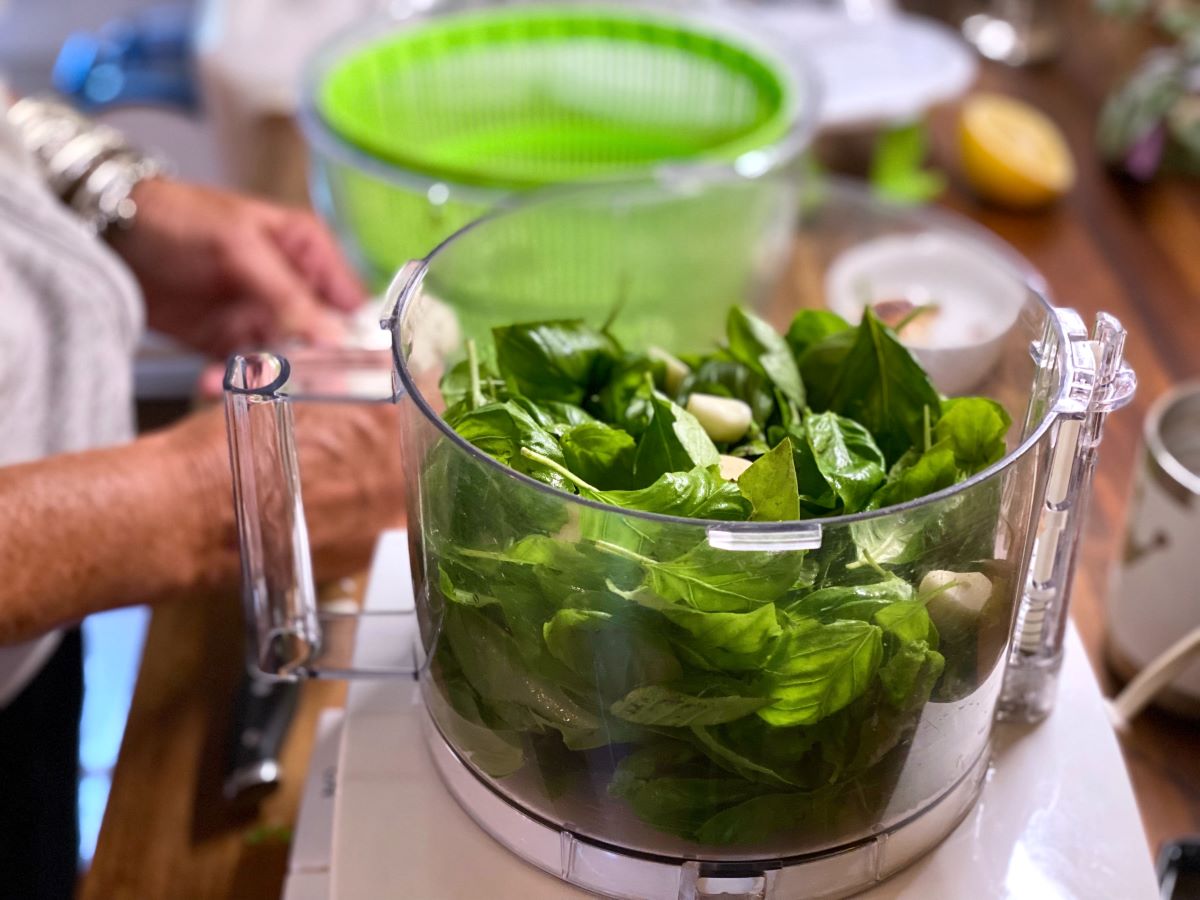 How to use it
Now that you've made it, here are some great ways to use it!
Spread it on pizza with instead of red sauce or WITH red sauce as a base
Toss it with your favorite pasta
Use it as a spread on a sandwich with sliced deli meats or vegetarian ingredients
It makes a great marinade for meat, chicken or fish before grilling or roasting
Stir it into a favorite risotto recipe
Use it as a sauce on cooked meat, chicken, fish or vegetables
Brush it on warm corn on the cob
How to Freeze pesto
Leave out the cheese if planning to freeze pesto; add that back in after thawing before using it.
Pesto can be frozen in any freezer safe container or bag. I freeze it in bags with my Food Saver. They are easy to stack flat and neatly in the freezer for use all year.
Thaw at room temperature or the bag can be placed in a bowl of warm water to thaw more quickly.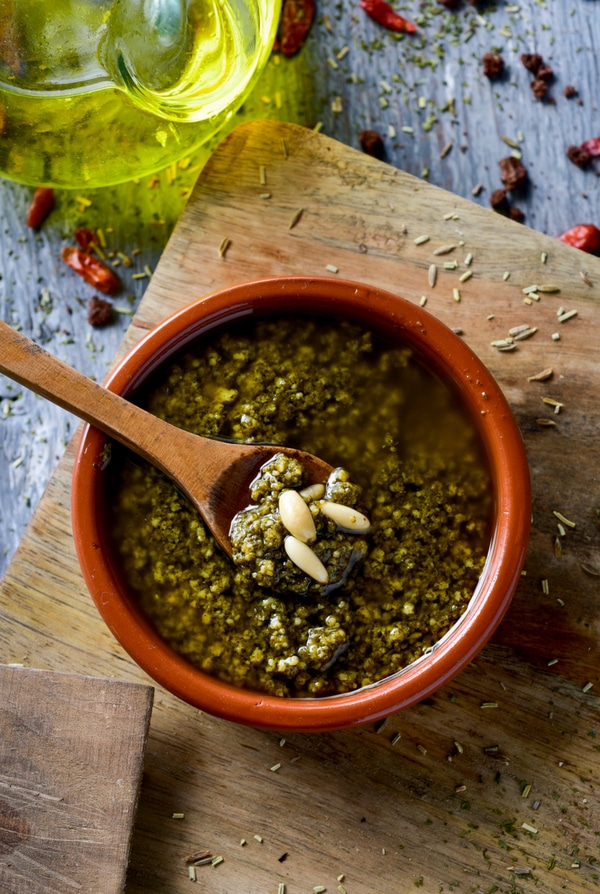 Frequently Asked Questions
Why Can Pesto Turn Brown?
Oxidizing, the interaction of certain cut produce or herbs with the air, can cause browning of the surface. Think of guacamole left out or even in the refrigerator if not sealed in an airtight container. The same can happen with pesto recipes.
Different types of basil can cause the basil version to brown almost immediately. It still tastes great but is not a pretty vibrant green color.
Or when left in the refrigerator this can happen. It's is still good to eat (provided it has not been left in the refrigerator over 4-5 days).
How Long Does It Last in the Refrigerator?
Homemade pesto can be kept, sealed for 5-7 days.
Can Pesto be Frozen?
Yes! It freezes well provided the cheese is omitted before freezing.
It can be kept frozen for up to 6 months (though I've kept it frozen longer in Foodsaver sealed bags).
TIP: if you love the Parmesan flavor, after thawing frozen pesto stir in finely grated parmesan cheese before serving.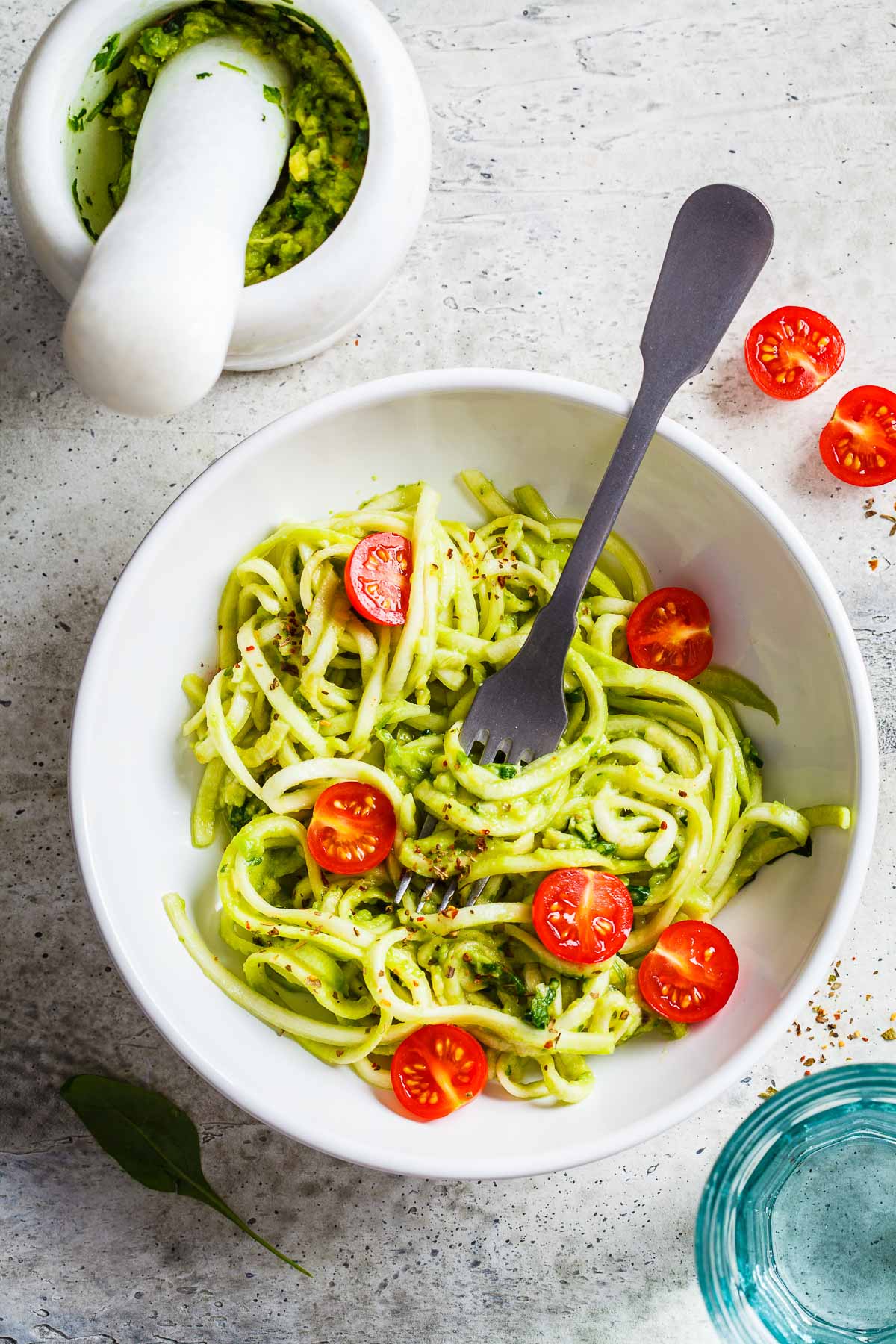 Easy Pesto Recipes
These creative and delicious recipes are made from a variety of ingredient combinations.
The greens included are: basil, mint, spinach, cilantro, seaweed, arugula and Italian parsley.
Pine nuts, pecans, walnuts, pumpkin seeds and almonds make up the mix of nuts in these recipes! Keeping with a traditional definition, all these recipes have at least one featured green and one type of nut.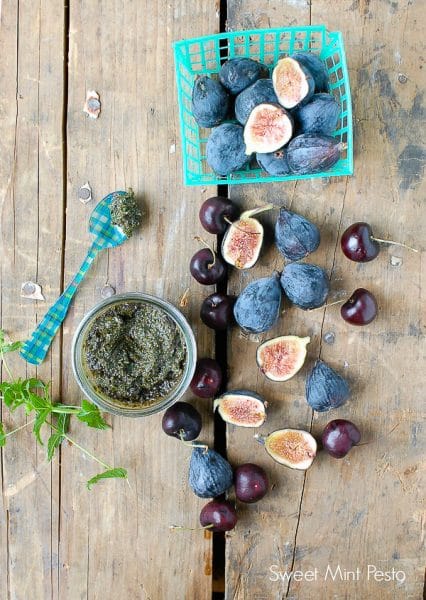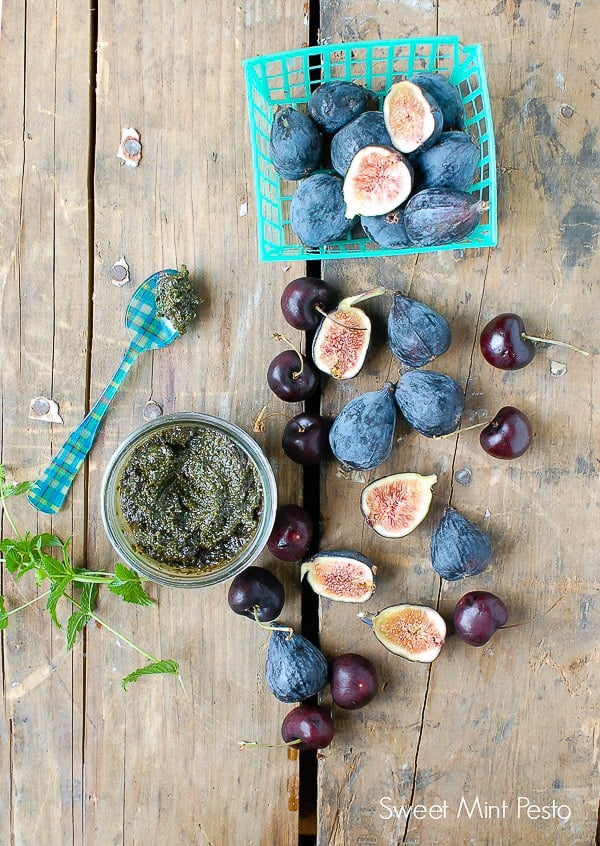 Sweet Mint Pesto
We all love savory pestos however this Sweet Mint Pesto mixes it up with the bright flavor of fresh mint and honey. Perfect on fruit or to compliment the salty flavor of cooked meet and cheeses.
Check out this recipe
RECIPES with Pesto Included
Here are some great recipes using pesto that showcase all the options with different types of pesto recipes!
Note for Gluten-Free diners: some recipes may need to be adapted using a gluten-free substitute (pasta for instance).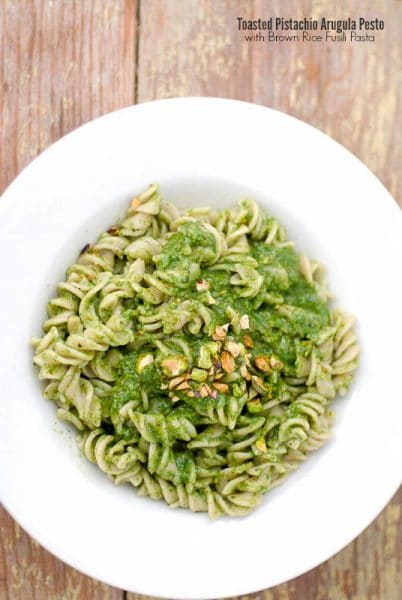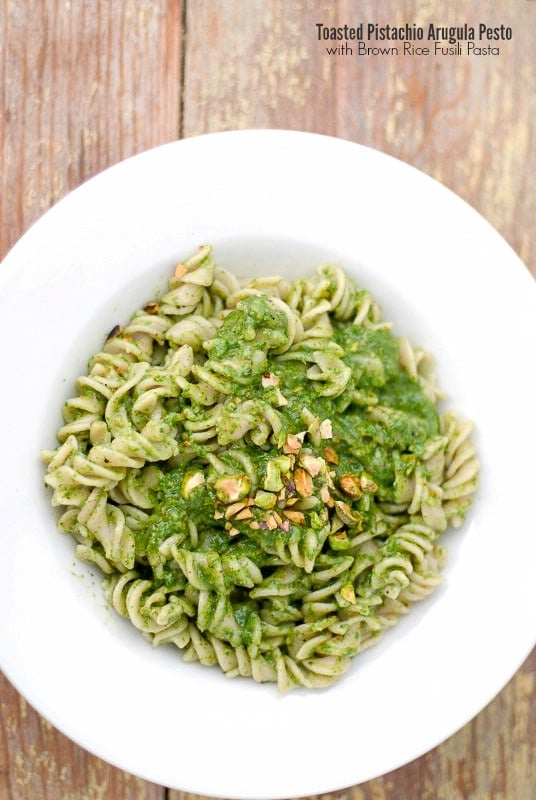 Toasted Pistachio Arugula Pesto with Brown Rice Fusili Pasta (gluten free)
Spicy arugula pesto is a perfect topping for brown rice pasta.
Check out this recipe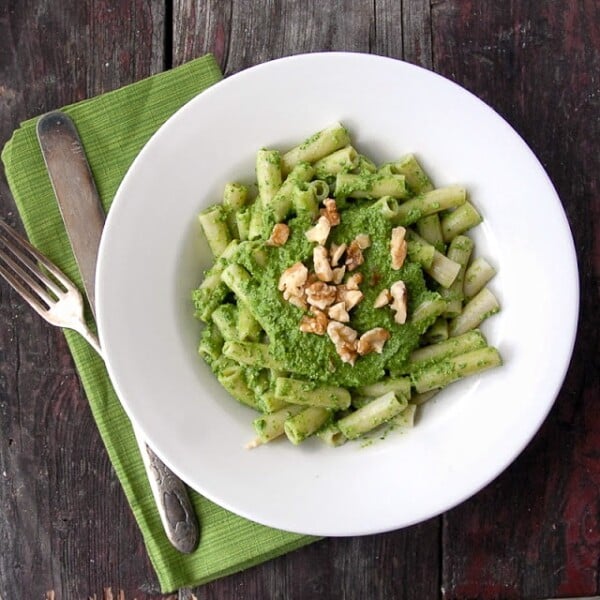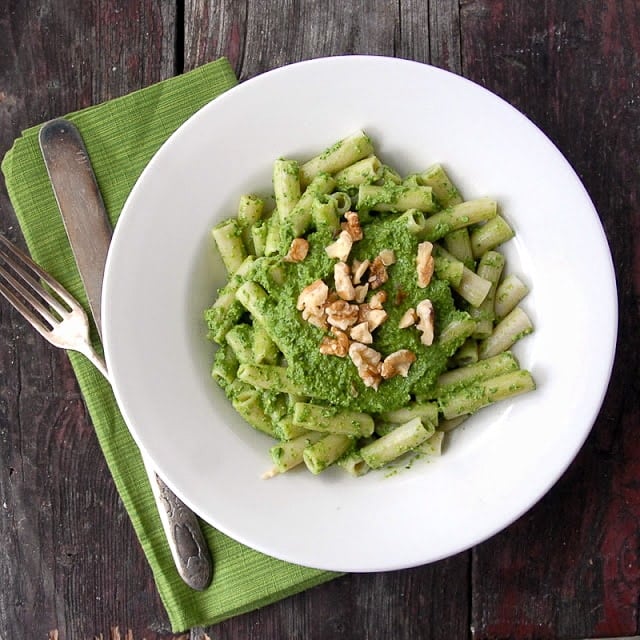 Kale Walnut Meyer Lemon Pesto with Brown Rice Penne
Meyer Lemon olive oil adds a special touch to this kale walnut pesto pasta. Can be used on warm pasta or tossed into a cold pasta salad. There is no Parmesan cheese in this pesto; if desired you can add some or add to the final dish as a topping. If freezing pesto omit the cheese.
Check out this recipe
Originally published January 20, 2016