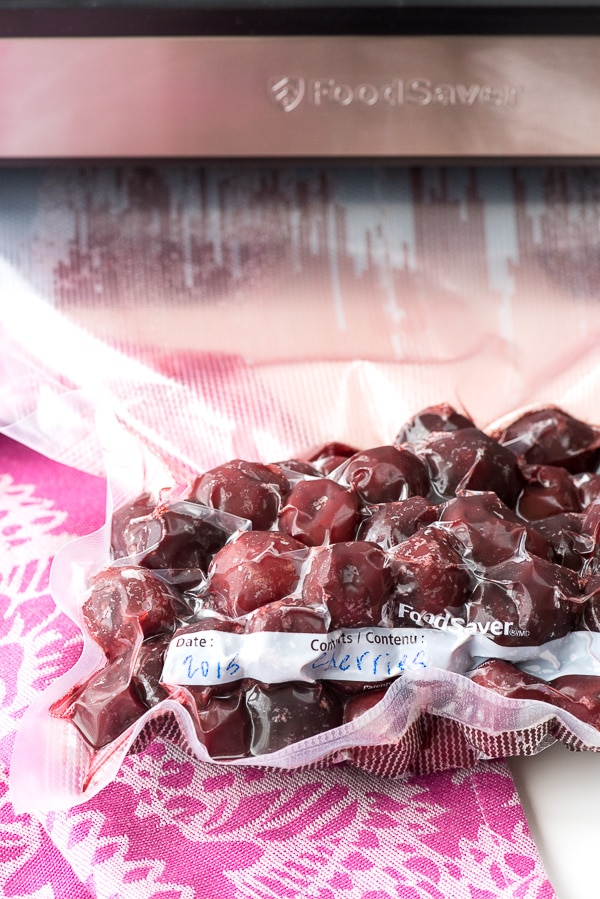 This time of year is very busy in the Boulder Locavore kitchen, demanding smart food storage and organization practices.  I have a CSA share in a local farm that is producing an abundance of fresh produce weekly.  Trips to the local warehouse store offer mega quantities of quality food but in quantities far larger than our family can consume for a meal.  Couple these things with the need for thoughtful meal prep on busy school nights, and I turn to one of my most trusted kitchen tools for help.
My first encounter with the FoodSaver® Vacuum Sealer was when I endeavored my locavore experiment about 5 years ago, having deciding to source my main protein and produce from a 100 mile radius over a Colorado winter.  A key success strategy for that was food storing which I did through canning and sealing food with a FoodSaver® Vacuum Sealer.  My freezer was full of neatly portioned bags of summer produce, easily available to open and use in the dead of winter.   A selection of compatible FoodSaver® Canisters allowed storage of fresh produce in the refrigerator for a longer time since they are airtight. This includes sealing bottles, open jars and containers with FoodSaver® Vacuum Sealer lids and stoppers.
I've been loving trying out a new FoodSaver® Vacuum Sealer model recently which has helped turn the bags of farm produce and boxes of bulk purchased items into usable portions.   This keeps me organized and limits food waste, therefore saving money as well.  I wanted to share with you today some of my best tips in the hope of making your kitchen routine a bit easier!
1. When buying large portions of meat I divide the meat into meal-servings, vacuum seal and freeze the excess quantities for later meals. Perhaps obvious, but having the right tool to guarantee freshness really allows buying in bulk without fear of waste.  It takes less than five minutes after returning from the store to portion everything and store it.
2. I like freezing summer fruits. I first freeze rinsed and dried berries or fruit slices on a lined baking sheet; if frozen all at once, they freeze together disallowing using portions of them. I then vacuum seal them into individual bags. Preselecting standard amounts to store, such as one cup, and writing it on the FoodSaver® Bag makes it easy to find what I need when cooking.
3. I love to make Smoothies in the morning but am often left with little time to prepare the ingredients. I make them with a mix of frozen fruits, fresh leafy vegetables and filtered water.  Creating frozen fruit packets with my FoodSaver® Vacuum Sealer ahead of time allows me to quickly access the prepared fruit, add it to the blender with some leafy greens and water, and in only minutes I have a smoothie to take along as I hit the road.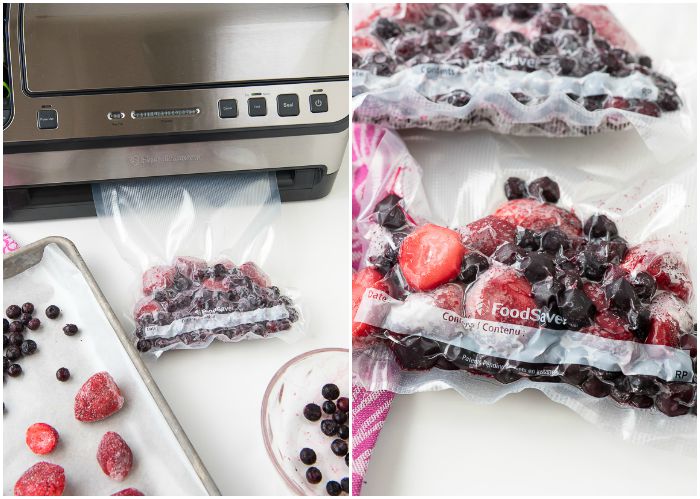 4. I often buy spices in bulk but can't ever use them up before their flavor becomes diminished. I fill a normal spice bottle for everyday use with the fresh spice and then use the FoodSaver® Vacuum Sealer to seal the larger bag of the spice (I keep the spice in its original bag so I always know what it is). The spices stay fresh far longer in the pantry due to being vacuum sealed.  When I need to refill the spice jar, I cut open the bag, fill the jar and reseal the bag with the FoodSaver® Vacuum Sealer.
5. Large bags of coffee beans are more affordable than small bags but are unwieldy to store. As with the spices, I pour out the amount fitting in our coffee bean grinder reservoir and seal the rest of the bag and put it in the freezer.
6. There are some foods I like to divide and vacuum seal for different portion reasons, like Halloween candy! I let the kids keep a small amount in a bag then divide the rest into reasonable portions, vacuum seal them and hide the packets where only I know where they are!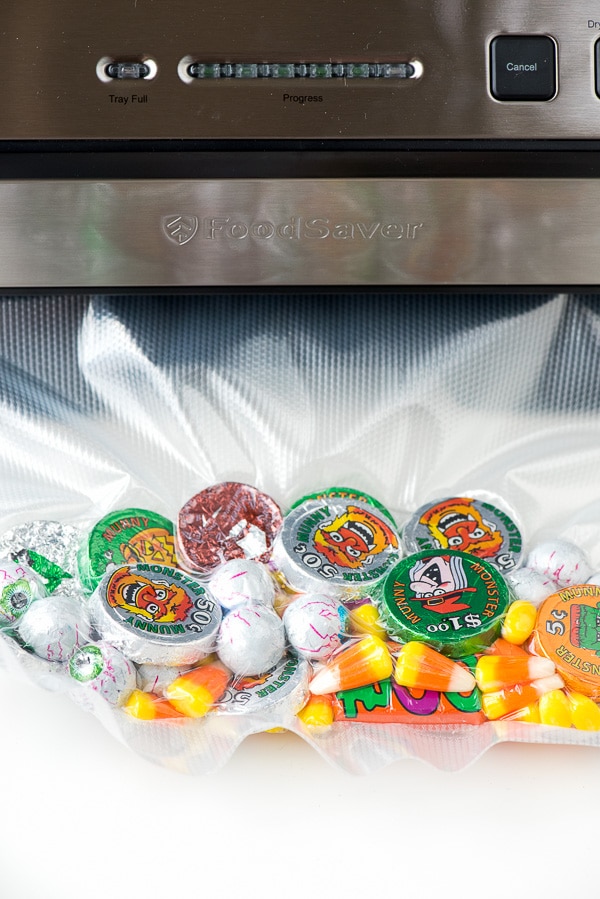 7. I vacuum seal all my separate bags of flour (we are gluten-free so we always have many on hand) to keep them fresh longer. I keep them in their original bags and seal the entire bag.  The FoodSaver® Bags can be opened for use and then resealed.
Over the past few years I find I simply don't have the time to do any canning of fruits or vegetables, but often have far more produce from our farm share than I can use in the course of normal meals. The FoodSaver® System has been a great alternative for keeping the produce airtight in the freezer. Much like canning, vegetables often need to be blanched before storing (lists of produce and how to process them are in the FoodSaver® Machine Manual) but the time to prepare a large quantity to store in the freezer is significantly shorter than canning.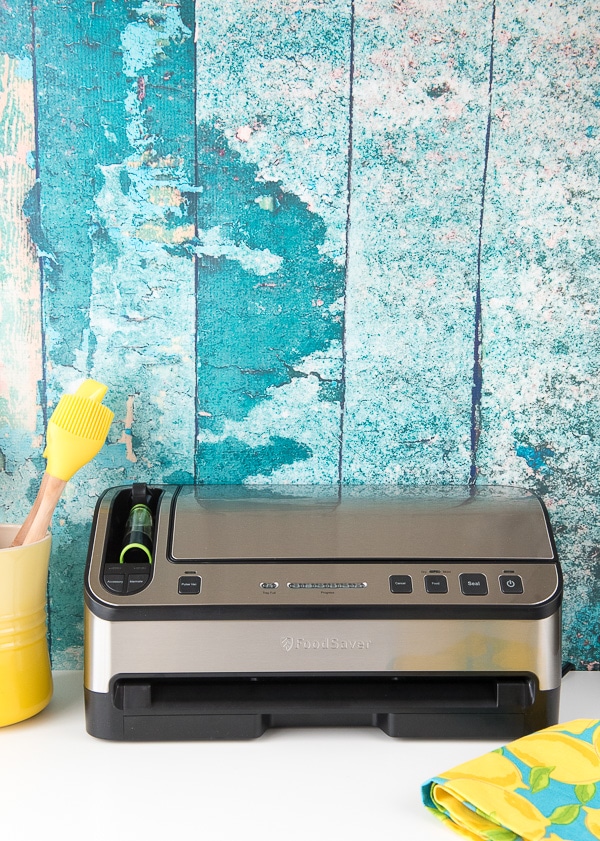 The machine I've been working with most recently is the FoodSaver®4865 2-in-1 Vacuum Sealing System.  The machine comes with an assortment of bags, rolls of heat-sealable customizable material to make bags to fit specific needs, sealable zipper bags, a bottle sealer, and a jar sealer.  The upright model is attractive with a stainless finish.  The machine has both a heat sealing function for sealing bags of food and making custom size bags, in addition to a retractable sealer which seals FoodSaver® Zippered Bags and FoodSaver® Canisters.   The FoodSaver®4865 Device is 'smart' in that is automatically senses the correct setting for sealing, so soft muffins as well as hard cheese will each be sealed properly for safe storage.  The sealer is easy to operate and works quickly to allow processing a bulk grocery buy in short order.
I've found using a FoodSaver® Vacuum Sealer helps me better organize my ingredients and meal preparation but also saves money ensuring what I bring home gets stored properly.  The vacuum sealing method allows frozen items to stay fresher longer since they are air tight in a way normal freezing cannot provide.  I've also sealed matches for hikes in questionable weather and changes of clothes for my kids!
The possibilities for use of a FoodSaver® Vacuum Sealer are truly unlimited in my experience and it's quick to use.  It is one of those kitchen tools that the more you use it, the more uses for it you can think of!  If you have a FoodSaver® Vacuum Sealer I'd love to hear your best tips and tricks for using it!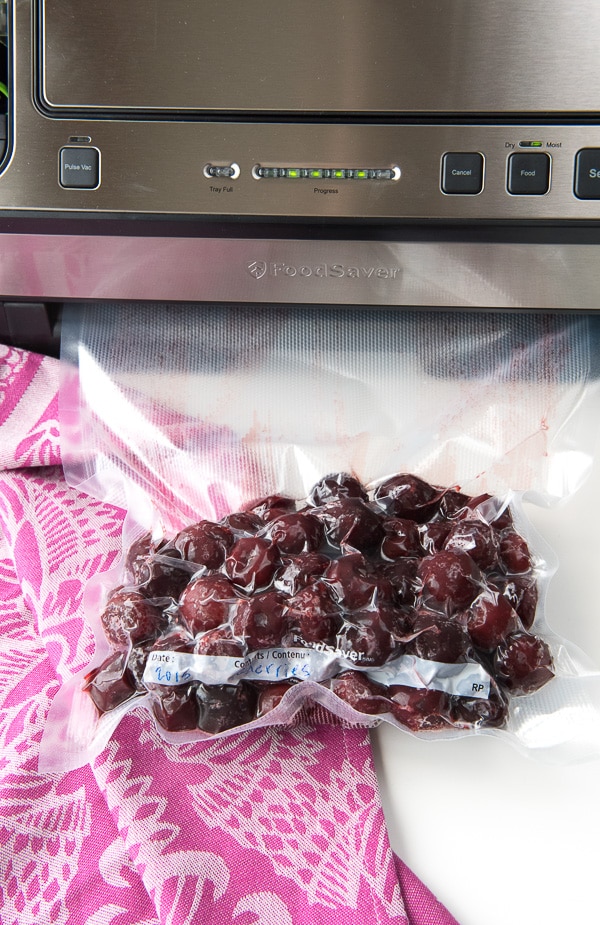 Disclosure: This post was sponsored by the FoodSaver® Brand through their partnership with POPSUGAR Select. While I was compensated to write a post about the FoodSaver® Vacuum Sealer System, all opinions are my own.  This post may contain affiliate links. To learn more check my Disclosure page.