Memorial Day weekend is synonymous with grilling and eating al fresco for me.

 

When thinking of my weekend menus there is not even a question they will all be served outside, Mother Nature permitting.

 

In a seasonal locale such as Colorado, outdoor dining spaces become reawakened this long weekend from being mothballed for the winter.

 

They really do feel like an additional room in the house begging to be cleaned up and enjoyed through the mid to late fall.
There are foods that really must be eaten outdoors and potato salad is one of them.

 

I've always liked the standard potato salad but as an adult find myself growing tired of anything rote.

 

I'm a Gemini.

 

I get bored easily and crave color, texture and vibrant flavors in my food.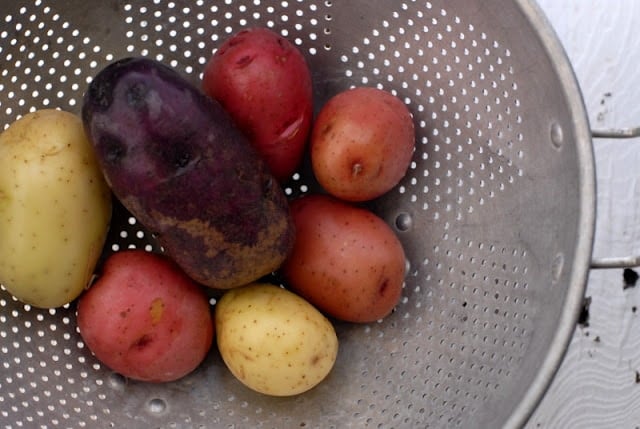 I love exploring and discovering new things in life and with my food it is no different.

 

My kids are the ones with the yellow watermelon or purple cauliflower in their school lunches.

 

When I came upon a small bag of three colored local potatoes I was immediately enchanted and my mind was off to the races on what to do with them.
I came up with this potato salad recipe which also suits another of my personal proclivities: I like options.

 

This recipe can be tweaked in several directions to change it up whenever you make it or to adapt it to your personal taste.

 

I love the smoky flavor and spiciness of chipotle chilies.

 

There are few things I could imagine that would not be enhanced by them.

 

Also bacon.

 

Need I say more?

 

This potato salad offers a deep earthy spice smacking of the Southwest providing more of a star player at the barbecue or picnic rather than the more standard, expected side dish.
TRI COLOR CHIPOTLE BACON POTATO SALAD
I've mentioned before I'm a firm believer in making food one's own.

 

If you see an ingredient you don't have or don't care for, no worries; substitute what you have or prefer.

  

I do suggest new variety potatoes that do not require peeling.

 

They add to the visual of the dish, the flavor and ease of preparation with no peeling.

 

Also adobo sauce brands can vary markedly in heat.

 

Definitely start with less and taste the dressing to ensure you have a level of heat to your preference.

 

 

You can certainly increase or decrease the size of the batch by maintaining the same proportions of the ingredients.
Yield:
 

Approximately 8 cups of potato salad
·

        
2 pounds (about 6-7 cups) thin-skinned, multi colored new potatoes; cooked, cooled to room temperature and cut into bite sized pieces
·

        
4 slices of apple wood smoked bacon, cooked but still supple (not well done and crumbling), chopped
·

        
1 cup celery, finely chopped
·

        
½ cup Mayonnaise with Olive Oil (I used Spectrum brand, organic)
·

        
2-3 teaspoons chipotle en adobo (sauce only), to taste
·

        
Smoked Salt and Pepper to season
·

        
Fresh dill to garnish
Gently stir together the potatoes and celery being careful not to break potatoes apart.
Mix mayonnaise with olive oil, chipotle sauce, smoked salt and pepper together.

 

Toss the potatoes with the dressing.

 

Sprinkle in bacon and stir to combine.

  

Serve at room temperature
NOTE:

 

Though this salad offers the best flavor at room temperature the salad should not be left out without refrigeration especially in hotter temperatures.