It's always felt funny to me when adults recount their Christmas holidays by listing everything 'they got'.    Having said that I could not resist sharing some of my stocking stuffings for the local finds they are (not to talk about 'what I GOT'!).  Very exciting and definitely got my local mojo going for the next season ('NOTE TO SELF:  Must find a local source of huckleberries to make my OWN jam this year'.)
If you click on the item title it will link you to their website:
Soup mixes from Women's Bean Project (Denver CO):  This organization has been around for a long time.  They are a non-profit who aid chronically unemployed, impoverished women or those women in difficult life situations by hiring them to hand make their delicious products.  As a locavore, it's dried bean season as well and frankly there is nothing I love more in the chill of winter.  These two soup mixes (lovingly handmade in my case by 'Olga' and 'Josephine') will be quickly used.  I'm loving the 'Toni's 10 Bean Soup Mix'…..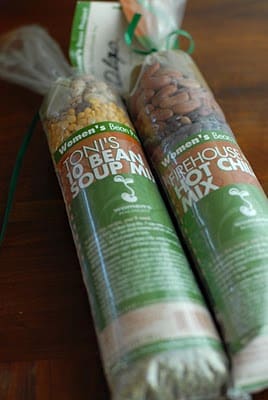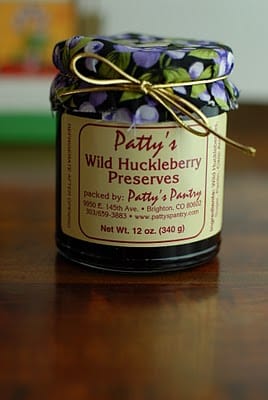 Anija's Finnish-Style Sweet Hot Mustard
(Ft. Collins CO
):  According to the label this mustard (which has won a number of awards) was started with the Finnish holiday gift tradition of 'Mom' (Anija) giving jars of homemade mustard.    There are many suggestions of how to enjoy the mustard and I cannot wait to try them.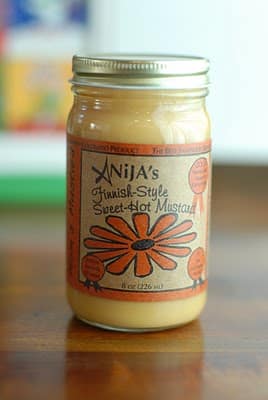 Don Estevan's Tapenade
(Boulder CO)
:  This tapenade was formulated based on the healthy traditions of Mediterranean cuisine.    A family recipe made with all natural ingredients.  There are many recipe suggestions and more on their website.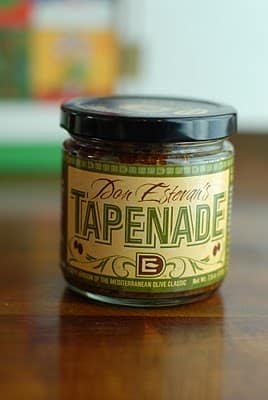 Westwood Farms 'Burning Desire' Roasted Jalapeno Chili Sauce
(Paonia CO)
:  This bottled heat gave me to shudder after having just watched an episode of 'Outrageous Food' on the Food Network channel in which a restaurateur combined many types of chilies to concoct a turbo charged sandwich which he challenged patrons to eat in 20 minutes.    The only success story looked like he needed to go to a mental ward afterward.  Fortunately for me,
Burning Desire
is nothing of this sort of hot sauce.  It includes all natural ingredients and makes mention of one of my favorite partners for hot sauce; eggs.  Can't wait to try it.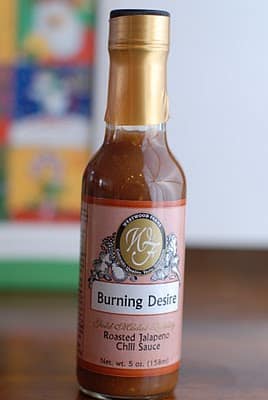 White Girl Salsa Cranberry-Mango
(Golden CO): 
Do we need to explore further than the name?  Love that.  The name of their LLC is:
We Do Salsa
.  Love a company that has a sense of humor about themselves, don't you?  These salsas are handcrafted and all natural.  The label offers an explanation for the name noting years ago the founder was very close with an Hispanic family and after devouring their homemade salsas the family sweetly dubbed it 'white girl salsa'.  I made and froze a number of containers of Tomatillo salsa which are delicious.  I cannot wait to try this flavor.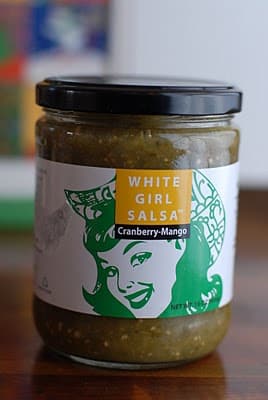 I have it on good authority that in my case Santa purchased all these items at the
Peppercorn
, an incredible local kitchen wares store (they do offer online shopping though not all of their in-store food items).  To put the store in context I attended a book signing for
Marcus Samuelsson's
latest book,
A New American Table
, this summer and he too was quite taken with the store and all it offers.  A 'must stop' if you have not had the chance to.