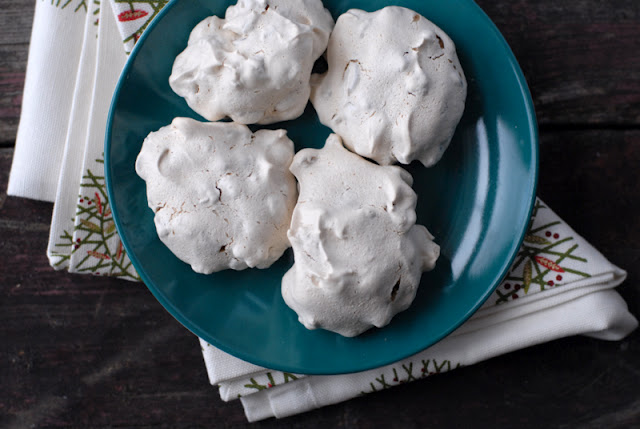 This month's Vintage Recipe Redo and Swap marks a change to a new recipe book.  It was a year ago this month that Christianna (writer of Burwell General Store) contacted me to be the second swapper in this project.  We've covered a lot of ground in the past year (you can check out our recipe journey in the Recipe tab on my blog).  Once again Christianna found a great vintage recipe book, The Second Ford Treasury of Favorite Recipes from Famous Eating Places.  Written in 1954 it features recipes from famous restaurants at the time.  I'm excited to see where it takes us!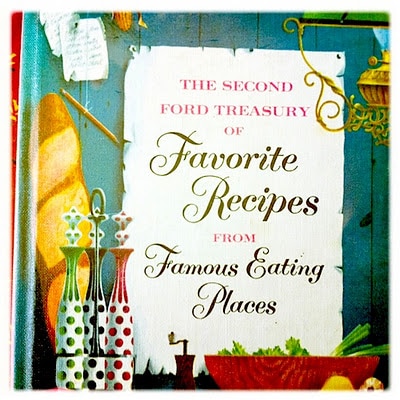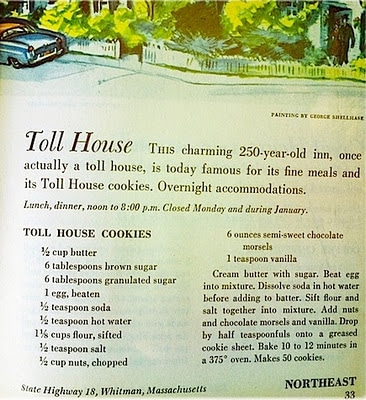 Our task is to redo an assigned recipe by changing at least three things and staying true to the intent of the recipe as we see it.

 

This month our recipe is one having a strong foundational foothold in American cookie culture, The Tollhouse Cookie.

 

Sound familiar?

 

Most of us assume it was a recipe conceived by the chocolate chip maker I'm sure.
This is a cookie kinda month in my book.

 

I personally have scaled back to focus my baking on preparing for Santa.

 

I do not spend the entire month baking and gorging on sweets for fear of a sucrose coma or worse yet 'going postal' from sugar poisoning.

 

I have had my eye on a recipe from my Grandmother's recipe box and this occasion seemed the right time to break it out.

 

Forgotten Cookies.

 

With a name like that who could pass up baking it in this month filled with sentimental mood and generous heart toward anyone or anything needing some love.
I remember these cookies from when I was a child.

 

My Grandmother was not a mad baker but managed to deliver whenever we visited.

 

It's funny to think about that now.

 

Do Grandmother's still bake cookies in anticipation for visits from their Grandkids?

 

A very civilized hospitality if you ask me.

 

Grandmother's now are probably too busy taking Zumba classes, playing mahjong and growing micro greens for their smoothies I suppose.
This cookie is basically a lovely meringue cookie but with more substance in its 'bite' due to the chocolate chips and nuts.

 

As implied, you mix it up, put it in the oven and forget it until the next morning.
These cookies are beautiful, glossy batter when put on the cookie sheets and emerge in the morning with a matte meringue finish.

 

They expand a bit overnight.

 

If you wanted the recipe to yield more, use a small dining spoon.
Yield:

 

Aproximately 2 dozen
·

        
1 teaspoon vanilla
·

        
1 cup pecans, chopped
·

        
1 cup semi-sweet chocolate chips
1.
 

Preheat oven to 350 degrees.
2.
Beat egg whites until foamy, approximately 3 minutes.
3.
Slowly add sugar while beating egg whites until stiff.
4.
Stir in salt, vanilla, pecans and chocolate chips.

  

Drop onto ungreased tin foil by the spoonful (I used a larger dining spoon).

 

Note:

 

I followed the original recipe to the letter though put the foil on a baking tray for support.

 

I think they could be put directly on a cookie sheet as well.
5.
Turn off the oven.

 

Place cookies in the oven and leave until morning.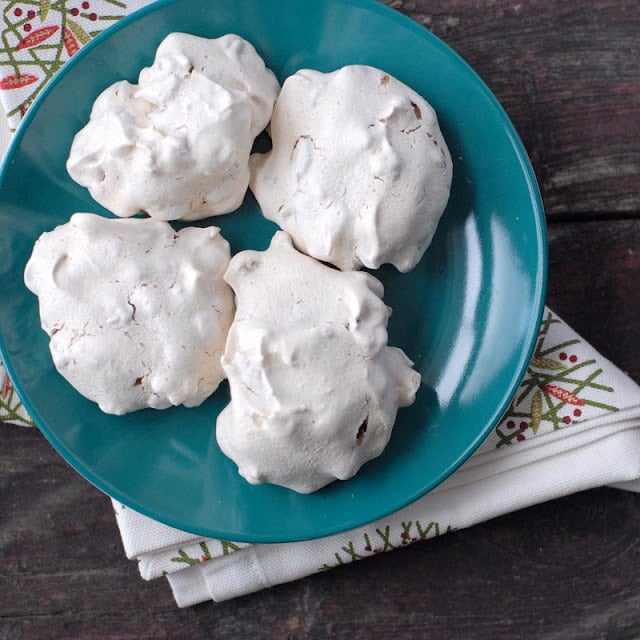 Needing a liquid partner for my cookie it seemed timely to make up a batch of Glögg, a Scandinavian mulled wine.

 

I'd love to share a deep, meaningful J. Peterman'esque story about how I discovered this after tracking Polar Bears in the wild in my midnight blue velvet jodhpurs and faux Manx hat stopping at a bar in Oslo en route back to civilization before departing on safari in Inner Mongolia.

 

That of course would be a lie.

 
I do bear Norwegian heritage on my father's side though this recipe has been in my family for a few decades thanks to Sunset magazine in the 1970's.

 

That's all.

 

And it warms one's innards and spirits at this time of year!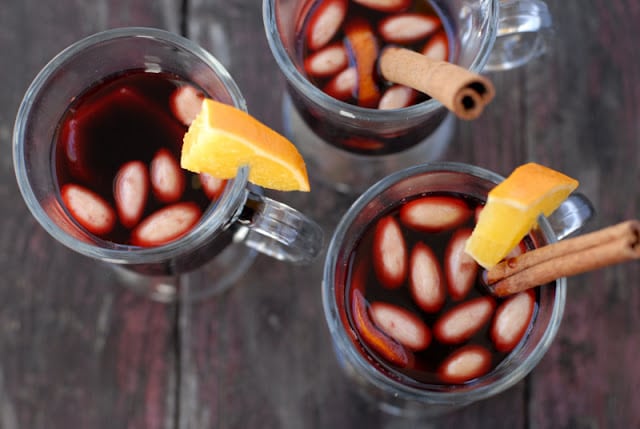 The original recipe suggests three wine varietals.

 

I used and old vine Zinfandel that was divine.

 

I will say I was unclear on the role of the almonds.

 

Once having soaked in the mulled wine they are soft and fantastic adding a very unique element to the drink.

 

Also save the raisins and find something to do with them (Ice cream?

 

Bread?

 

Pie?  Souped up oatmeal?); they are delicious.
·

        
2 teaspoons whole cloves
·

        
2 cinnamon sticks, each 2 to 3 inches long
·

        
1 bottle red wine (Burgundy, Zinfandel or Gamay)
·

        
½ cup whole blanched almonds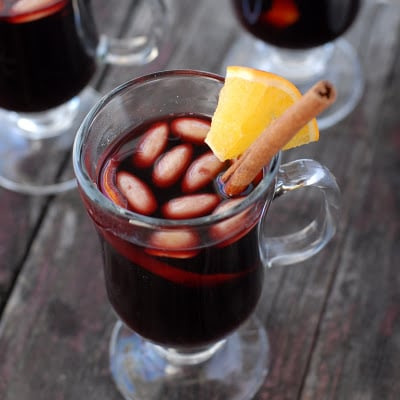 1.
 

Cut the peel from orange making one long thin strip.

 

Squeeze juice from orange and place both peel and juice in a 2 quart saucepan.
2.
Add sugar, raisins, cloves, cinnamon sticks, and wine.

 

Heat over moderate heat until hot but not boiling.

 

Allow to simmer 10-15 minutes, strain and serve in mugs with a few blanched almonds in each mug.
Gift idea:
 

Combine dry ingredients in a jar or decorative bag, place in a basket with a bottle of suggested wine varietal, an orange and blanched almonds for a 'make it at home' gift kit.