I'm hoping this finds you relaxed having had a wonderful long Memorial Day weekend.

 

It was the first grill out for my family.

 

Despite liking meat I actually don't eat a lot of it but have to say there is nothing like a freshly grilled burger outdoors.

 
This weekend was the perfect opportunity for me to try out another vintage pie recipe I'd found some time ago.

 

Whenever I come into a batch of vintage recipes I tend to go through all of them looking for recipes that are unique, translate to modern times for the ingredients, use whole ingredients (no Jell-O or cans of soup) and frankly are not overly complex.

 

I love food and sophisticated food but I rarely have the time to labor over recipes with extensive ingredient lists but still want a pleasing end result.
This recipe for Chocolate Chip Pie caught my attention.

 

The advertisement of a 'summer dessert' placed in my 'to try' pile with the past weekend seeming a perfect time for it.

 

I always make vintage recipes verbatim the first time.

 

I will say this is the first time that the crust recipe totally tanked from the original recipe.

 

When I pulled it out of the oven it had converted from the formed pie crust I inserted into the oven to a bubbling, buttery mess.

 

I had decided I wanted to freeze the pie similar to a GrasshopperPie I make so I created a crust recipe that was more friendly to that method and it turned out great.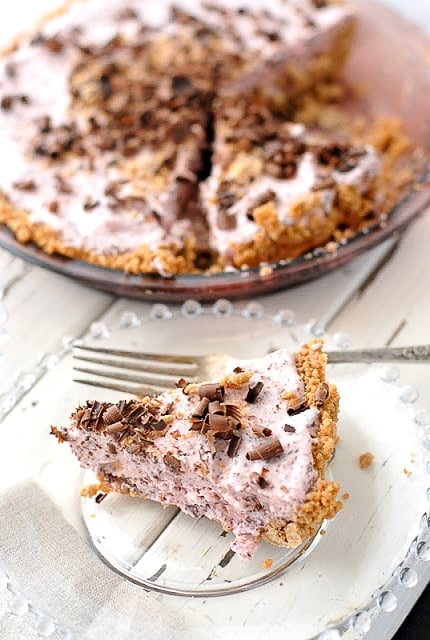 When purchasing the chocolate for the pie I found the variations of chocolate irresistible and decided instead of the original bitter chocolate to use Dark Chocolate with Cherries from local (and nationally distributed) Choco-love.
It seemed a great kick off to summer.
CHERRY CHOCOLATE CHIP PIE
This recipe really makes a chiffon pie.

 

I wanted to freeze it which I did.

 

When sitting out for some time it did thaw and offered a perfect chiffon pie consistency.

 

The original recipe suggests refrigerating for several hours.

 

I almost think freezing and letting it thaw you if you don't prefer a frozen pie is the better way to go.

 

Feel free to swap out the chocolate for any chocolate that strikes your fancy.

 

I also decided at the last minute to add a few drops of all natural food coloring to give a hint at the cherry flavor visually.
Yield
:

 

1 9-inch regular depth pie; serves 8-10
·

        
24 marshmallows
·

        
1 cup heavy whipping cream
·

        
½ teaspoon vanilla
·

        
1 3.2 ounce bar Cherry Chocolate bar (or chocolate of your choice)
·

        
1 ½ graham cracker crumbs*
·

        
7 tablespoons unsalted butter, melted (plus a bit more UNmelted to butter the pie pan)
*I used gluten free Smoreables by Kinnikinnick to make my own crumbs.

 

It required about 1 package processed through the food processor to fine crumbs.
1.
Lightly grease a 9 inch regular depth (not deep dish) pie pan with butter.

 

Using a mixer (preferably a standing mixer with paddle attachment) combine the graham cracker crumbs and melted butter.

 

Form a pie crust in the greased pan using fingers to press into a crust.

 

Place in the freezer to set about 10-15 minutes.
2.
In a double boiler or in a metal boil over a pan of water, combine the marshmallows and milk.

 

Stirring frequently allow marshmallows to fully melt and set aside.
3.
Using a free standing mixer and whisk attachment (or hand held mixer) combine the heavy whipping cream, vanilla and if desired food coloring; whip the cream.

 

Fold into the marshmallow mixture.

 

NOTE: the marshmallows and milk may have separated.

 

Don't worry about that just mix it all together.
4.
Prepare the chocolate bar:

 

finely grate 2/5's of the bar, finely chop 2/5's of the bar.

 

Mix together and fold into pie filling smoothing the top with a spatula.
5.
Make chocolate curls with the remaining chocolate by pulling a vegetable peeler down the longest edge of the chocolate.

 

Garnish the pie with chocolate curls and place into the freezer until frozen.