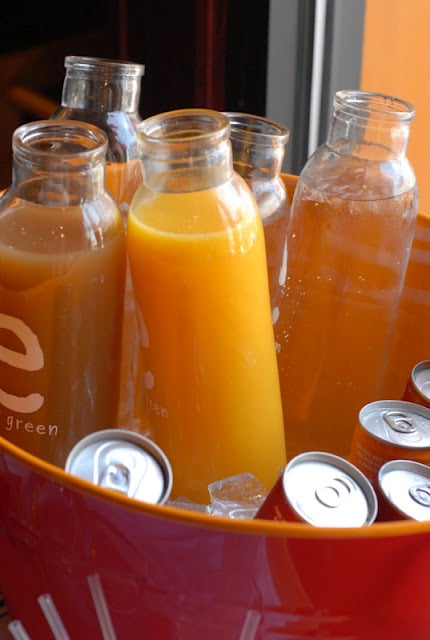 As I drove out 120th Avenue passing big box stores and drive through fast food joints

 

I questioned whether I'd actually read the Press Release for Early Bird restaurant accurately.

  

A husband and wife chef team with a roster of attention-catching credentials filling the gap of locally sourced food in this area.

 

Could it be?
When turning onto Bradburn Boulevard I was pleasantly surprised to be met with a new, mixed use neighborhood sporting a modernized brick brownstone vibe of an inner city.

 

Early Bird is nestled on the main drag between a number of shops with a simple front patio populated with black wrought iron tables and prim red umbrellas for al fresco dining.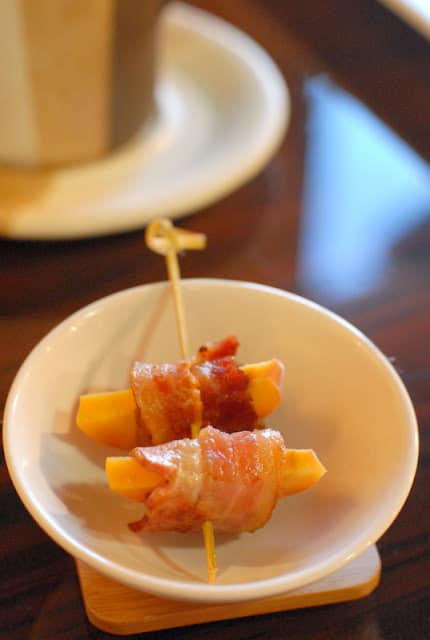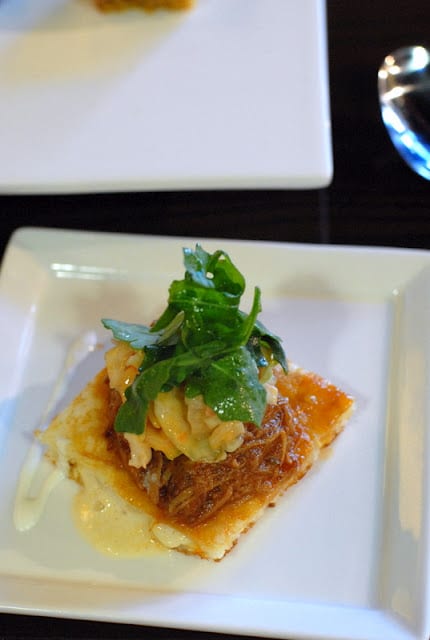 (Top) Colorado peach slices wrapped with bacon.

 

(Bottom) Hand's down my favorite: BBQ Pork served on a gluten free Johnny Cake dressed with arugula.
I really did not know what to expect frankly because I don't equate this suburban area with farm-to-table food.

 

Of course the owners also noted this dearth hence part of the geographical location for their concept.

 

Once opening the doors of the restaurant I felt I'd entered an established urban bistro.

 

Artisan painted chalkboard wall motif with simple oversized photos strung on a line to adorn one long wall.

 

The décor is warmly and thoughtfully appointed, allowing diners to feel they've been coming here for years.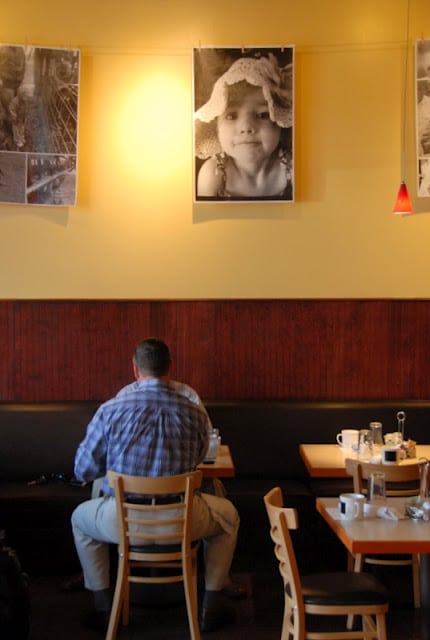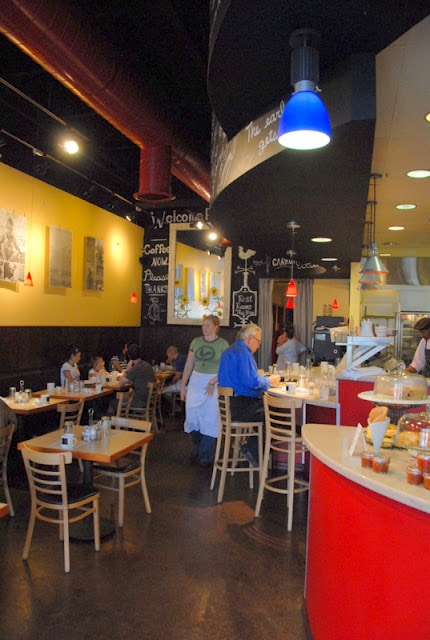 Early Bird (thus named for the owner's early arrival daughter, Izzy) is a breakfast and lunch restaurant and the dream of chef/owners Dan and Kristen Cofrades.

 

Dan, most recently working at Boulder's upscale St. Julien hotel, really decided the time was right for them to open their own restaurant.

 

A driving factor was his hours; arriving home at 11 p.m. and often missing his daughter's departure to preschool in the morning.

 

Embedded in their plan was to open the restaurant in the same neighborhood where they live and their daughter goes to school.

 

As Dan explained their vision it harkened back to mid last century for me when people lived and worked nearby and truly got off work by 5 to enjoy their families and favorite pastimes.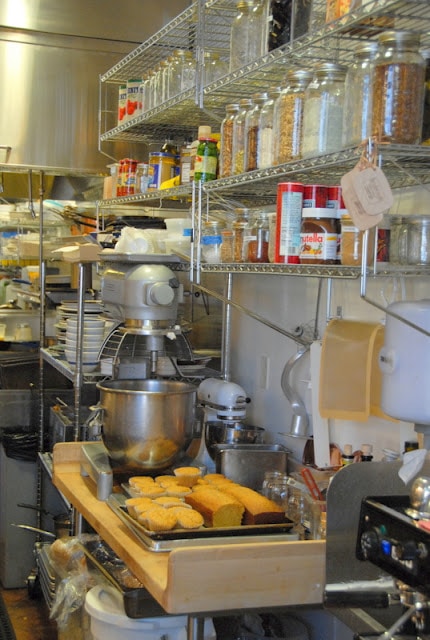 The open kitchen layout of Early Bird folds everyone into the mix as in a good friend's kitchen.

 

Nothing is behind closed doors.

 

The counter offers a chance to pop in for a cup of coffee or chai latte to go along with a breakfast burrito or other delicious nosh.
Another aspect of their goal was to elevate the quality of ingredients and dishes, keeping them organic, sustainable and locally sourced whenever possible.

 

On this day I was at the restaurant to sample small bites of their key dishes.

 

My fascination was with their sourcing, always loving the chef-to-farmer connection.

 

Early Bird is in the process of working with three farms spread around in the area (Isabelle Farm-Lafayette, Toohey and Sons-Longmont and Star Acre Farms-Arvada).

 

They have a sausage purveyor (Old Style Sausage) in Louisville who does all their sausage for them.

 

Their eggs are farm fresh from Hickman Farms in Grand Junction.

 

Whenever possible they serve local brands such as the well known Novo coffee and Bhakti Chai.
Their 'prepared from scratch' approach, down to their sauces, is sorely needed in this area and their traffic attests to this.

 

Enthusiastic locals have flocked to the restaurant since it opened almost three weeks ago.

 

Their menu spans the breakfast and lunch gamut offering standards diners expect, to more unique options such as their 'Early Bird Risers' a riff on an omelet prepared partially in a pan stovetop and finished in a hot oven allowing a delicious fluffy egg frittata'esque dish with beautiful ingredients such a Haystack Mountain goat cheese, spinach, tomato and roasted Hazel Dell mushrooms ('The East Boulder').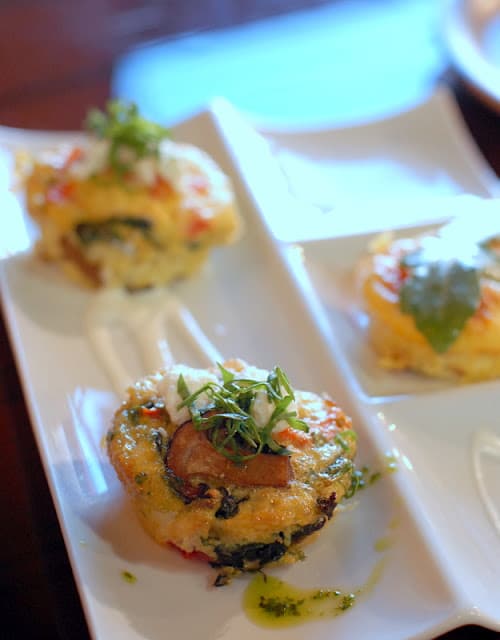 A mini version of an Early Bird Riser for our tasting.

 

The full size version is usually about 7 inches in diameter.
Chefs Dan and Kristen listen to what their diners want as well.

 

One fun addition to the breakfast menu is aptly titled 'Do You Have a Burrito?'

 

During the building out of Early Bird (which Dan had a direct hand in not hiring a General Contractor but playing that role himself) at least one person would pop in daily asking if they'd be having a burrito on their menu so it was clear that was in demand.

 

Once established they plan to add some unique options for weekend brunch such as a Korean bowl showcasing a variety of more unexpected (but undoubtedly delicious) dishes.

 

Their goal is an honest interpretation of good, quality food with a little surprise on every plate.

 

From my tastings and speaking with them they have achieved that.
A sample of Early Bird's freshly baked Zucchini Bread and (behind) the Chicken Salad on a waffle.
The quality of their food is great though what shone through more for me was the heart in what they are doing.

 

This is a nest egg venture for them.

 

They've put it all on the line personally for what they believe in.

 

They strive to deliver a warm, welcoming dining experience.

 

The bottom of their menu reads: 'We created Early Bird's menu with our friends and family in mind.

 

Everything is made from scratch, like we do for our family, because after all, you are family!'
 

I've always maintained you can feel the love in someone's food and you'll be feeling it at Early Bird.
Early Bird
:

 

11940 Bradburn Blvd. Westminster CO 80031.

 

(303) 817-6798. www.earlybirdrestaurant.com.  Open Daily.

 

Weekdays: 6:30 a.m. – 3:30 p.m.

 

Weekends: 7:00 a.m. – 3:00 p.m.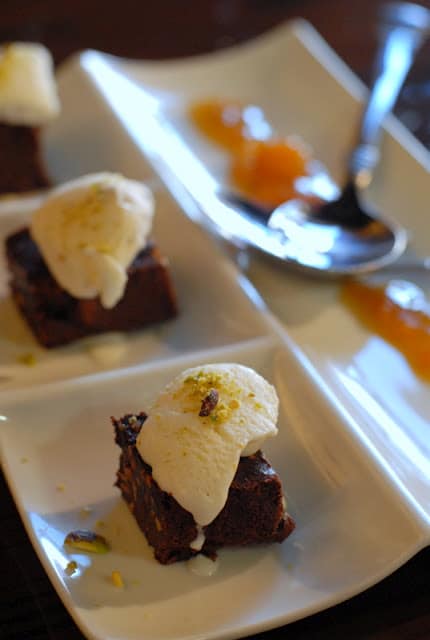 Early Bird's Gluten Free Dark Chocolate Brownie with Pistachio nuts and Vanilla Bean ice cream.

 

Served with a taste of their freshly made preserves.

 

I found they effortlessly were able to accommodate my gluten-free dining keeping the food on par with the rest of their fabulous food.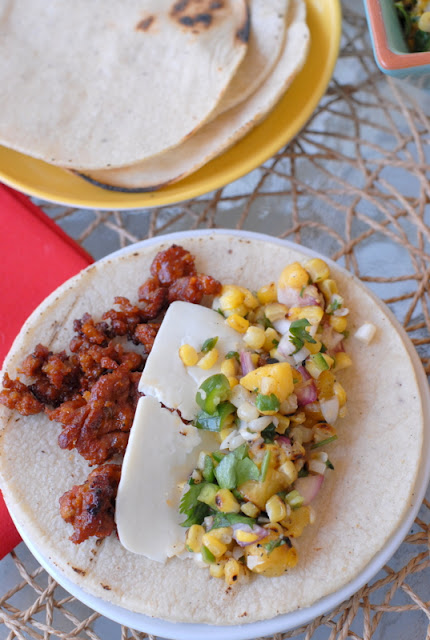 On a completely different note…
Boulder Locavore readers who are on Facebook!
 

I need your help!

 

I'd appreciate your vote for my Smoked Chorizo Soft Taco with Grilled Peach and Corn Salsa in Boulder Sausage's Colorado Blogger Contest.

 

Please click this link
http://ow.ly/dg0Qa
and 'Like' my recipe!

 

Thank you!