Last week offered a serendipitous, 360 degree moment for me.

 

Earlier in the year, noted local winery Boulder Creek Winery issued an article on their blog of the 5 Boulder Food and Drink blogs that they read.

 

I was graced to be included as was friend and fellow blogger Grace Boyle from Grace(full) Plate.

 

The call out gave way to like minds realizing there is no medium currently to corral the food and drink media talent in Boulder (which is abundant with more than 40 food bloggers alone) with the opportunity to mix, mingle and explore all our local food/drink landscape has to offer (which is vast).

 

Grace and I organized what is now known as Boulder Food Media, a group welcoming any and all food/drink-related writers, photographers and bloggers to meet regularly at local businesses to enjoy some education and of course food and drink.
It seemed apropos that we'd meet at the Boulder Creek Winery which this past week we did.

 

What a gem of an evening it was.

 

Jackie and Mike Thompson own Boulder Creek Winery.

 

They met in Vermont, sharing a passion for all things wine which eventually led them to opening a winery.

 

Jackie is the winemaker and Mike, having formerly been a Supply Chain specialist in the world of High Tech, does everything else in the business Jackie does not do.

 

Their son Will is the Assistant Winemaker.

 

Mike was our host for the evening and set a relaxed, convivial tone as though we'd known him a good, long time.

 
Nestled unpretentiously in an industrial complex, the winery sports a well appointed, sleek tasting room though it's clear they are about making wine and not the pomp and circumstance of a fancy pants winery set up. 

Don't get me wrong, it's a great place but they are about substance not showmanship. 

I became aware of Boulder Creek Winery though my wine aficionado colleagues and friends in hearing their name pop up regularly.

 

I recently queried one of them on a gift idea for a good, local Colorado wine around $20, and Boulder Creek Winery was his pick.

 

After tasting almost their entire line, I completely understand why.
Boulder Creek Winery is nearing their tenth year in the winemaking business and their efforts have been met with myriad awards and acknowledgments.

 

Mike started out schooling us on the "5 S's of Wine Snobbery": a beginner's primer on the steps of wine tasting.

 

Let me take pause to say Mike is not at all what you think of as a wine snob.

 

He confessed quickly to being Irish and that spitting wine out (when tasting….well I'm sure anytime actually) goes completely against his nature.

 

His strong Bostonian accent and relaxed nature felt more like hanging with a very wine knowledgeable friend who clearly wants to bring people into the fold with no airs.
Pre-1:

 

'Sniff #1':

 

when a wine cork is withdrawn it should be spongy and often has a musty wine smell.

 

It should not be dry nor smell of vinegar.
1.

   

Sight:

  

Wines should have clarity in tone, no cloudiness, and no 'floaters'.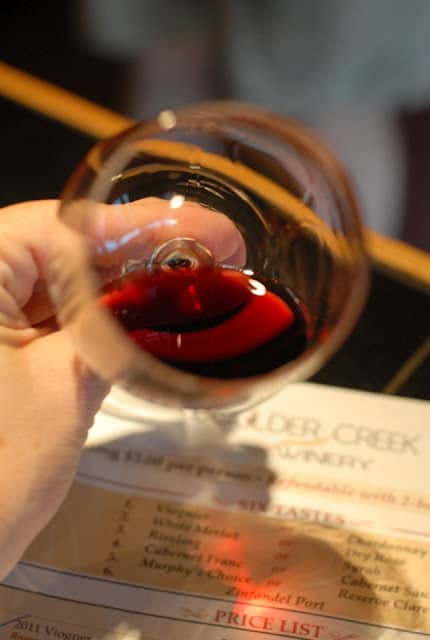 Holding the wine in good light against a piece of white paper can help to really observe the clarity of the color.
2.

   

Swirl:

   

If you are tasters you know this; if not, you've seen it on TV.

 

Swirling the wine in the glass aerates the wine releasing its aroma and flavors.
3.

   

Sniff:

   

Taking in the 'bouquet' of the wine is a significant aspect of tasting.

 

Taste and smell are related senses and smelling the wine introduces the various flavors of the wine through the aromatic notes.
4.

  

Sip (or as Mike says 'Slurp'):

    

Mike will tell you a true 'wine snob' sucks in air with the wine in their mouth.

 

This again allows the wine to become fuller or have more flavor in the mouth.

 

I would caution practicing this at home before dazzling friends and family in public with this step.

 

It can get sloppy quickly.
5.

 

Savor:

 

The flavor that remains in the mouth after swallowing is called the 'finish'.

 

When drinking wine you'll note the flavor stays in the mouth and changes after you've swallowed.
Boulder Creek Winery's line is sprinkled with fun stories and their playful spirit.

 

The Consensus wine for instance is created annually by the palates of the winery's Wine Club members.

 

On a weekend in January the club is invited to come barrel taste the current Cabernet Sauvignon and Cabernet Franc.

 

Wine Club members vote on which they liked best then repeat the next weekend tasting from a barrel of Syrah and Merlot.

  

After picking the favorite two barrels the winery creates blends of the two barrels asking the wine club tasters to pick their favorite which becomes the year's 'Consensus' blend.

 

Much to their surprise the product of this madcap method began winning awards and has even been served at the U.S. Ambassador's residence in Paris (served personally by Jackie and Mike taking advantage of the coincidence with their 25th wedding anniversary).

 

The current Consensus VIP Reserve is 50% Merlot, 20% Syrah, 15% Cabernet Sauvignon and 15% Cabernet Franc.
One of my favorite wines was the Claret.

 

The name is born with distinction and some perseverance on the part of Boulder Creek Winery.

 

In 2006 the European Union decreed the term 'claret' could not be used due to a 'Standards of Identity' agreement between the U.S. and E.U. implicating

 

16 quasi-generic wine names to be banned from use.

 

 

A bit like the provision that sparkling wine cannot be called 'champagne' if not from that region in France though the Standards of Identity is not an issue strictly of regionality but of wine form.

 
Fortunately there was a 'grandfather' loophole providing that wineries having produced a 'claret' prior to the agreement could continue using the name providing it conformed with the 'class and style' of true wine as outlined by the agreement.

 

Boulder Creek Winery is one of a handful in the U.S. with this unique privilege.

 

Boulder Creek's Claret is composed of 50% Cabernet Sauvignon, 30% Merlot, 15% Cabernet Franc and 5% Petit Verdot.

 

All the grapes the winery uses are from Colorado with the exception of Zinfandel which is not a varietal that has been long established in Colorado to date.
The tasting room gives way into the winemaking facility which is set up easily facilitating a self-tour.

 

Their wine trophies and medals are displayed throughout as well.

 

One point of fascination was their high powered expensive corking machine.

 

Illustrations, photos and demo corks will bring tasters into 'the know' about the complex world of wine corking.

 

We no longer exist in a 'one cork for all bottles'
world

.

 

Did you also know wine corks can be recycled? Boulder Creek winery handles that but most often patrons come in looking for wine corks and they are reused.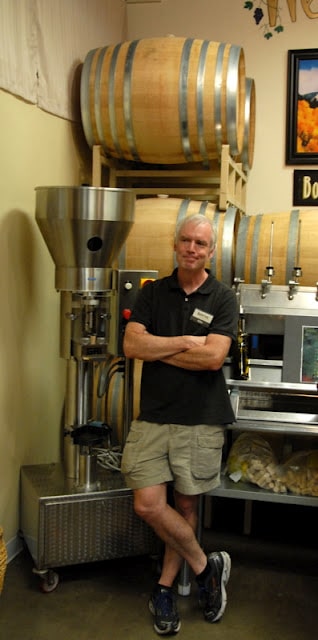 Mike Thompson educating our group on the supersonic corking machine.

 

His body language tells it all; he's relaxed yet serious about wine.
With the help of the 'wine thief', the large, elegant glass pipette, Mike offers a barrel taste of Boulder Creek Winery's Port.

 

I was instantly smitten as were my colleagues.
Boulder Creek Winery has wine for everyone and is a good time.

 

Their wines are affordably priced AND they sell online (click here).

 

Several of us commented we'd be coming back and with out of town guests.

  

It's an easy place to be.

 

 

Make a visit or join their Wine Club.

 

I have no doubt that you'll be glad you did!
Riesling
(2 bottles, one for a gift):

 

I'm not big into sweet wines and this wine struck me as the perfect warm weather wine delivering a bouquet of fruit and floral tones to knock your socks off without the heavy sweet punch.
Claret
:

 

The color seduced me first but the richness of the wine and Mike's suggestion of aging it to go with Prime Rib and Yorkshire Pudding (my brother's childhood birthday request annually) called to me.
Consensus
:

 

It was a rich, well rounded red that was easy to drink and would go with many foods.
Murphy's
:

 

Their semi-sweet red table wine named after their beloved dog, Murphy, an original founder in the winery greeting patrons when they would visit the tasting room.
Port
:

 

Their port almost defies description it was so extraordinarily good.

 

It was perfect.

 

That's it.

 

AND it sports a high tech glass 'cork' for storage (love that).
Boulder Creek Winery: 6440 Odell Place, Boulder CO 80301.

 

(303) 516-9031.

 

Click here for Tasting Room hours.