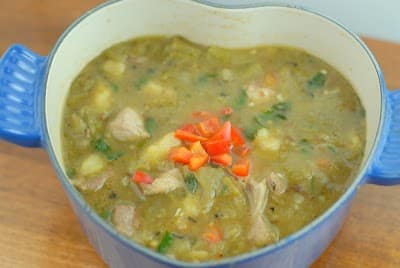 Love is in the air and this dish is like so many loves: delicious, with heat that comes on quickly, yet not so hot to burn and then flees before you realize it's over…….sigh.
This Green Chile Stew brings the best tastes of the Southwest in my book.

 

The warmth and flavor of roasted Anaheim (not too hot) chiles with succulent pork bites.

 

It's a great warm up for your mid winter's Valentine's Day, not too much work but memorable and unique.

 

I love to make mine in this darling heart shaped Le Creuset 2 liter casserole though will list measurements for a larger batch in case you have multiple loves to serve or are just plain hungry!

 

It's also great over rice.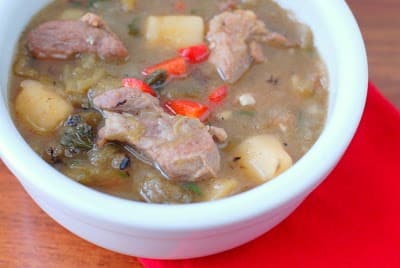 Adapted from The Santa Fe School of Cooking Cookbook
·

        
3 tablespoons canola or vegetable oil
·

        
1 ½ pounds pork butt, trimmed and cut into 1 inch cubes
·

        
1 ½ cups diced Spanish onion
·

        
1 tablespoon minced garlic
·

        
6 cups chicken broth
·

        
1 pound white or red potatoes, cut in 1 inch cubes
·

        
2 teaspoons salt or to taste
·

        
3 cups roasted, peeled, seeded chopped green chilies*
·

        
3 tablespoons diced red bell pepper
·

        
2 tablespoons chopped cilantro, or to taste
1.
 

Using a 6 quart pot heat oil over high heat and brown the meat in batches.

 

Let the meat sit while browning to develop a nice sear.

 

Remove from pan and set aside.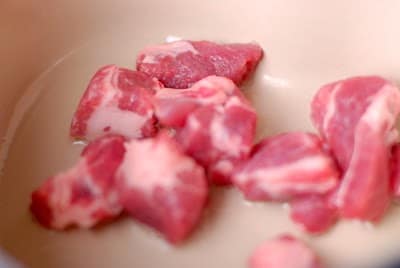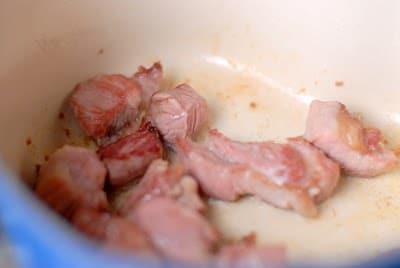 2.
Into the same pan, add the onions and sauté until soft.

 

Add the garlic and sauté for a minute.

 

Put the meat back into the pan with any juices that have accumulated with it.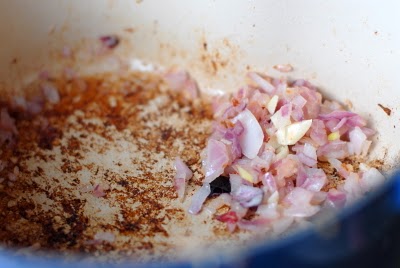 3.
Add the chicken broth, potatoes, and salt.

 

Bring to a boil, reduce heat to a simmer for one hour or until potatoes have softened.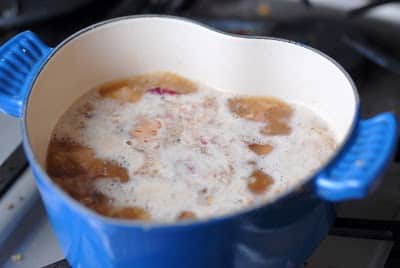 4.
Add the green chilies and the red bell pepper and cook 15 minutes more.

 

Add cilantro and serve.

 
*Roasting Chiles: Put chiles over a gas flame and allow to char on all sides by turning.

 

Place them in a bowl covered with plastic wrap or a plastic bag for about 20 minutes.

 

The charred outer skins should rub right off and you can proceed with seeding and chopping them.
There are a variety of green chiles.

 

I had Anaheim chiles (milder in heat) that I'd roasted, bagged and frozen when they were fresh in the fall.

 

I love the acrid smokiness of roasted chiles.

 

Their unusual, unique flavor is a signature of Southwestern cuisine.